17 December 2021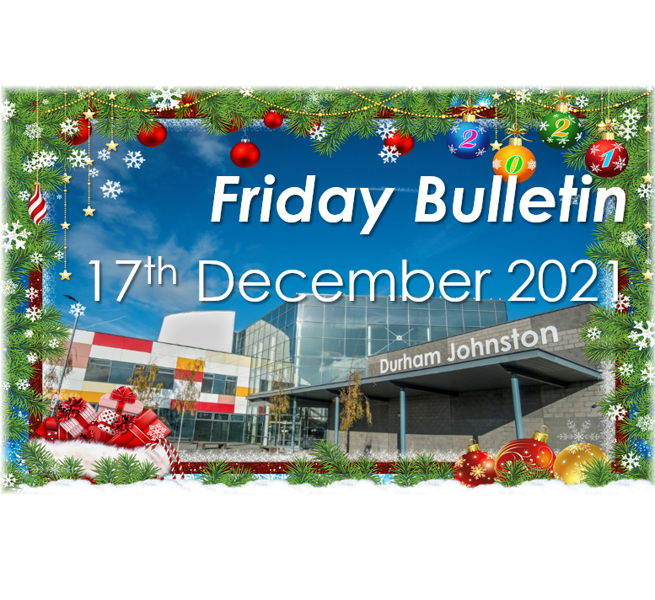 Dear Parents & Carers,
A very brief update this week that is intended to say thank you for your support in a successful but challenging term. In addition, I would like to direct all members of our community to the latest guidance from the Department for Education.
The Department for Education offered two updates on 9th December and 14th December. Those updates and their key summary points can be found here:
Department for Education Updates
We will provide an update for all parents and carers on the afternoon of Monday 2nd January 2022. That update will be added to the website, emailed to all families and tweeted. We are hopeful for a full return to school on Wednesday 5th January 2022 and will share any new information on the date identified above. Please make sure that your child completes a lateral flow test on either the evening of Tuesday 4th or morning of Wednesday 5th January 2022 before returning to school.
Christmas can be a difficult time for some families. If you need additional help or support over the Christmas period at a point when the school is closed, please be aware of the following helpful contact details:
Safeguarding Support over the Christmas Holidays
It has been a good last week. We had our 'virtual' Carol Service yesterday morning, with all classes watching a recording of some of the wonderful music that would have been played in the Cathedral. We also fortunate that Canon Michael Everitt shared his Christmas message, alongside readings from students and staff members. I would like to thank all those involved in recording the service, which represents another way in which the school has needed to be flexible this year. Our musicians, in particular, deserve praise for playing and singing so beautifully. We are a strong community and we have risen to a variety of new challenges in 2021. Students have adapted, support and teaching staff have found ways to solve problems and parents and carers have worked positively with us through a difficult period. I would like to thank you for doing so and to wish you and your families a Merry Christmas and, hopefully, a much better year in 2022.
Thank you for your ongoing support
Mr O'Sullivan
House System News
We've had quite a busy start to the year! It has been lovely to see things getting back to some sort of normal around school. Thousands of House Points have been awarded for the achievements of our students, both in and out of school. The Assistant Year Leaders have been superb in going above and beyond, organising and planning, looking to recognise success in their year groups – it has created such a buzz!
Since September, we have been able to hold our winning house event for Annand, who won the overall house competition last year (only 2 months late…!), bake sales, futsal, football, badminton, pumpkin carving and subject led competitions, a Spooktacular for 317 students, Santa runs, Breakfast of Champions (x6), Christmas Jumper day (for Changing Lives) and an array of wonderful events that subject leads and staff have led.
We ended this year with our appeal. It was wonderful to see what our students were able to donate even in this most difficult of times. We have significantly contributed to feeding families, the Toy Appeal and the Foodbank; we have also been able to provide luxury hampers for our community. It represents collective endeavour at its finest. Please thank your children, and please accept my thanks to everyone who has supported at home – you have been wonderful!
A special thanks go to our Sixth Form House Leads, who have been amazing throughout! None of this would be possible without their time and enthusiasm.
Today see our final events of the calendar year as Year 11 Annand students receive their afternoon of fun – pizza and treats in James Hall – having waited patiently since the event for other students fell during their mock exam period. A nice way to end the year and recognise their contribution! We've also had a school-wide House Quiz during registration this morning, wrapping up a successful 2021 for the house system.
Thank you for everything you have done to support, and have a lovely Christmas.
Let's see what we can do in 2022!
Miss Forbes
Senior Teacher, the House System
Greek Club
Our first term with a new group of Greek Club beginners culminated in a Christmas session when we were able to read the Nativity story in the original Greek and match up familiar phrases from the readings we hear at the Carol Service. Students then collaborated to create a picture of the Nativity scene, complete with labels in Greek. In the New Year, we will meet on a Tuesday evening for all those wishing to continue learning the language, with the option to take part in the pilot of the Intermediate Certificate in Classical Greek in the summer.
Mrs Bothwell
Languages Department
PE News
Last Friday night we hosted the Year 10 Tyneside basketball tournament. After an excellent night of high quality basketball we ended as runners-up to a strong team from Dame Allan's. We finished the night with a comfortable 28 point victory over St Robert's.
On Tuesday our U13 and U15 handball teams were at Maiden Castle getting some excellent coaching from members of the Durham University team. This is a new sport to the school and this was great preparation for the English Schools competition which happens in February. Thank you to the Durham Uni team who gave up their afternoon to help.
Finally, may I wish everyone a Merry Christmas and Happy New Year from the PE Department. We look forward to continued sporting success for Durham Johnston in 2022!
Mr Hopper
Subject Leader, PE