17 December 2021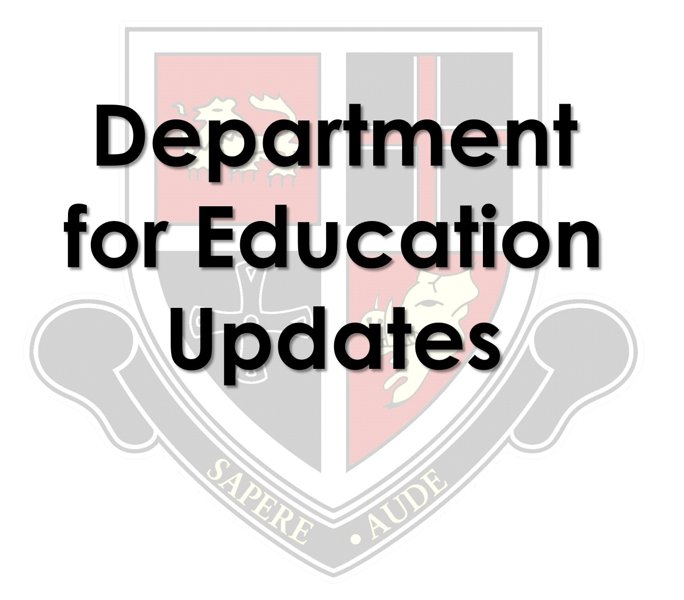 Department for Education Updates, December 2021
The Department for Education issued updates concerning the Covid19 pandemic on 9th & 14th December 2021. Below, you can read our summary of the key points as they relate to our situation at DJCS, and further down the page, the relevant portions reproduced in full.
Summary of Key Points.
Attendance at school, unless asked to isolate, is mandatory. As of publication, this will apply in January 2022 also.

T

he Department for Education states that all students should wear masks in communal areas. The school position on this has been clearly outlined. We want to continue to provide a high quality education and would advise that all questions relating to face covering be directed to either the Department for Education, Public Health Team at Durham County Council or local political representatives.

We have issued new Lateral Flow Tests to be used over the Christmas period. Please make sure that your child continues to test and that they complete a test on either the evening of Tuesday 4th January or the morning of Wednesday 5th January. If they are positive they should stay at home and book a PCR test. We will offer testing on site for a small number of students only.

The need to isolate is different based upon the Omicron variant.

There are new rules for daily testing for those who have had contact with someone who has tested positive.

There are a number of additional opportunities for 12-15 year olds to receive a vaccination.

We expect to be fully open in January but have been asked to review our contingency plans. We will provide an update on Monday 2nd January 2022 if there is any new Department for Education guidance so that all parents and carers are fully aware of our plans for a return to school on Wednesday 5th January 2022.
Relevant text from Department for Education Updates 9th & 14th December 2021
Coronavirus (COVID-19) Update to all early years, children's social care, schools, further education and higher education providers. Today's email includes an urgent update for all education and childcare settings on implementing Plan B of the COVID-19 Response: Autumn and Winter Plan We have discussed this update with ASCL, NAHT and CST and agreed it would be helpful to issue this update first thing this morning
Information for all education and childcare settings on implementing Plan B of the COVID-19 Response: Autumn and Winter Plan
On Wednesday 8 December, the Prime Minister announced the implementation of Plan B of the COVID-19 Response: Autumn and Winter Plan, to reduce pressure on the NHS. Plan B sets out a number of additional measures across society to control transmission of COVID-19. The Government is clear on the critical importance of not disrupting the education of children and young people and the Government will prioritise keeping all education and childcare settings open. The measures set out below will support this.
Attendance
School attendance remains mandatory and all the usual rules continue to apply. Enabling children and young people to attend their education setting regularly continues to be a national priority. As usual, schools are able to grant leaves of absence for pupils in exceptional circumstances.
Face coverings
Face coverings should be worn by pupils and students in year 7 and above (which would be children who were aged 11 on 31 August 2021), staff and visitors in communal areas, unless exempt. This is a temporary measure. Pupils and students in year 7 and above in these settings must also wear a face covering when travelling on public transport and should wear it on dedicated transport to and from school, college, or higher education provider. We do not recommend that pupils and staff wear face coverings in classrooms, unless their Director of Public Health advises them to temporarily do so in one of the circumstances described in the Contingency Framework Guidance.
Testing
We strongly encourage all those involved in education and childcare settings to continue regular testing (LFD not PCR) and reporting their results, and to encourage pupils and students in Yyear 7 and above to test and report their results. Settings are strongly encouraged to ask parents, guardians and other visitors to take a lateral flow device (LFD) test before entering the setting.
Isolation
All individuals who have been identified as a close contact of a suspected or confirmed case of the Omicron variant of COVID-19, irrespective of vaccination status and age, will continue to be required to self-isolate and asked to book a PCR test. The Government plans to introduce Daily Contact Testing as soon as possible as an alternative to self-isolation for contacts of positive Omicron cases who are fully vaccinated or under the age of 18 years and 6 months.
January return
We continue to learn more about the impacts of the Omicron variant. To prepare for any possible changes in public health advice, all education and childcare settings should now revisit their existing outbreak plans to ensure they are well prepared for any future changes and ensure they are familiar with the Contingency Framework Guidance.
Similarly, colleges and higher education providers should review their outbreak plans and ensure that contingency plans are up to date. There are exams for vocational and technical qualifications timetabled for January. Students who are due to sit these exams will be prepared and it is right that they should be given every opportunity to demonstrate what they have learnt. Exams and formal assessments will go ahead. Consequently, it is essential that students continue to prepare for these assessments. We have recently asked all secondary schools to provide an on-site test for pupils on return in January. (DJCS-specific note: We have capacity to offer this test on site for a small number of students only and trust our parents, carers and students to test effectively at home on 4th or 5th January 2022).
For those in settings closing over Christmas, all staff and students should test over the holidays in line with national guidance. This means that they should test if they will be in a high-risk situation that day and before visiting people who are at higher risk of severe illness if they get COVID-19. For settings remaining open over the Christmas period (such as private nurseries, higher education or adult education providers), staff and students should continue to test at home twice per week over the holiday period. Further and higher education students, and staff in all educational and childcare settings, should take one self-test at home either the evening or morning before they return in January. Then they should continue to test in line with government guidelines and we recommend all staff and eligible students take up the offer of a vaccine.
Daily testing for contacts of COVID-19
From Tuesday 14 December, a new national approach to daily testing for contacts of COVID-19 is being introduced (including until the end of this term). All adults who are fully vaccinated and children aged 5 to 18 years and 6 months, identified as a contact of someone with COVID-19 – whether Omicron or not – should take a lateral flow device (LFD) test every day for 7 days instead of self-isolating. Daily testing by close contacts will help to slow the spread of COVID-19. Daily testing for contacts of COVID-19 will help protect education settings by reducing transmission and will also help keep pupils in face-to-face education. Once notified by NHS Test and Trace as a close contact, all eligible staff, pupils and students should take an LFD each day for 7 days and report the results through the Online Reporting System and to their setting. If they test negative, they can continue to attend their education setting. Outside of the education setting, they should continue to follow the advice set out in the Sunday 12 December press release. This approach should also be adopted over the winter break and on return in January.
If they test positive, they should self-isolate and order a PCR test to confirm the result. If the PCR is positive, they must self-isolate for 10 days. If the PCR test is negative, they no longer need to self-isolate but should continue to carry out the remainder of the daily tests, and only need to isolate if it is positive. All staff and secondary aged pupils and students should have access to a box of 7 LFD tests from their education setting. If your setting requires additional test kits sooner than they would be available through the standard ordering process, or will run out of test kits imminently, you can contact 119 to request an emergency replenishment. For primary aged children LFD test kits are available through the usual routes (community test sites, local pharmacies or online).
Children under five years old do not need to take part in daily testing for contacts of COVID-19 and do not need to isolate. Anyone over the age of 18 years and 6 months who is not vaccinated, must isolate in line with government guidelines if they are a close contact of a positive case.
For students with SEND who struggle to or are unable to self-swab daily for 7 days, settings should work with students and their families to agree an appropriate testing route, such as assisted swabbing. Information on further support measures will be provided. Finally, it is important to continue regular twice weekly, at-home testing for all education and childcare workforce and all students of secondary age and above.
Update on COVID-19 vaccinations
The new Omicron COVID-19 variant is spreading fast. Anyone who is unvaccinated or who hasn't had their booster is at even greater risk from COVID-19 and more serious illness. Vaccines are the best way we can protect ourselves and help keep children and young people in face-to-face education.
People aged 18 years and over, and those aged 16 years and over who are at risk (including health and social care workers) will be offered a booster dose of coronavirus (COVID-19) vaccine. Please do encourage those in your settings to take up the booster dose.
You can pre-book your booster dose online if it's been 2 months (61 days) since you had your 2nd dose and you are:
aged 30 and over

aged 16 and over with a health condition that puts you at high risk from COVID-19

a frontline health or social care worker
You will be offered appointment dates from 3 months after the date of your 2nd dose. 16 and 17 year olds can get two doses of the COVID vaccine. They can book an appointment through the national booking service and walk in centres are available.
The Health and Social Care Secretary announced on Monday 29 November that young people aged 12 to 15 in England will be offered a second dose of the Pfizer-BioNTech COVID-19 vaccine, following advice from JCVI. Parents of children aged 12-15 that have not yet had their first vaccine can book their child's first vaccination slot over the winter break via the national booking system. We ask schools, where possible, to direct parents to the out-of-school route as they break up for the winter holidays. In some cases, parents will be able to get their booster at the same time as their child getting their first vaccine.
Information on vaccination for 12 to 15 year olds can be found in the COVID-19 vaccine for children aged 12 to 15 guidance.
Please click here to read an NHS letter with details of how young people who are 12yrs and over can access vaccinations through the community offer at the Arnison Centre mass vaccination site and at some other locations, including over the holiday period.
Further information on the coronavirus booster vaccination and booking a vaccination can be found on NHS.UK. An information leaflet on what to expect after vaccination is available to download or order.