4 January 2022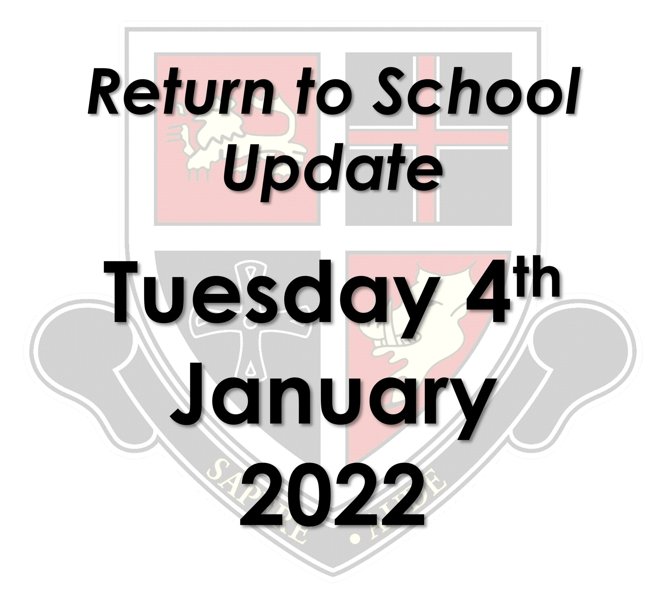 Dear Parents, Carers & Students,
We are looking forward to a full return to school tomorrow, Wednesday 5th January. That day will be a normal day in school, but there are some things that students need to do in advance and I hope that the following overview will be useful. We received an update from the Department of Education and an open letter from Nadhim Zahawi, the Education Secretary, on Sunday 2nd January 2022. It provides information about the expectations for this term for schools. That letter can be found here:
Open Letter from the Education Secretary
What is the school's approach to Lateral Flow Testing before returning to school?
We have reiterated on a number of occasions that completing a Lateral Flow Test at home is better for students. It allows them to complete tests with family support and means that they do not contend with the stressful experience of testing positive in school and then having to get home. Therefore, we are asking all students to complete a lateral flow test at home this evening before returning to school in the morning.

We are aware that some students have had difficulties when testing and, as we did in March and September of 2021, we will offer onsite testing for a small number of students that were identified by medical practitioners as struggling or being unable to complete tests independently. This is in line with the approach that we have taken consistently with regard to testing since March 2021.

Students should book a PCR if positive and families should then follow the guidance provided by Test and Trace. If the Lateral Flow Test that they take this evening is negative, they should return to school in the morning as normal.

Please note that the isolation period is now 7 days and, as part of that process, students need to have negative lateral flow tests on the 6th and 7th day of isolation.

If a student is a close contact of someone who has tested positive, they need to complete a daily lateral flow test each morning. If negative, they can attend school.

Please do not send your child to school if they are symptomatic, have a cold or are unwell.
What is the school's advice on weekly testing?
All students MUST complete two lateral flow tests on a weekly basis. We recommend that they complete tests on Sunday and Wednesday evenings, in line with the Department of Education's recommendation. We will continue to provide lateral flow tests for students via Form Tutors at appropriate points.

Regular testing at home by students and school staff will help us to limit the spread of Covid-19 in school. I would like to thank parents and carers for supporting our position on this and for regularly testing at home since March 2021.
What has the Education Secretary recommended schools to do in relation to face coverings?
The Education Secretary has strongly recommended that face coverings are to be worn by all students and teachers in secondary schools upon their return to school. That applies to both communal areas and the classroom. It does not apply when eating at lunch or break time, or when outside the school building. That recommendation is based upon the contagious nature of the new variant and the belief that face coverings will limit the potential for the virus to spread easily. We have received the same instruction from Durham's Public Health Team. They have introduced this measure at national and local level to protect vulnerable people, to limit transmission and to keep schools open.
The Education Secretary has stated that, "The advice is short term only, to support pupils and teachers as they return to school this term and builds on the existing proportionate guidance that recommends face coverings for all adults in communal areas of all settings. We are updating our guidance to reflect this. The advice on face coverings in classrooms will be in place until Wednesday 26th January, when Plan B regulations are currently scheduled to expire, at which point it will be reviewed." Whilst we would rather not wear face coverings, this is something that staff and students have adapted to before and will do so again to ensure that schools stay open through this difficult period.

There are a small number of students with exemptions and staff are aware of who those students are. If your child has a new medical condition meaning that they are exempt, please contact the school with that information. I would also reiterate very strongly, that no student has the right to question why another is or is not wearing a face covering. If we identify any student that comments negatively on this issue, we will outline clearly why that is unacceptable and will take any additional action that we feel is appropriate.

We are aware that some students will forget or lose their face coverings. They should not worry about this and should approach a member of staff to request a replacement.

In a similar way, teachers will ask any student not wearing a face covering if they require a spare. Please note, that it is normal for staff to speak with students and to ask them questions. All staff members have the right to speak with students, whether known to them or not, that is and always will be a normal part of life within a school community.

We have a contingency stock of face coverings available if an individual has forgotten or accidently damaged their own.
Do the recommendations regarding face coverings also apply to school transport?
It is vitally important that all students, apart from those with exemptions, wear face coverings when travelling to and from school. Drivers have the right to refuse access to those who fail to wear face coverings on school transport.
What will we do if a large number of staff need to self-isolate or test positive?
We will do all that we can to keep the school open for all of our students. In simple terms, if we can teach, feed and keep our students safe on a daily basis we will do and, I would add, that is our full expectation for the term ahead. To exemplify the commitment of our staff members; a large number of part time staff have volunteered to come into school on the days that they don't work to cover classes.

If we reach a point when it isn't possible to remain fully open, we will prioritise vulnerable students and those in exam years. If this is necessary at any point we will communicate clearly and do all that we can to limit the length of time any year group has to work from home. Again, it is important to be clear that this will only happen as a last resort.

We have contingencies in place for any changes that might be necessary as the half-term progresses and will keep you informed on a weekly basis and more frequently if necessary.
Will there be remote education if any students have to work from home?
We will provide remote learning for any students who test positive for Covid-19 or are asked to isolate by test and trace. We will not be able to provide work instantly but will always do so as quickly as possible.

We do not provide work for students who are generally unwell or in cases when parents or carers choose to keep a child at home. For general illness, students should approach their teachers when they return to school or should access the large amount of work currently available for subjects on MS Teams.

Please note, that students who are unwell enough not to be present at school should prioritise getting better, as opposed to completing work at home.
Will there be remote learning if whole year groups or the entire school needs to work from home?
We will provide online learning if a year group or large number of students need to work from home.

The nature of the resources shared and teaching possible will be determined by the number of teaching staff available. If at any point this becomes necessary, we will share detailed information with the students and families affected.
What are our expectations in relation to student attendance and behaviour in remote lessons?
If remote education becomes necessary, we expect all students to attend and participate.

In November 2021 there was a significant national issue relating to the abuse of teachers and other students using TikTok. I wrote to all parents and carers at the time outlining how concerned we were and that very strong action would be taken. If any Durham Johnston student behaves in an inappropriate manner in relation to home learning, for example by using images or recordings from live lessons, they will face serious consequences up to and including permanent exclusion if appropriate.

If remote education becomes necessary, please ensure that your child is aware that the same standards of behaviour apply when working from home and the school has the right to withdraw online learning for any student not behaving as expected.
Are there any other changes that parents and carers need to be aware of?
Like all schools, we are expecting there to be a higher than normal level of absence amongst teaching and support staff. Please be aware that absence may have an impact on the school's ability to respond quickly to any queries that you may have. Our main priority for this half-term is the continued education of our students and that means that all available staff will be working in the classroom.

We are hoping to continue with as many extracurricular activities as possible and will provide access to the building for external visitors who visit school to offer individual support for key students.

We will be advising staff and external partners that all other meetings will be conducted via MS Teams as we seek to limit the number of interactions that take place in school. That will apply to parental and carer access to the school also.

We will offer an update about the half-term ahead next week, so that parents and carers are aware of our plans in relation to parent and information evenings.

Year 12 exams will be taking place next week as normal.

We have received no updates to this point in relation to the GCSE and A Level exams scheduled for the summer of 2022.

There are no additional changes in relation to uniform. We changed our guidance in November so that students could wear sports top or a plain v-necked grey jumper in addition to their blazer. Year 11s may wear their Leavers' hoodie, also in addition to their blazer.
Whilst this half-term will pose a series of new challenges, we are looking forward to the weeks ahead and the start of a new year with our students. Things will certainly be different in the short-term but we will respond positively to the issues that we encounter. Your support for the school given that context is hugely important and I would like to wish you a Happy New Year whatever the circumstances. We are a strong community and will take care of our students and staff to the best of our ability in the term ahead.
Yours faithfully
Mr O'Sullivan