10 June 2022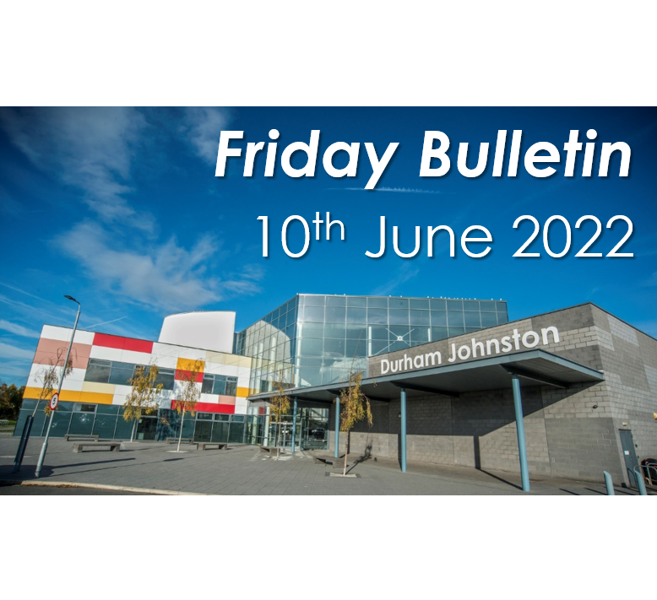 Dear Parents & Carers,
I hope that the half-term holiday was a good one and that you and your family are looking forward to the weeks ahead. The extended examination season continues for our Year 11 and 13 students and Year 12 and Year 10 also have mock exams, Year 12 starting in the week beginning 13th June and Year 10 for Maths and Science in the week beginning 27th June. Mrs McFadden has written to all Year 10 parents and carers about next steps in English, Maths, Science and their other GCSE option choices. Similarly, Mrs Lennon has been in regular contact with Year 12 during their study leave. As ever, please contact the school if you have any questions about the arrangements that are in place.
This is always a very enjoyable term and one in which we recognise the achievements of a wide range of students. There are also extensive opportunities to be involved in clubs, to help younger students and to prepare for the next academic year. In terms of recognising achievement, this term features the Sports Presentation Evening, Music for a Summer Evening, and Music and Public Speaking competitions. We also have House events, such as the Colour Run, scheduled to raise money for local charities. The winning house will also have a celebratory event organised by Miss Forbes and her team of House Leads.
Year 7 and 12 students have the opportunity to volunteer as a helper for our Year 6 Transition Day, Year 12 can act as Subject Ambassadors to meet with Year 10 students thinking about next steps at 16, and we will also invite Year 11 students back for a 6th form Transition Day. They have their Prom, too. Years 10 and 12 have a wide range of work experience placements arranged for later in the term and the school will also offer opportunities for those have struggled to set up an individual placement; working alongside our support staff in school can be a very valuable insight into the dedication and professionalism needed in employment.
School visits and trips also start again with the popular GCSE Battlefields and Malaga Sports visits scheduled for the penultimate week of term. Years 7, 8 and 9 will take part in a range of activities in school during that week that link to our ethos, with opportunities to acquire knowledge, work as a community with others and to gain a better understanding of public service.
From a parental point of view, we will be inviting Year 6 parents and carers into school for a separate evening without their children in July, our Autism support group continues to meet across the term, as does the Special Educational Needs parental group, and the families of children with a special educational need in the current Year 6 with school places will meet with our SENCO, Miss Davies, as part of their transition and support. Mr Wilbraham and Mrs Lennon will follow a similar process of meeting with parents and students of those joining our 6th form in September. Reports will also be issued for Years 7-12 and we will be hosting a session on Relationship and Sex Education for parents in early July, linked to our recent survey.
With that in mind, thank you to all those who have completed the extracurricular survey that was shared before half-term. The feedback has been very positive and there are some excellent areas and ideas that we will be working on for September. We will survey students again this term to try to identify any barriers to their participation in lunch time or after school activities and additional opportunities that we might be able to provide working in conjunction with those within our school community.
There are many other exciting things taking place this half-term and we will also be saying goodbye to some long serving colleagues, but I will share more about that as the term progresses.
As a final note, I wanted to reference the death of Bruce Kent, a former Priest and long serving peace campaigner linked to the Campaign for Nuclear Disarmament.
Bruce Kent obituary | Nuclear weapons | The Guardian
In 2018 he visited the school to meet with 6th form students and had initially planned to stay for a 30 minute assembly, which quickly turned into nearly 2 hours of questions and answers with students. He was in his late 80s at the time and hard of hearing. When he couldn't hear student questions, he would whisper to me 'Irishman, what did that say?' I would then repeat the question and he would be off; sharing detailed, thoughtful and wise answers. I tried to explain to him that I was English, but he claimed that I looked like an Irishman that he knew from Belfast, I was called O'Sullivan and that was enough for him. The students loved him for his honesty and referenced the session a year later when they were preparing to leave. Regardless of political view, he didn't need to visit the school when he was elderly and unwell, but had the class and integrity to give his time freely for our students, as he believed that future generations were enormously important and should be exposed to a range of opinions, whether they agreed with them or not. He contributed a lot to British society and will be missed.
Have a good weekend.
Mr O'Sullivan
---
Year 7 Parents' Evening
A reminder that Year 7 Parents Evening will take place on Monday from 3.30-6.30pm. Booking has now closed but all those who have made bookings have within their email the list of their appointments and the link to use on the night. A reminder email with the same information will be sent on Monday prior to appointments starting at 3.30pm.
Mr Wright
Deputy Headteacher
Sixth Form Notices
Over the summer many Year 12 students will be getting involved in research and activities that help inform their choices for study and employment after A Levels. As part of our What's Next (Preparation for HE) programme, we take all Year 12s to a UCAS convention in Newcastle, and this event takes place next Tuesday, 14th June. Buses leave school at 10.40am and leave Newcastle for the rerun journey at 1.30pm. At this event, our students get to meet staff and students from most universities and from other providers of post-18 choices. Additionally, many Open Days will be running over the coming months and the linked document below has details of how to make the most of Open Days - this has been shared with students. At the bottom of the same document there is a Parents FAQs link and I would encourage students and parents / carers to go through this together. One of the Top Tips on this is very relevant to anyone supporting students considering next steps:
A top tip for those supporting someone though this process is to try to be an enthusiastic assistant, rather than the leader! Encourage students to take ownership of the research and decision-making process as they need to find the degree and university that is right for them.
The University of Liverpool - June 2022 Bulletin
On Wednesday 29th June we look forward to welcoming parents and carers of Year 12 to a UCAS Evening (5.30pm - 6.30pm) where we will be sharing information about UCAS, the application process, how we support students in our Sixth Form and student finance. We will be joined by a colleague from Durham University for a university perspective. There is no need for students to attend as we deliver this information via PHE, however, they are of course welcome.
Mrs Lennon
Head of Sixth Form
Young Geographer of the Year 2022
We were pleased to welcome a good number of students to Geography Club at its launch this week. The club will be running every Thursday after school from 3-4pm in IT3. Students who attend will be taking part in the Royal Geographical Society's annual 'Young Geographer of the Year' competition. If students wish to participate but were not able to attend this week, they are more than welcome to join us at the next meeting.
Mr Ray
Second in Department, Geography
Music Department Notices

External Music Examinations
If your child has a graded music exam, please note that you do not need to apply for leave of absence for this purpose. Please would you write a note in their organiser, as you would for a medical appointment, and this will need to be countersigned by either me or their form tutor. They will then be able to get an off-site pass from reception. It is helpful if this can be done the day before their exam, especially if their exam is early in the morning and they will arrive late to school.
Also, if you child's exam contains aural tests and they would like a little extra support in preparing for this, they should come and book a weekly lunchtime appointment with a member of the music department.

Durham Music Service tuition for Years 11, 12 and 13 during study leave
Pupils in years 11, 12 and 13 are more than welcome to come into school for instrumental/vocal lessons whilst they are on study leave. They do not need to be in school uniform if they are just on site for this purpose and if they are unable to attend lessons, please could they let their teachers know in person, or by email, so that this time can be reallocated.

Music for a Summer Evening – Thursday 7th July – 7.00pm
We would like to invite Sixth Form musicians (both year 12 and 13) along with their families and friends to informal 'cabaret–style' event taking place in the Cafe, where pupils and staff entertain their guests whilst they enjoy drinks and a light buffet. It is an opportunity to say 'goodbye', and 'thank you' to the leavers for all their commitment to extra-curricular music over their years at Durham Johnston School.
If you would like to provide a musical item, please ask them to let a member of the music department know and it can be added to the running order. Similarly, if they would like to organise a group item as a last chance to perform with friends, then let us know.
If you would like to attend, tickets are available from the Music Department at a cost of £7.00. This includes food and your first drink and please note that performers still need to purchase a ticket to cover refreshment costs.
For full details and a reply slip, please click on this link.
Mr Holmes
Subject Leader for Music
PE News
Monday was a very successful day, as we won two County Cup cricket games and a tennis match.
Our U13 cricket team travelled to Ashbrooke CC to play St Aidan's School. This turned into a one-sided game as we batted first and scored 124 runs. An excellent bowling display saw us bowl them all out for 34 runs to reach the quarter-finals. Will Middleton was player of the match taking 3 wickets in two overs without conceding a run.
Our U15 cricket team were also in county cup action taking on Kepier School at Ushaw Moor CC. This was also a straightforward victory as we bowled them out for only 38 runs. It took us less than 4 overs to pass their total and also reach the quarter-finals.
Our girls' U13 tennis team made the short journey to Durham High School for their final league game. We have a very strong team and they won 5 - 1 to complete an un-beaten season and win the group.
On Tuesday, our athletics teams travelled to Middlesbrough Sports village for the North-East regional round of the English Schools Cup. The best schools from as far away as Harrogate took part in an excellent day of competition.
It was another outstanding day for our athletes as we achieved the following results:
Junior boys - 1st and regional champions
Junior girls - 2nd (by only 1 point)
Inter boys - 3rd
Inter girls - 2nd
We were due to have two more cricket competitions on Wednesday but unfortunately they were both postponed due to rain.
Good luck today to our U19 boys' tennis team who are in York playing St Peter's School in the northern final of the National Schools Cup - we are now the only comprehensive school left in the competition.
Good luck tomorrow to all our athletes who are at Monkton Stadium representing Durham Central Area at the county championships.
Finally, can I remind all the Year 8s who are going on the Malaga Sports trip to set their alarm and be ready to meet at school for 2.45am on Sunday morning! Hopefully they are all looking forward to a great week of sport in the sun.
Mr Hopper
Subject Leader for PE