17 June 2022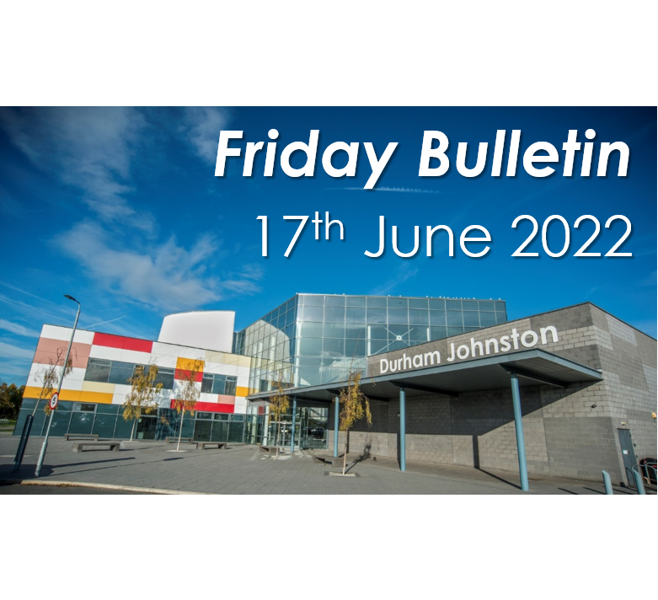 Dear Parents & Carers,
A very brief update this week as we are focused upon the final two weeks of exams are and are thinking carefully about our school improvement plans for 2022-23 and beyond. In November 2021 we shared a parental survey and over 600 families were kind enough to complete it. We used the completed survey information to help shape our school plans for the spring and summer terms and found the feedback very useful. We are keen to run the same survey again, so as to compare your responses to key issues and to see how your views have changed across the full school year.
The survey will open on Friday 17th June at 9.00am and closes on Friday 1st July at 12.00pm. Parents and carers with children in different year groups can complete the survey multiple times to reflect their potentially different experiences; each child will experience the school in a way that is unique to them. Parents of Year 11 and 13 can also complete the survey and we would welcome their contribution and thoughts in relation to pivotal year. We would be very grateful if you could complete the survey, which can be found below. We will also send the survey directly to your email address.
DJCS Parental Survey Summer 2022
I would also like to make two additional requests to parents and carers, both of which relate to those who drop off and pick up their children each day. We have had a number of parents drive into school very quickly, with others not stopping at the school crossing in our car park. This is extremely concerning. The only cars allowed into school are those picking up children on behalf of the Local Authority or for our students with a disability. We also allow access to those parents and carers of a child who has had an accident or injury and needs to be picked up for a fixed period of time. In those situations, we will issue a pass to allow access.
1700 students enter and leave the school each day and we are aware that it is very busy, but please do not enter the school site in your car unless you have permission, as there is no space is school for parental parking by Local Authority design. That decision was not made by the school, but restricts the capacity that we have. Similarly, please show consideration for our neighbours. We have been contacted by local residents this week who are very concerned that people are parking on and across private roads, causing damage and blocking local residents in so that they cannot move their cars. Please treat others as you would like to be treated yourself. I am aware that these can be frustrating issues, but Durham Johnston has a very small catchment area and most students live within walking, cycling or public transport distance. As members of a local community, we need to show consideration for others and to avoid behaviour that puts children at risk or causes inconvenience to others.
Thank you and have a good weekend.
Mr O'Sullivan
---
RSE Events
On Thursday and Friday of next week our external provider Stevenson Training is coming to school to deliver our Relationships and Sex education sessions for this year to Year 7. Our provider has 25 years experience working in RSE for the NHS, and has worked with us for 6 years. Students will be in forms for this one-hour session, and the topics covered are in line with the current RSE statutory guidance. In particular, the session will focus on reproductive systems, forming positive relationships, and consent. If you have any queries, please email school@durhamjohnston.org.uk marked for the attention of Mr Blake.
Mr Blake
Lead Teacher for RSE
Greek Club
Congratulations to Daniel & Livia in Year 10 & John in Year 11 who took part this afternoon in the pilot exam for a new national qualification in Classical Greek. This is a project to provide an accessible route into studying Classical Greek since very few schools are able to give the curriculum time needed to get to GCSE. We are very proud to be one of the ten state sector schools involved in this exciting initiative, which is endorsed and funded by the Classical Association and Classics for All. The new Intermediate Certificate in Classical Greek will be recognised by the UCAS and is supported by the Classics departments at the following universities: Cambridge, Edinburgh, Exeter, King's College London, Manchester, Newcastle, Nottingham, Oxford, University College London, Warwick, the Open University, Durham, and Liverpool.
Mrs Bothwell
Languages Department
Sixth Form Notices
Please click the link below to read the weekly digest of news and information for Sixth Form Students.
Science Department Notices
2022 Smallpeice Summer Courses
These summer engineering courses are the perfect opportunity for students to unlock their potential and expand their knowledge, supported by industry experts and academics from some of the UK's top universities. There are some fantastic residential and virtual courses on offer for all year groups (click each one for more information):
Year 10 revision sessions
Please click here for information about revision drop-in sessions ahead of the mock exams.
Mr Horn
Subject Leader for Science
PE News
We were delighted this week that at last, after a 3-year gap, our Malaga Sports trip finally took off from Leeds Bradford Airport on time. Following the 48 pupils & 5 staff on Twitter has been entertaining and we are happy they are having an amazing time.
Meanwhile, back in Costa del Durham, we have been as busy as ever and the department would like to thank all staff who volunteered their time to help cover our PE lessons this week, we really appreciate it.
On Tuesday, we took over 40 athletes from Year 7 & 8 to Chester-le-Street for the Area Athletics Competition. Our pupils were brilliantly behaved and worked hard in all their events. There were seven other schools competing in track & field events throughout the afternoon. Joy He, in Year 7, was appointed Team Manager and she was superb at ensuring that all athletes were at the right events at the right time, allowing Mr Kidd & Mrs Hopper could oversee the finish line and track recording to help the event organisers, St Leonard's School. It really was a great competition, and we were delighted with our results: our Year 7 girls' and boys' teams both finished 1st, and our Year 8 girls finished 3rd.
On Wednesday, our Year 10 boys' cricket team competed against Thorp in the T20 National cup at Ushaw Moor cricket club. Durham Johnston batted first & scored 113 runs. In a tense and close last bowl of the last over Thorp required 4 runs. Unfortunately, we were unable to protect the boundary & the ball went over the line to get the 4 runs they needed. The lads were gutted but we wish Thorp good luck in the next round!
On Wednesday after school a large number of Durham Johnston pupils headed into the Centre of Durham to help School sports partnership run the annual "Durham Dash". Our pupils helped marshal the running events as well as record & measure the throwing and jumping events. Thank you to all of our volunteers who were rewarded with a T-Shirt each as well as the chance to give back to the community!
There were no other fixtures this week, but we will report on the Malaga antics very soon and find out who were victorious. Will it be Argentina, France, England, Holland or Spain? Watch this space! (And follow us on Twitter…! #DJMalaga)
Mrs Hopper
Second in Department for PE