27 May 2022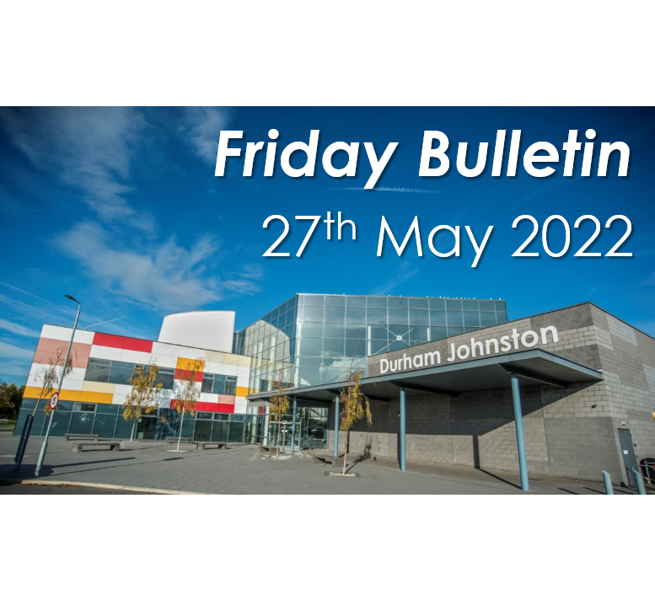 Dear Parents & Carers,
It has a busy and successful half-term. Like all schools, we have had to think very carefully about preparing students for formal, external examinations again. We often discuss revision and retrieval practice in schools in relation to how students learn, but school staff have had to think through that process too in relation to preparing students, planning for new arrangements and remembering what used to work successfully. On occasions this week, we have managed examinations in 17 different spaces around the school at the same time. The muscle memory is there, but we are learning new things too! I know that many of you reading this work in education and will have had similar experiences with Year 6 SATS, or with vocational qualifications in colleges. I spoke with a colleague recently who works in a school in the West Midlands. Over 50% of the teachers in their school are Early Careers Framework teachers (NQTs in old money) and they have never prepared students before for external examinations. They will learn quickly I am sure, but it has been very reassuring to have so many experienced teachers and school staff at Durham Johnston who have clicked back into gear so quickly. We still have a long way to go, but our Year 11 and 13 students have also been excellent, and younger students deserve credit for being considerate as they move around the building.
External exams represent one aspect of a return to normality; Year 13 celebrating together at their Leavers' Ball represents another. On Friday 20th May 200 Year 13 students and their teachers enjoyed a fantastic commemoration event in Durham - 'A Night at the Oscars'. They embraced a final opportunity to celebrate together, all the more so for having missed their Year 11 Prom in 2020. Many of the students wore outfits that they had bought for the Year 11 Prom. The evening was very memorable, and an excellent way for our oldest students to complete their final week in school before exams.
The majority of their exams will take place during the next half-term, which will a very busy 7 weeks. There are transition days planned for Year 6 and Year 12 students, open evenings for parents, internal exams for Years 10 and 12 and the return of our popular visits to Malaga and the Great War battlefields of France and Belgium. There is also an important work experience opportunity week for Year 10 students and advice on next steps after GCSE study. We are also continuing to offer support and guidance for the parents or carers of children with specific needs. Our next action of that nature is the establishment of a support group for the parents and carers of young people who have a diagnosis of autism, who are on the pathway to a diagnosis of autism or who would just like to find out more and to explore this idea. The first meeting will be led by Liz Mulholland, a very experienced and well-respected Local Authority Advisory Teacher for Autism, and Heidi Donkin from SEDIASS, who is the Autism lead for the service. The support group will meet for the first time in school on 16th June between 3.00 and 4.00 p.m. If anyone would like additional information about the group, please contact the school and ask to speak with our Special Educational Needs Co-ordinator Helen Davies.
Finally, we are keen to get your thoughts on the school's extra-curricular offer. The survey linked below outlines a number of questions that we would be grateful if you were to discuss at home and complete before Friday 10th June. You may wish first to look at our current extra-curricular offer, which can be found here.
Please click here to complete the Extra-Curricular Survey
Have a good half-term break.
Mr O'Sullivan
National Literature Quiz: Wednesday 25th May
Wednesday was a good day. It had safety warnings, a huge amount of biscuits, a couple of dodgy maps, mountains of literature, and a lot of laughs. It started with being at Durham station for 5:10 in the morning! We were at the station when one teacher, who wishes to remain anonymous, went on the wrong side of the station and got stuck. One of the parents had to shout across the tracks, and he crossed the 'danger' yellow line. As if by magic, a tannoy sounded with a safety precaution of not to step over the yellow line. Oops!
After this 5am hilarity, we headed off on the train for three hours. When we got off, what was supposed to be a 5 minute walk from the tube station ended up being a 15 minute circling of London. When we finally arrived at the venue, we were greeted with biscuits, juice and a very welcoming room. We spent around three hours completing the quiz and there were some mind blowing questions. After that, we had a very fancy lunch – pickles and all. We heard the scores and were pleased to be placed 13th in the country (Mrs Walton had hoped to be in the top 20, so she was super pleased).
After our posh lunch and prize giving ceremony, where we were awarded our well-earned, sparkling regional trophy for representing the North-East, we left and went back to King's Cross. Here we did raid the Harry Potter shop, visit platform 9 ¾ (very crowded…) and spent another hour reading some of the free books (5 each!) we received as part of the quiz. Wow! What a day! 10/10.
Mrs Walton's highlight was hearing Patrice Lawrence, receiving our North East region winners' trophy, and being in the top 20.
Miss Morgan's highlight was seeing the pupils excited about their new books, meeting writers and their obvious love of literature.
Lottie Gregory
Year 7
Translation Bee
After months of intense practice, six of our Year 9s entered the regional rounds of the Routes into Languages Translation Bee last week. Hoping to qualify for the national finals, our students had 60 seconds to translate as many sentences as possible from English into either French, German or Spanish, depending on their speciality. Durham Johnston has never entered the competition before this year, and with the regional round including Year 8 and 9 students from the North East, North West, Yorkshire and the Humber, the competition was set to be fierce. The top 5 from the North in each language qualified for the national finals, and we were thrilled to find out that Tina had come 2nd in the French competition and Annie had won the German competition, making her the Northern Regional Champion of the German Translation Bee. Both students will now compete at the national finals at Cambridge University, where we have high hopes for further success.
Ms Anderson and I have been so impressed by the sustained hard work over several months, with students regularly volunteering their free time to do extra practice, and also by the "moral support" team, who often accompanied them to help out, even when not competing themselves. The perseverance and positivity of all the students involved has been truly exceptional, and we are immensely proud of all of our participants.
Miss Daglish
Languages Department
Year 10 Battlefields Visit
We have emailed parents and carers of participating students to inform you of the tour company's COVID-specific rules for foreign travel, as well as the school's approach regarding COVID-19 restrictions. There are implications for students COVID-19 vaccinations. Please make sure that you read it carefully, as there is important information that you will need to provide to the school in order for your child to attend the visit.
You can read a copy of the letter at this link.
Mr Doyle
Subject Leader for History
Young Geographer of the Year 2022
After the half term holiday, Geography Club will be running every Thursday after school from 3-4pm in IT3. Students who attend will be taking part in the Royal Geographical Society's annual 'Young Geographer of the Year' competition. Any interested students should attend the first club on Thursday 9th June where information about the competition will be shared.
Mr Ray
Second in Department, Geography
News from Classrooms: GCSE Business
Last week our GCSE Business lessons focused on training and motivation. I set a challenge to each class, asking students with a talent to step forward to teach us "how to…". I was delighted by how many students volunteered - we had lessons on juggling, Spanish, cricket, Cantonese, rugby, card throwing, paper aeroplane making, speed t-shirt folding, track sprints and cadet drills. This provided several lessons for the students: things aren't as easy as they look; you need clear instructions, time and patience to be a trainer; practice, time and effective training make us better, as does being motivated and engaged! Excellent work Year 10 and a special thank you to our "top trainers".

Miss Forbes
Subject Leader for Business and Computing
Music Department Notices
External Music Examinations
If your child has a graded music exam, please note that you do not need to apply for leave of absence for this purpose. Please would you write a note in their organiser, as you would for a medical appointment, and this will need to be countersigned by either me or their form tutor. They will then be able to get an off-site pass from reception. It is helpful if this can be done the day before their exam, especially if their exam is early in the morning and they will arrive late to school.
Also, if you child's exam contains aural tests and they would like a little extra support in preparing for this, they should come and book a weekly lunchtime appointment with a member of the music department.

Durham Music Service tuition for Years 11, 12 and 13 during study leave
Pupils in years 11, 12 and 13 are more than welcome to come into school for instrumental/vocal lessons whilst they are on study leave. They do not need to be in school uniform if they are just on site for this purpose and if they are unable to attend lessons, please could they let their teachers know in person, or by email, so that this time can be reallocated.

School Music Festival
The 2022 School Music Festival will take place on the evening of Friday 1st July in James Hall and there will be three classes:
| | | |
| --- | --- | --- |
| Class 1 (Grade 1-3) | Whinney Hill Music Cup | 6.00pm |
| Class 2 (Grade 4-5) | Crossgate Moor Music Cup | 6.45pm |
| Class 3 (Grade 6+) | Durham Johnston School Music Cup | 8.00pm |
The competition is open to all pupils who take music lessons outside school (including piano and singing) as well as those who receive tuition in school from Durham Music Service. Entries technically closed today, but if your child still wishes to enter, or forgot to submit the form, please ask them to come and see me (or email me) as soon as possible next half term.
For full details and an entry form, please click on this link.

Music for a Summer Evening – Thursday 7th July – 7.00pm
We would like to invite Sixth Form musicians (both Year 12 and 13) along with their families and friends to informal 'cabaret–style' event taking place in the Cafe, where pupils and staff entertain their guests whilst they enjoy drinks and a light buffet. It is an opportunity to say 'goodbye', and 'thank you' to the leavers for all their commitment to extra-curricular music over their years at Durham Johnston School.
If you would like to provide a musical item, please ask them to let a member of the music department know and it can be added to the running order. Similarly, if they would like to organise a group item as a last chance to perform with friends, then let us know.
If you would like to attend, tickets are available from the Music Department at a cost of £7.00. This includes food and your first drink and please note that performers still need to purchase a ticket to cover refreshment costs.
For full details and an entry form, please click on this link.
Mr Holmes
Subject Leader for Music
PE News
On Monday, our Year 7 basketball team travelled to Egglescliffe School in the semi-finals of the north-east Junior NBA competition. We dominated the game, leading by 14 points at half-time. We completed a straight-forward 36 - 4 victory to reach the north-east finals which take place at the Newcastle Eagles Arena on 29th June.
Also on Monday our Year 10 football team were at St John's taking on Sedgefield in the Ben Potts Trophy final. An excellent performance saw them complete the cup double with a 4 - 1 victory. Billy Hutchinson and Jamie Stewart shared the player of the match award. The team dedicated this victory to Mr Atkinson who is off school at the moment.
The first rounders matches of the season took place on Tuesday as St Leonard's brought Year 7, 8 & 9 teams for a friendly fixture. It was a clean sweep for our teams after an excellent evening of rounders played in a great spirit.
It was an unfortunate end to the Year 7 football team's season on Tuesday as they suffered a 6 - 2 defeat in the Tyneside Cup final to a strong team from Parkview. The boys have shown a great attitude throughout the season and still end it as league and cup champions.
The final football match of a long season took place on Wednesday as our Year 8 team were back at St John's facing Woodham in the league cup final. We proved too strong for them as we completed the league and cup double with a 5 - 1 victory. Harry Clish was player of the match.
During the day our U15 girls' cricket team were at Sedgefield CC for the Area tournament. After some schools dropped out we faced a straight final against Sedgefield. It was another successful day as we won to reach the county finals which take place in June.
Our U15 boys' cricket team were due to play in the Tyneside Cup but Parkview conceded the game so we now go on to face St Leonard's in the quarter-final after half term.
Last night our U13 boys' and girls' tennis teams took on Barnard Castle in league games. Despite very windy conditions the standard of tennis was very high. Our girls had a comfortable 6-0 win to remain top of the group. The boys' game was much closer and came down to the last match which we unfortunately lost to lose the match 4-2.
Can I finish by reminding parents that tickets are still on sale for our 26th Annual Sports Presentation Evening? This takes place on 6th July. Please purchase your tickets as soon as possible after half term.
Mr Hopper
Subject Leader for PE