13 May 2022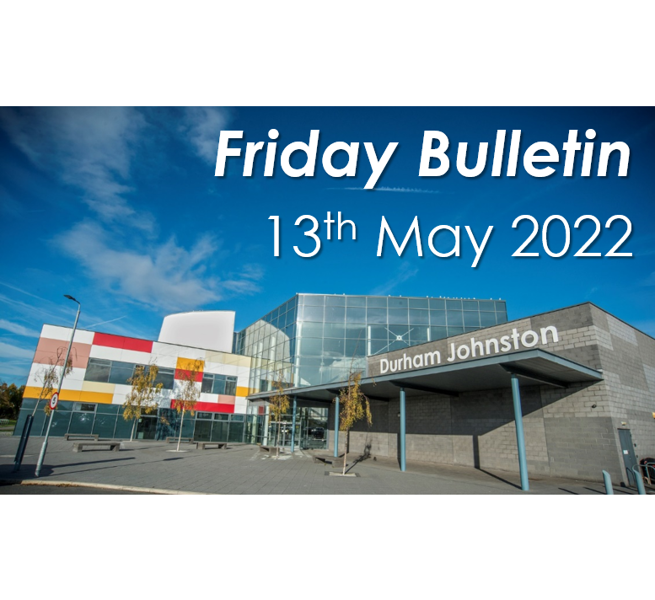 Dear Parents & Carers,
We have reached two milestones as this week nears its end. Year 13 had their leaving assembly last night and gave out awards, signed year books and ate together. They aren't leaving until next week, but almost every space that can hold an assembly is in use for examinations from Monday, and this was an important last opportunity to be together. The exams extend over a longer period of time this year with a variety of different supportive arrangements in place requiring significant space and extra staffing. Year 11 have followed Year 13s pattern with their final assembly and time together as a larger group. Both year groups deserve real credit for dealing with a very difficult two years with good grace. I shared the following message with Year 11 as they reflect upon their last day before exams.
I have a clear memory of you arriving as Year 7 students in 2017. You stood on the yard in uniforms that were a little too big, shirts that were a bit scratchy around the collar and looked nervously up at the older, taller students. You are now those students.
As an adult time passes very quickly, but for many of you that may seem like a lifetime ago; 5 years of constant change. I became acting Headteacher when you were in Year 7 and, in many ways, my experience of the last 5 years has mirrored yours. From uncertainty, through the pandemic, to a better understanding of how things work as experience is gained. Like you, I have had good days and bad days; I've got things right and have made mistakes too. That is what happens in schools.
You have been an excellent year group and have faced incredibly difficult circumstances with fortitude. No one could have predicted what your Year 9, 10 and 11 experiences would be like, but you have responded to every challenge positively and have just got on with it. When things have gone wrong nationally that has been beyond your control and clearly not your fault. You have continued to try when things haven't been easy and that reflects well on you.
I have found you to be considerate, thoughtful and willing to act upon advice. Durham Johnston is a comprehensive school and you have met and worked with people from a variety of backgrounds, with different life experiences and viewpoints. You have treated each other kindly in the main and have developed friendships that will last for a very long time. We will miss you, but I hope to see the majority of you in September as members of the school 6th Form. I wish you success in all your future endeavours, wherever you go and whatever you do. Durham Johnston will always be your school.
We will miss both Year 11 and Year 13 but, as you will have seen from recent letters hopefully brought home, we will continue to offer support, revision and guidance opportunities throughout the exam period. This can be a difficult time as parents and carers too and access to information can be very helpful. The BBC published a helpful guide linked to exams yesterday. You might find it useful as a complement to the materials that we have shared at open evenings and via the school website:
GCSE and A-level exams 2022: What you need to know
Additionally, we have prepared some guides to explain what will happen on the results days in August, which you can find at this link.
Have a good weekend, and good luck Year 11!
Mr O'Sullivan
Newcastle University Maths Challenge Award Winners
On Wednesday 4th May, five of our students were invited to receive awards for their entries to the Newcastle University Maths Challenge. The university received 851 entries from 62 schools across the North East of England and awarded 43 prizes and 48 certificates. Two of our students were awarded certificates and three achieved prizes. This is a fantastic achievement and the best results that we have had in this challenge in recent years.
Mrs Urwin
Subject Leader for Mathematics
Sixth Form Notices
Please click the link below to read the weekly digest of news and information for Sixth Form Students.
Drama Notices
Students have been informed that because of the external examinations, all extra-curricular drama after school is now postponed until the examinations have finished. This is because of the school hall and drama studio being used, and many examinations not finishing at 2.45. We unfortunately do not have another venue for practical work.
Information on when they will resume will be sent via form tutors nearer the time.
Ms Ayrey
Subject Leader for Drama
Music Department Notices
Durham Music Service tuition for Years 11, 12 and 13 during study leave
Pupils in years 11, 12 and 13 are more than welcome to come into school for instrumental/vocal lessons whilst they are on study leave. They do not need to be in school uniform if they are just on site for this purpose and if they are unable to attend lessons, please could they let their teachers know so that this time can be reallocated.

Congratulations
Congratulations to Ziva Cruddice, Emily Rich, Lottie MacKay and Rachel Wiggers, who sang in a performance of Puccini's La Boheme at the Gala Theatre on Monday night, with English Touring Opera. And, well done to Lottie Mackay, Isabella Middleton and Rachel Wiggers who have been selected to join the specially formed 'Platinum Choir' that will sing in a service at Durham Cathedral on Saturday 4 June 2022 at 3.00 p.m. The Queen will be represented at the service by Her Majesty's Lord Lieutenant of County Durham.

School Music Festival
The 2022 School Music Festival will take place on the evening of Friday 1st July in James Hall and there will be three classes:
| | | |
| --- | --- | --- |
| Class 1 (Grade 1-3) | Whinney Hill Music Cup | 6.00pm |
| Class 2 (Grade 4-5) | Crossgate Moor Music Cup | 6.45pm |
| Class 3 (Grade 6+) | Durham Johnston School Music Cup | 8.00pm |
The competition is open to all pupils who take music lessons outside school (including piano and singing) as well as those who receive tuition in school from Durham Music Service.
For full details and an entry form, please click on this link.

Music for a Summer Evening – Thursday 7th July – 7.00pm
We would like to invite Sixth Form musicians along with their families and friends to informal 'cabaret–style' event taking place in the Cafe, where pupils and staff entertain their guests whilst they enjoy drinks and a light buffet. It is an opportunity to say 'goodbye', and 'thank you' to the leavers for all their commitment to extra-curricular music over their years at Durham Johnston School.
If you would like to provide a musical item, please ask them to let a member of the music department know and it can be added to the running order. Similarly, if you would like to organise a group item as a last chance to perform with friends, then let us know.
If you would like to attend, tickets are available from the Music Department at a cost of £7.00. This includes food and your first drink and please note that performers still need to purchase a ticket to cover refreshment costs.
For full details and an entry form, please click on this link. ​

Mr Holmes
Subject Leader for Music
PE News
An amazingly successful few days started last Thursday when our athletics teams took part in the Area Championships at the Riverside Stadium. We have now had the results confirmed:
Junior boys - 1st
Junior girls - 1st
Inter boys - 1st
Inter girls - 1st
Overall School - 1st
Many of our athletes now go on to represent the area at the County Championships in June.
On Monday, our U13 girls' cricket team were competing in an area CTC tournament at Sedgefield CC. It was a great day of cricket in which we won 3 of our 4 matches to win the competition, and qualify for the county finals.
Athletics continued on Tuesday as our teams travelled to Monkton Stadium for the English Schools Cup. After an excellent day of athletics we again dominated the opposition to achieve the following results:
Junior boys - 1st
Junior Girls - 2nd
Inter boys - 1st
Inter girls - 2nd
All four teams now go onto the regional round in June.
Yesterday, our Year 9 cricket team were taking part in the county final at Whickham CC. We faced St Thomas More. We batted first, and scored an impressive 168 for 2 with Jim Twiddy top scoring on 62 not out. We took early wickets and eventually bowled St Thomas More out for 105 runs to become County Champions. Jim also took 4 wickets and the player of the match award.
Also last night, our VIth form football team were taking on Prudhoe in the Tyneside Cup final trying to complete an unprecedented quadruple! We started strongly and looked in control at 5 - 1 ahead. However Prudhoe fought back, reducing the deficit to 5 - 3. Nevertheless, we hung on to claim the title, and complete a remarkable season for our VIth form football team. Congratulations!
Finally last night, our Year 10 team were at home facing Sedgefield in the League Cup semi-final. We were 3 - 0 ahead with only minutes to go and despite a late Sedgefield goal we held on to reach the final which will be played next week.
Good luck today to our Year 8 cricket team who are travelling to Sedbergh in the National Cup northern semi-final. We will hopefully bring good news from this match next week.
Mr Hopper
Subject Leader for PE