1 April 2022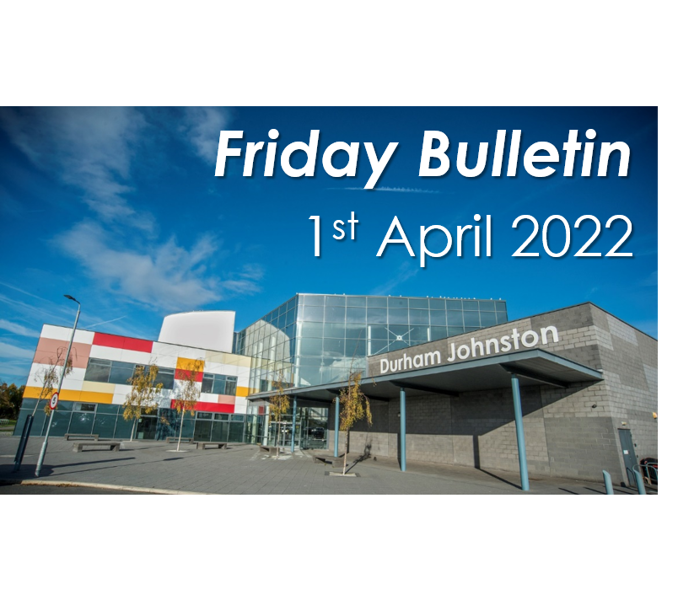 Dear Parents & Carers,
I shared some wonderful success stories last week. Our Year 7 and 8 Kid's Lit teams also achieved recent success, with Beatrice Scholar, Lottie Gregory, Patrick Amarasuriya and Lucy Defty winning the Northeast regional final in a well contested competition, beating Dame Allen, Whitley Bay High School, Yarm, Ponteland and Gosforth amongst others. Our other team also did extremely well, finishing 7th. We still aren't quite back to normal, but every time our students participate in competitions and events and work with other schools, it is a step in the right direction. It has also been very positive to have so many careers events taking place in school next week. The last two years have had a significant impact upon how we work in Britain and it has been good to see students engaging with external employers and thinking about their career aspirations.
In terms of a return to normal and the Government strategy of living with covid, the Department for Education have shared the following information with schools that will apply as of today:
Changes to measures and guidance for managing COVID-19 in education and childcare settings from Friday 1 April

On Tuesday 29 March, the Secretary of State for Health and Social Care, Sajid Javid, set out the next steps for living with COVID-19 in England. The Department for Education have shared the following guidance for education and childcare settings from Friday 1 April:

adults with the symptoms of a respiratory infection, and who have a high temperature or feel unwell, should try to stay at home and avoid contact with other people until they feel well enough to resume normal activities and they no longer have a high temperature.

children and young people who are unwell and have a high temperature should stay at home and avoid contact with other people. They can go back to school, college or childcare when they no longer have a high temperature, and they are well enough to attend

adults with a positive COVID-19 test result should try to stay at home and avoid contact with other people for 5 days, which is when they are most infectious. For children and young people aged 18 and under, the advice will be 3 days.

regular asymptomatic testing is no longer recommended in any education or childcare setting,

including in SEND, alternative provision and children's social care settings. Therefore, settings will no longer be able to order test kits.

the UK Health Security Agency (UKHSA) will publish new guidance. Most of the specific COVID-19 guidance for education and childcare settings will be withdrawn from GOV. UK on Friday 1 April. The operational guidance on the testing in education settings document sharing platform will also be removed on the same day.
I have highlighted the key points that parents and carers need to be aware of and would reiterate that students with a high temperature and who are ill should not attend school. However, if your child is well, the only reason not to be in school is if they have tested positive for Covid-19. As noted above, the guidance states that they should then isolate for 3 days. I'm aware that parents and carers will have a variety of perspectives on this change. As we have done throughout the pandemic, the school will dedicate its energy and resources to do all that we can to educate our students, to prepare Years 11 and 13 for exams and to prioritise full attendance whether possible. If students are well and in school, then they are also safe and learning.
The final week of term will be a very busy one. We have invited Year 11 parents and carers to school at 4.15 p.m. on Tuesday for a presentation on the GCSE examinations. School leaders will share advice about to balance revision and well-being and will explain some of the key changes in relation to this year's exams. Students at Durham Johnston consistently do well and success often comes from a positive attitude, hard work and organisation. We would encourage students to work hard, but to also keep a sense of balance. That is important for parents and carers too. It is also normal to be slightly anxious about exams. Revision and careful planning, alongside exercise, sleep and time with family and friends is the best approach and helps students to keep things in perspective.
Finally, we are very much looking forward to next week's spring concerts. This represents the last performance in school for our Year 13 students and I would encourage parents, carers, staff and students to come along and show your support on Thursday and Friday.
Have a great weekend.
Mr O'Sullivan
Sixth Form Notices
Please click the link below to read the weekly digest of news and information for Sixth Form Students.
Information is Power
Helping our students make informed decisions isn't just about their A level / university / career choices. Recently we've been discussing a number of issues, relating to getting ready for life outside of school. Respect, for yourself and others, is at the core of these discussions. Sixth Formers have completed a survey regarding their understanding of the term county lines. Additionally, they have shared their opinions regarding how and at what age consent should be discussed with children and young people. In form groups this week, Sixth Form Tutors have been feeding back the findings and advancing student knowledge in these important areas. Our Sixth Form Committee felt that the smaller, familiar environment of their tutor group was the best place for these issues to be looked at. We've also shared the findings with RSE staff and Senior School Leaders who help ensure our younger students are getting the right information at the right time. I'm really grateful that so many sixth formers shared their invaluable and recent insights.
The rise in 'spiking' has also been in the news a lot recently. To help prepare and protect our students, we are raising awareness of this very important issue by watching a short documentary, encouraging discussion and distributing protective covers. Of course, one cover per student would only cover one drink – but the main aim is to raise awareness and protect our students, through informed debate.
Useful links:
Spiking - information here and here.
As always, any student or parent who has any safeguarding concerns should speak with a member of our Leadership Group.
Mrs Lennon
Head of Sixth Form
Music Notices
'Music about Music' tickets, final rehearsals and concert arrangements
Tickets are still available from the music department for the concerts next week. If you haven't yet purchased tickets and are able to attend the 6.30 performance, that would be much appreciated as there are more tickets available for these timings.
Please find below details for next week. May I particularly draw your attention to the two ensembles that are rehearsing on different days? These are Junior Choir (moved to Tuesday) and Senior Orchestra (moved to Wednesday).
MONDAY 4TH APRIL

Lunchtime

- Chamber Choir

TUESDAY

5TH APRIL

2.45-4.00pm – Rehearsal for Thursday's Concert

- Wind Band
- Little Big Band
- Junior Orchestra
- Junior Choir
- Soloists

WEDNESDAY 6TH APRIL

2.45-4.00pm – Rehearsal for Friday's Concert

- Senior Orchestra
- Senior Choir
- Chamber Choir
- Soloists

THURSDAY 7TH APRIL

Performance 1 – 6.30pm - please arrive by 6.15pm

Performance 2 – 7.30pm

- Wind Band
- Little Big Band
- Junior Orchestra
- Junior Choir
- Soloists

FRIDAY

8TH APRIL

Performance 1 – 6.30pm - please arrive by 6.15pm

Performance 2 – 7.30pm

- Senior Orchestra
- Senior Choir
- Chamber Choir
- Soloists

Come and Sing Event - May 28th
Please may I draw your attention to a collaborative event which pupils and parents have been invited?
Please click here for more details.
Mr Holmes
Subject Leader for Music
Drama Notices
Please note the following changes to extra - curricular drama due to upcoming events.
Year 9 Drama Club Wednesday 6th April will not take place, but resume on Wednesday 27th April.
Due to the concert next week on Thursday 6th April, Script Club for Year 7 and 8 during lunchtime will not take place, but will resume on Thursday 28th April.
Due to the concert on 6th April and the Year 6 Welcome Event on Thursday 28th April, Year 7 and 8 drama club will not resume until Thursday 5th May.
Students attending sessions this week have been informed.
Ms Ayrey
Subject Leader for Drama
PE News
This morning we were excited to welcome the England U18 schoolboys' football squad. They took part in a training session with DJCS U13 girls' & boys' football teams. It was an amazing experience for our footballers to train alongside this England team. We wish good luck to them, as they take on Scotland schoolboys' U18 team at Spennymoor Town FC.
Tickets are still available from the ground or it can be watched live on the BBC iPlayer.
Elsewhere, it has been another very successful week, in which Durham Johnston had won another six county titles by Tuesday evening!
On Monday our Year 7 and 8 boys' and girls' indoor athletics teams were at Maiden Castle competing in the county finals. It was a dominant performance as we won the vast majority of both track and field events to win all four county titles.
Some of the boys then dashed straight back to school to take on St Cuthbert's in the Tyneside football semi-final. Despite controlling possession we struggled to beat an outstanding St Cuthbert's goalkeeper. However, we did secure a hard-fought 2 - 1 victory to reach the Tyneside Schools final.
Also on Monday, our Year 8 & 11 football teams were in league action against Parkside. Both had comfortable victories with the Year 8 team winning 7 - 2 with Alex Wright player of the match.
On Tuesday our U13, U15 and U18 girls' rugby teams were at Durham City Rugby Club competing in the county tournament, which Mr Humberstone also organised. After an excellent afternoon of rugby our U13 team remained unbeaten to become county champions. Our other two teams also played some excellent rugby with our U18 team finishing 3rd and our U15 team in 4th place.
It was the turn of our Year 7 and 10 football teams to play league games on Tuesday night. Both games again ended in comfortable victories with our Year 7 team winning 7 - 0 with Zach Smith player of the match and our Year 10 team winning 9 - 0.
Finally on Tuesday, our U19 football team were at Maiden Castle taking on Emmanuel College in the county cup final. We started well and were 4- 0 up at half time. Despite a battling performance from Emmanuel we proved too strong for them going on to secure the county title with an 8 - 1 win. Yann McGowan was player of the match with 3 goals and 3 assists.
On Wednesday our U19 tennis team were due to play in the first round of the Glanville Cup. This is the national schools competition. However, Ponteland conceded the game so we now go on to play Whitburn in the next round.
On Thursday night our Year 9 & 11 football teams were due to be in cup action but both games were victims of the snow and will have to be re-arranged.
Finally, good luck tonight to our U15 girls' basketball team who are at Dame Allan's for a friendly fixture.
Mr Hopper
Subject Leader for PE