8 April 2022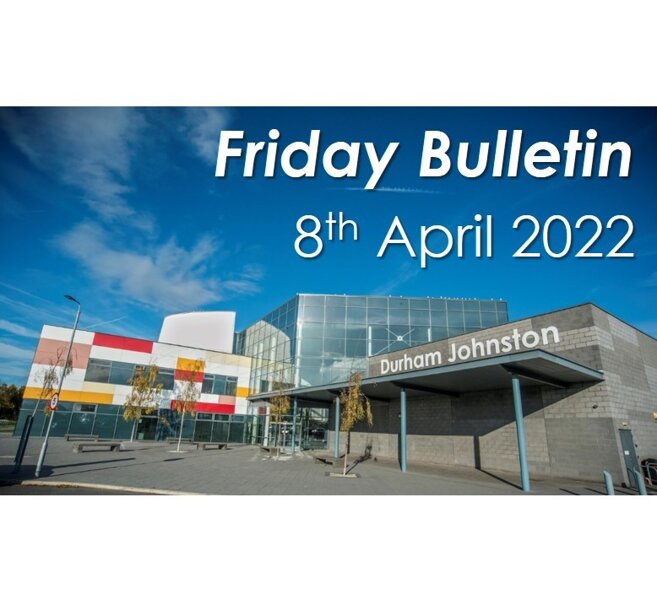 Dear Parents & Carers,
We have reached the end of another term, and that is always when we assess what has gone well, and what we need to work on and develop as a school. It is also a time to consider what comes next, as we plan for the summer term and the new school year in September. We have made a number of very important appointments since February 2022, and we are also saying goodbye to two very loyal staff members who have contributed a huge amount to the success of the school. Dr Coleman and Mrs Tennant are both leaving this week and we wish them every future success. Both have been excellent colleagues and have supported and helped thousands of students since joining the school in 2006 and 2009 respectively.
During this term, we have prioritised progress in the classroom for all, and have been completing courses with Year 11 and 13 students. Our key message for those important year groups has been the importance of working hard over Easter, but also retaining a sense of balance by spending time with friends and family. Examinations are about consistency across a period of time, not intense preparation for the first exam. Keeping a sense of proportion and pacing yourself is key. Students need to do their best, seek help if unsure and to be as organised as possible and that message was shared at a very busy information evening for Year 11 parents on Tuesday.
Looking back through this term's Friday bulletins, it is clear that our students have achieved a consistently high level of success in a range of different fields. That is wonderful and it has been very enjoyable to share and celebrate that success. As an example, our 6th form boy's football team won their third competition of the season last night and deserve huge credit.
There are, however, many other types of less visible success that we do not write about as frequently, but can often involve equal effort. Those successes might involve a student answering for the first time in class, understanding how to solve a subject specific problem that they have struggled with previously or managing to regulate their response when faced with a situation in which they might previously have made a mistake. We celebrate those achievements on a regular basis each day, and also try to identify ways for students to progress in class, or manage complex relationships successfully. We will continue to encourage and prioritise those personal steps in the same way that we celebrate more attention grabbing achievements and I hope that you will do the same at home too. With that in mind, we have been celebrating the musical life of the school this week via two wonderful Easter concerts, but I will also be awarding a Headteacher's badge to someone who has spoken with confidence in a lesson for the first time this academic year. Those performing exemplify the talented students that we are fortunate to have at Durham Johnston, but all achievement is relative, and smaller accomplishments should be acknowledged and celebrated too.
Have a restful Easter holiday.
Mr O'Sullivan
Image Consent
We have commissioned an informational video about the school, filming for which will take place in the first week back after the Easter holidays. Filming will aim to capture as many images as possible, but not all clips will appear in the final video.
In accordance with GDPR regulations, we need to seek specific permission from parents and carers for students in Years 7 to 11 and from students in Years 12 and 13. Students have been issued with letters in form time today, with a slip to be returned to school on Monday 25th April. There is of course the option to refuse permission. We would be very grateful if slips could be returned to form tutors promptly after the holidays.
Covid Vaccinations in the Community
We have been asked to share the following letter from NHS North East.
Sixth Form Notices
Please click the link below to read the weekly digest of news and information for Sixth Form Students.
House System News
Last weekend, our caretaker Mr Hindmarch visited a local business (Bells in Newton Hall) who are collecting on behalf of a charity called "Heel & Toe". The visit was sponsored by the house system and a cash donation was handed over, along with a large selection of Easter Eggs - ready for the children to receive Easter weekend. The charity is funded largely by events and donations, and we were delighted to be able to support this wonderful cause.
This week our first monetary donation was sent to the British Red Cross to support their humanitarian work in Ukraine.
Our DJCS House Fund donated £500 to this worthy cause. Over the coming weeks we intend to make a similar donation to another charity. We will then use £1000 to support efforts in our local community, including help with food, clothing and furniture.
Once again thank you for your support with the appeal.
Miss Forbes
Senior Teacher, the House System
'Music about Music'
Last night saw the first of a double-bill of concerts with the theme 'Music about Music' featuring Junior Orchestra, Junior Choir, Little Big Band, Wind Band and soloists. Part two this evening will see Senior Orchestra, Senior Choir, Chamber Choir and more soloists step into the spotlight. It was great to see so many of our talented musicians playing together, and the audience were treated to everything from Brahms to Bohemian Rhapsody, and lots in between.
These concerts are a 'farewell' to the Year 13 musicians, many of whom have been members of extra-curricular ensembles for seven years, some of whom attend rehearsals every day of the week. We thank them for their dedication and commitment, and for acting as role models for the younger pupils as they set out on their musical journey. The Music Department would also like to thank everyone who helps with weekly rehearsals and concert preparation; pupils, parents, carers, Durham Music Service staff, and Durham Johnston teaching and support staff.
The Music Department
PE News
Last Friday, our U15 girls' basketball team had a friendly match against Dame Allan's. We dominated the game playing some excellent basketball to win 67 - 16.
On Monday, our Year 9 football team were at Heritage Park, Bishop Auckland taking on Sedgefield in the final of the Bishop's Cup. We dominated possession but couldn't find a goal until the 33rd minute when Felix Scott scored. However, they replied within 45 seconds to level at 1 - 1. We again had lots of possession in the second half but only managed one goal from Alex Graham. However this was enough to win the game and become cup champions.
On Tuesday, our Year 8 rugby team were competing in the Durham County festival. This was an outstanding afternoon of rugby. We remained unbeaten to reach the final against Emmanuel College. We continued our excellent play to beat them and become county champions.
Also during the day on Tuesday our U13 girls' cricket team were at the Beacon of Light taking part in another county final. They also performed very well to reach the final against a strong team from Shotton Hall. Despite our best efforts we couldn't quite get the better of them. Still a great achievement to finish runners-up in the county.
Finally on Tuesday, our VIth form football team were at Maiden Castle taking part in their second county final in a week. This time they met Whickham. Despite the strong wind we controlled the game and after a tight first half we ran away with the game eventually claiming our second county title with a 5 - 2 victory.
On Wednesday, our Year 7 basketball team were taking part in the Junior NBA tournament. This is a new competition for the north-east and each school gets a NBA kit to wear - we were the Cleveland Cavaliers. We started with a 22 - 0 victory over Parkside and never looked in trouble throughout the evening as we comfortably won all our games to reach the north-east play-offs after Easter.
Last night our VIth form football team were back at Maiden Castle for another cup final. This time we faced Whitburn School. It was a different team but the same dominate performance and result. We completed the treble with a 6 - 1 victory which included five goals for Matty Ward.
Also yesterday, our Year 7 rugby team took part in their county festival. We started with a defeat against the eventual winners from Emmanuel College. This didn't dampen our spirit and enthusiasm, as we went on the finish 3rd in the county.
Finally, the PE department wishes everyone a Happy Easter as we now look forward to the start of our summer activities with tennis, cricket, athletics and rounders clubs all starting the first week back.
Mr Hopper
Subject Leader for PE