18 March 2022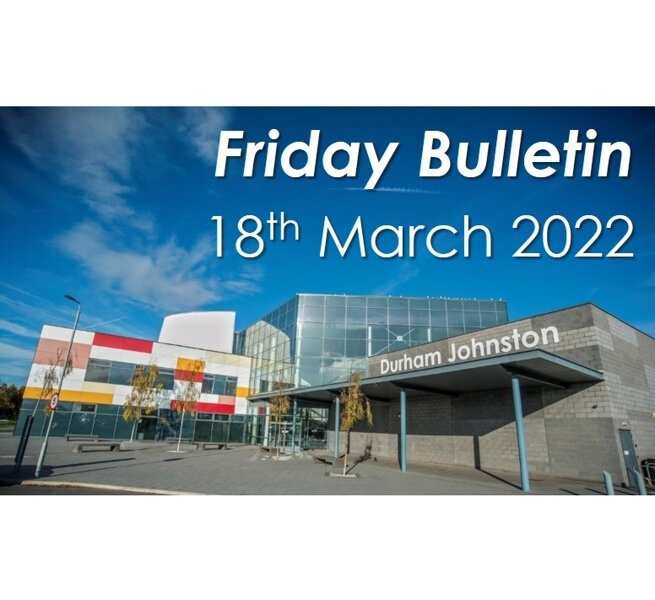 Dear Parents & Carers,
I would like to start by thanking our students for the excellent contribution that they have made by donating money and important personal items for Ukrainian refugees. Thanks go in particular to Miss Forbes, who, assisted by her team of House Leaders, was the driving force behind ensuring that students have had the opportunity to make such a positive contribution. In addition to all the items collected which we featured last Friday, we have raised a really substantial monetary sum.
This week's update is brief but I do want to share an important issue that I feel should be discussed at home. We have been contacted by the local police who have offered an important safeguarding update for parents, carers and students. They have asked us to make you aware that students from all local secondary schools are putting themselves at risk on Saturday and Sunday afternoons by meeting in Durham and consuming alcohol. This is mainly happening near to the Rowing Club and Durham University cricket pavilion. The police intend to increase patrols in that area. We have passed on similar updates previously and I would encourage all parents and carers to discuss personal safety with their child if they intend to travel into Durham at the weekend. At a national level, the police often ask parents and carers, 'Do you know where your child is?' and we encourage you to speak openly at home about how best to stay safe and to avoid risks. We will continue to reiterate this message at school too.
Mr O'Sullivan
The Science department have been celebrating British Science Week with competitions and prize giving.
Every form class has had the opportunity to take part in a Science in the News quiz; students can individually enter the poster competition on the theme of 'growth' and for the first time ever Durham Johnston have had a cohort of Year 7s taking part in the Crest Superstars Award program.
It was a pleasure to invite Mr O'Sullivan to present certificates and badges to 25 students who have completed this award based on practical investigation skills. A second group of students will complete their awards by Easter.
Year 7 Crest Superstar Award sessions happen after school on Wednesdays in Science 4. There is the opportunity to earn this award without attending the Wednesday sessions so if on-line is more your thing then that can be facilitated.
Pupils in Year 8 and 9 can also access after school science opportunities in person or on-line. Weird Science happens after school on Thursdays in Science 3.
If you are in interested in completing an award or joining Weird Science please contact Mrs Walker.
Finally, a massive thank you from me to the staff who support these clubs and to the students who attend – it wouldn't be the same without you!
Mrs Walker
Science Department
Sixth Form Notices
Please click the link below to read the weekly digest of news and information for Sixth Form Students.
Additionally, thank you to David Gibson whose presentation on life as a lawyer to 15 Year 12s was informative and engaging.
He gave advice on best super curricular preparation for a degree in law, the range of law specialisms widely studied at undergraduate level and insight into his own career path and experiences.
The plenary question and answer session was equally informative and gave our students plenty to think about.
We thank David again for his support for our students.
Mr Wilbraham
Deputy Head of Sixth Form
School Spring Concerts - 'Music about Music'
Thursday 7th April – Concert featuring Junior Choir, Junior Orchestra, Big Band*, Wind Band and selected soloists.
This concert will be performed twice, at 6.30pm and again at 7.30pm. Performing pupils will need to be present for both performances and we ask that parents, carers, family and friends only purchase tickets for one of the two performances.
Friday 8th April – Concert featuring Senior Orchestra, Senior Choir, Chamber Choir and selected soloists.
This concert will be performed twice, at 6.30pm and again at 7.30pm. Performing pupils will need to be present for both performances and we ask that parents, carers, family and friends only purchase tickets for one of the two performances.
* Please note that Big Band will perform on Thursday, not Friday as they have in the past.
Tickets, priced at £4 (£2 concessions), are on sale in the Music Department. Please note that these will be limited to 170 per performance and will not be for sale on the door but in advance only. Payment by cash or cheque, payable to 'Durham Johnston School'.
Soloists
There are still a few solo slots left and if your child is interested in performing a solo in one of the Spring Concerts, ideally in keeping with the 'Music about Music' theme, please do encourage them to come and see me. We would particularly like to hear from any year 13 students.
Mr Holmes
Subject Leader for Music
PE News
On Monday, our Year 7 basketball team were at Emmanuel College competing in a friendly tournament. We started with a comfortable victory over the hosts and remained unbeaten until we reached the final game against Dame Allan's. This was an exciting close game which ended in a draw. We decided to share the title rather than play overtime.
On Tuesday afternoon, our Year 10 Rugby Sevens team travelled to Barnard Castle to compete in the county finals. This was an excellent competition in which we played some great rugby, winning 3 out of our 5 games to finish 3rd in the county - only beaten by independent schools.
Also on Tuesday, our Year 9 football team took on King James in a league and Bishops Cup double game. We played some outstanding football to lead 6 - 0 at half time. We went on to reach the cup semi-final with a 9 - 0 win, with Ethan Brown player of the match.
On Wednesday, our U15 boys' and girls' handball teams were at Gateshead Leisure Centre competing in the North-East regional round. Our boys started with a great 5 - 2 win against High Tunstall. Unfortunately one poor match saw us needing to win our final game and hope other results went our way to make the semi-finals. Despite a 3 - 0 win we lost out on points difference. It was better news for the girls as they remained unbeaten in their group to qualify for the semi-finals. They lost this game but won the third / fourth playoff to finish 3rd and qualify for the regional round.
After school on Wednesday our Year 8 & 10 boys football teams were in league action at Ferryhill. Our Year 8 team took an early 2 - 0 lead but a fightback from Ferryhill saw the game end 3 - 3 with Jacob Moore player of the match. It was a similar story in the Year 10 game as we also went 2 - 0 up before conceding twice to draw 2- 2.
Also on Wednesday Mr Humberstone was a guest of the RFU at Twickenham to watch the U15 and U18 national schools' finals. He has recently been awarded a "Real Rugby Heroes" award by the England Rugby Football Schools' Union, for contribution to rugby in the region, and was invited in recognition of the achievement.
On Thursday our Year 9 Rugby Sevens team made the short journey to Durham School to compete in the county finals. They impressed with their skills and competitive spirit. Highlights included beating Emmanuel College and losing a hard-fought game to Durham School.
Good luck today to our Year 8 & 9 girls' futsal teams who are at the Beacon of Light competing in the county finals.
Finally, we have students competing at two separate National finals this weekend. Year 7 Ben Beale is at Bath University competing in the national biathlon finals. He is ranked number one in the country going into this final.
Tom Briggs, Will Jardine, Grace Carter, Charlotte Dillon, Josh Wraith, Tess Graham and Emily Chong are all in Kent running in the ESAA national cross-country finals. Hopefully we will be able to bring news of their success next week.
Mr Hopper
Subject Leader for PE