25 March 2022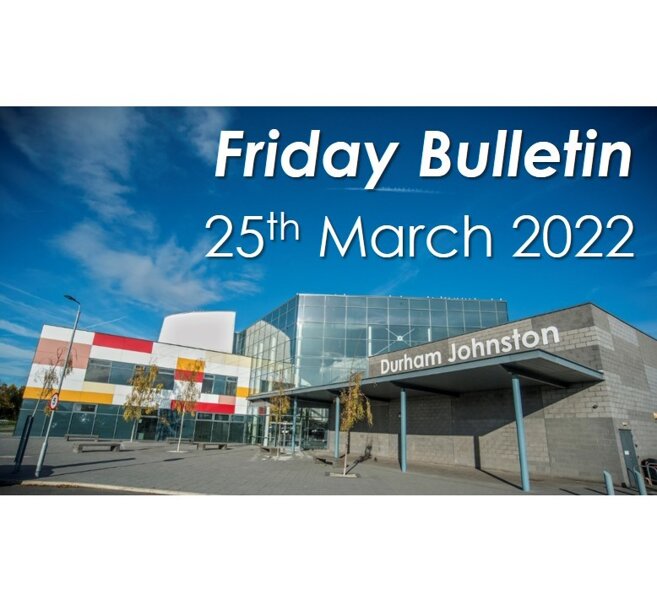 Dear Parents & Carers,
This week's bulletin is intended to celebrate some quite exceptional student achievements; to offer additional safeguarding advice for all parents; and to share some of our planning for Years 11 and 13.
As Mr Wright's notice below states, we would like to invite the parents and carers of Year 11 students into school on Tuesday 5th April to offer advice on how to support your child as they prepare for their GCSE exams. The session will offer practical advice, will stress the importance of a balanced approach to exam preparation and the need to combine hard work with personal wellbeing. The parental guide below offers 50 daily tasks to improve wellbeing. There some good ideas that you can discuss with your child as they revise and take time off over Easter and we have found it useful for older students and school staff too.
School newsletter | The Parents' Guide
April is national wellbeing month, and you will find a range of activities that should act as a good counterweight to revision schedules as students plan and prepare. We will also share our advice and plans for study leave, revision opportunities and the support that we will offer during the exam season with all students in upcoming assemblies.
Last week I shared some police advice with you about safeguarding concerns that had been raised about behaviour in Durham City at weekends. PCSO Kirsty Lawrence has contacted all secondary schools in Durham with updated advice for parents. She has asked us to share the following:
Extra officers will be on patrol in Durham City this weekend as a Dispersal Order is put in place to tackle anti-social behaviour. Several teenagers have been escorted home to parents and some arrested and interviewed following recent weekend disturbances which has also seen property damaged.

The dispersal order comes into force at 5pm on Friday, March 25, and lasts the whole weekend. Anyone suspected of potentially causing anti-social behaviour will be given a dispersal order banning them from the city centre. If this is ignored, they will be arrested. Inspector Dave Clark, of Durham Constabulary said: "Officers have had to escort several young people back home following unacceptable behaviour in the city centre and often the parents are mortified as they did not raise their children to behave in such a way. Young people think they're invincible but there's a very real chance they could end up with a criminal record – please don't let that be your child."

PCSO 8370 Kirsty Lawrence

Durham Constabulary,

Framwellgate Moor Station,

Old Pit Lane, DH1 5HJ
Please discuss this at home and be aware of the potential consequences for students and also the importance of personal safety. Last week I shared that there had been anti-social behaviour near to the university cricket pavilion and rowing club. I would like to offer an important clarification. At no point did I mean to suggest or imply that the problems were in any way associated with the Rowing Club or the staff that work there. As is evident from the police update above, the actual issue has proven to be a Durham City wide problem and it is important that we share that detail with you to safeguard any students that might be involved and to ensure that you are informed as parents and carers.
I would also like to celebrate some exceptional achievements for our students this week.
Mr Hopper's update below has more detail on the outstanding result achieved by Ben Beale, in Year 7 at the English School's Biathlon National Finals. I gave Ben a Headteacher Award badge on Wednesday, only the 15th awarded this year, and I would like to congratulate him publicly. Ben only started running competitively in the autumn term which is staggering based upon his level of success.
Real credit is also due to John Dixon in Year 10. John is a NE regional boxing champion and he is fighting in Guilford on Saturday as one of four national finalists in the 46-kilo weight division. If successful on Saturday, he will fight to be national champion on Sunday. Regardless of whether he succeeds or not, his achievement is tremendous. I will offer an update on how he does next week.
I would also like to congratulate Annabel Wade, Peter Jones, Matthew Flanagan, Daniel Scrivens and Alex Snell for winning the Vex Robotics regional competition at the first attempt against sixteen other North-East school teams. They will now progress to the national final – again, more detail can be found below, this time from Mr Corkin.
Each of those achievements is impressive and for our students to be successful in so many distinct areas is a reflection of our diverse community. The students involved have represented their families, the school and, most importantly, themselves in a very positive way. If you know them, please offer congratulations too.
Have a good weekend.
Mr O'Sullivan
---
Upcoming HPV Vaccinations for Year 8 Students
The Childhood Immunisation Team will be in school on Thursday 7th April 2022 to deliver the HPV 1 vaccinations to Year 8 pupils.
Please click on this link to consent for your child to receive these vaccines, and use school code 114312 to give your consent.
The last date to be able to give online consent is at 23.59pm on 31st March 2022.
If you have no internet access, please call the immunisation team on 0300 003 2554 and they can take your consent over the phone.
Notice for Parents and Carers of Year 11 Students
Please note that we will be holding a Year 11 Parents and Carers Information Evening on Tuesday 5th April, starting at 4.15pm in James Hall. Information will include the impact of the pre-exam release information for many subjects that was issued in February, the recent mock exams, and how best to support Year 11 students in the final few weeks before GCSE exams start.
Design and Technology Homework Heroes
The D&T department have been celebrating Homework Heroes – have a look below to see some of the excellent work that students in Year 7 & 8 have been doing!

Durham Johnston's Literature Team win the regional heat!
On Friday 18th March, two Literature teams gathered for a regional Literature quiz. The quiz, which is organised by the National Literacy Trust, is a very popular event, and we were competing with a number of schools, including independent schools, across the region.
After a very intense 3 hours, we are pleased to announce that we have won it and one of our teams will be off to London in May to represent the North East in the National final.
Well done to the Year 7 and 8 pupils involved!
Mrs Walton
English Department
Vex Robotics Success!
The Year 10 Vex Robotics teams was competing today at the regional competition, competing under their team name The Durham Virtu(al)osos - chosen because of their shared passion for Robotics and Music here at Durham Johnston. This was the first time we as a school have entered the event.
The competition entails two schools working together against another two schools, several times over, in a competition called "Tipping Point ". This is done through autonomously coding the robot you have built and manually piloting the robot to score points.
Huge congratulations to the team - Annabel Wade, Peter Jones, Matthew Flanagan, Daniel Scrivens and Alex Snell (and Bob the Robot!) for winning the regional competition at the first attempt against 16 other North-East school teams. They were a real credit to themselves and the school throughout the day. We were particularly proud of them after their qualifying heat; as winners, they had a chance to select any of the teams to compete alongside in the knock-out stages. Rather than choosing the next best team (which would have been the logical, competitive move!) they chose to team up with the team in fifth (of six) place, as they felt this team had helped them throughout the day more than any of the others and that winning wasn't the only thing that counted. A fantastic attitude to take, exemplifying the very best of DJCS values. Their spirit of camaraderie was rewarded – the team, from Marden High School, helped the Virtu(al)osos survive a later, very tricky round, which would have led to elimination. Both schools are going to the national finals as Joint Regional Champions, and we look forward to travelling with them to this event, and perhaps meeting up for some practice in the future.
Many thanks to Mr Kennedy for giving up his time to accompany the team, and enormous thanks to The Reece Foundation, whose generous financial grants have enabled us to buy Bob the Robot, and take our team to the events. We couldn't do it without them; support from organisations like this enable the Design Technology department to provide these fantastic opportunities for our students.
Mr Corkin
Subject Leader for Design and Technology
Sixth Form Notices
Please click the link below to read the weekly digest of news and information for Sixth Form Students.
Music Notices
Concert Tickets for performances on April 7th and 8th
These are still available from the Music Department. For more information, please see the information shared on the 18th March Friday Bulletin.
The 2022 - 23 Sage Gateshead Young Musicians Programme
The Young Musicians Programme is currently open for applications from children and young people in the North East from the ages of 4 to 19 years old to start in September 2022. The closing date for the first round of applications is Friday 15 April 2022. This is open to all children and young people who are interested in music and want to learn, including those who want to become professional musicians.
Please click here for more information.
Mr Holmes
Subject Leader for Music
PE News
I would like to start this week by highlighting an amazing achievement for Year 7 Ben Beale. Last weekend he was at Bath University competing in the English Schools Biathlon national finals. He was competing against the best 70 athletes in the country and he produced an outstanding run and swim to win the competition and become national champion! Even more impressively, he won by nearly 200 points which is a huge margin at this level. Congratulations Ben!
Also last weekend, seven of our cross-country runners were representing the county at the English Schools national cross-country finals in Kent. They all produced great runs, and were a great credit to the school throughout the weekend. Well done to Tom Briggs, Will Jardine, Grace Carter, Charlotte Dillon, Josh Wraith, Emily Chong and Tess Graham.
On Monday, our Year 8 basketball team travelled to St Cuthbert's in the final of the Tyneside Cup. We started well and took an early lead. However, St Cuthbert's are a strong team and fought back in the second half. Despite our best efforts we couldn't keep the lead, eventually losing 49 - 39. A good achievement to finish runners-up.
On Tuesday our Sixth Form boys' football team took on St Joseph's in the county cup semi-final. This was thrilling and close game which ended 1 - 1. The penalty shoot-out was even more dramatic as our goalkeeper Oscar Davis scored a great penalty and then went back in goal to make a save and take us into the county final.
Also on Tuesday, our Year 8 Rugby Sevens team travelled to Barnard Castle for the county finals. We were the only state school at the event and finished in third place behind the hosts and Durham School.
Rugby continued yesterday as it was the turn of our Year 7 team to compete in the county Sevens final, this time at Durham School. It was another excellent afternoon of rugby with the highlight being a victory over St Aidan's.
The county rugby officials also wanted to pass on their thanks to Sixth Form students Sam Plyming and Nick Steel, who have given up hours of their time to referee the county finals. They have been a credit to the school with their approach to every game.
Also last night, our Year 7, 9 & 10 boys' football teams hosted Parkside. It was another successful night as our Year 7 team won 3 - 0, our Year 9s won 2 - 0 and our Year 10s won 9 - 0.
To complete a busy day, our Sixth Form team made the short journey to Framwellgate in the semi-final of another county cup. We struggled in the first half and went 2 - 0 down. However, an excellent second half performance saw us fight back to win 5 - 2 and reach our second county cup final in two days. The pick of the goals was an excellent free kick by Matthew Ward.
Good luck tonight to our Year 8 boys' football team who are in Darlington playing Carmel in yet another county cup semi-final.
Parents and carers of our skiers should have received an email with regard to the setting up of ParentPay for the remaining instalments. A polite reminder that the next instalment is due by Friday 2nd April. Mrs Hopper is going to set up a "Ski Team" on MS Teams for each trip; please encourage your child to keep checking this for updates.
Finally, another reminder about opportunities to take part in or volunteer at Durham University sports camps. The details are below:
Durham University are running a range of sports and activity camps during the Easter holidays that cater for children aged 5-16 years of age. Holiday camps include Multi sports, Dance and Drama, Adventure, Football and Tennis camps.

Mini sports/Multi sports/Dance and Drama are all £15 per day (09.30am-4.30pm) with wraparound care available between 08.30-09.30am and 4.30-5.30pm for an extra £1.50 per hour. The Adventure camp is for 12-16 year olds and is £120 for 4 days and includes all onsite/offsite activities and lunch each day.
Mr Hopper
Subject Leader for PE