11 March 2022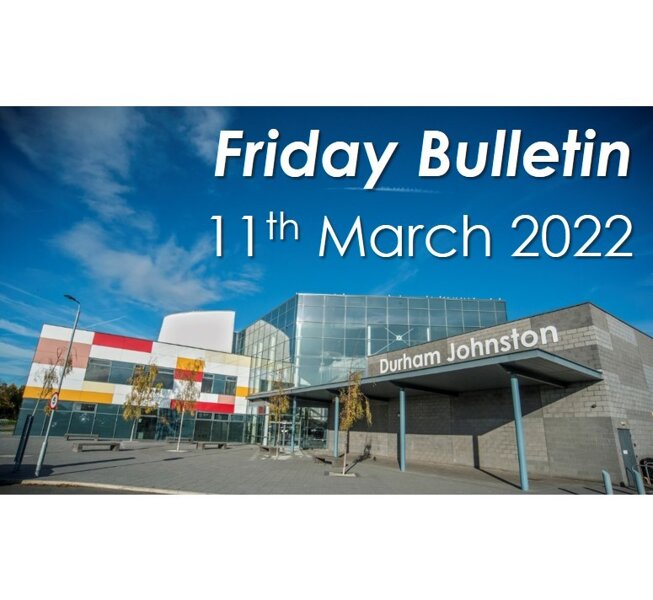 Dear Parents & Carers,
There is always a point in the school year when things start to gather momentum, and it very much feels like that present, with mock examinations taking place for Years 11 and 13, parent information evenings being planned and discussions around the coordination of hosting a large number of external exams over an extended exam period. Whilst all are signs of the effort and hard work to come, they also represent a return to normality and are traditional signposts for 16- and 18-year-olds. As ever, for those sitting exams, previous years are irrelevant; it is rightly about the next 3 months for them.
It is good that our students have that focus at present, as the experiences of children in some other countries is currently starkly different. At the time of writing, 52 children have been killed to date by Russian forces in Ukraine – regrettably, there will be probably have been more deaths by the time you read this – and of the 2 million refugees displaced by the invasion of Ukraine, one million are estimated to be children.
Whilst the normal routines of school life have continued for our students this week, they have been very mindful of their good fortune. Each day this week has seen a steady stream of students arriving at the Atrium with bags and boxes of food, clothing, toiletries, batteries, torches, first aid kits, books, games, items for pets, their pocket money or donations. We have now reached a point where we have run out of boxes and duct tape and will need to identify additional charities because of the volume donated. It is always important to reflect upon the lives of others, and our students have done that with great generosity this week. Our students and their families have demonstrated their compassion and concern for others.
There is little to say about what is happening in Ukraine that isn't self-evident from our fortunate position as observers from a distance. Children have suffered enormously in Africa and the Middle East in recent years too, the innocent victims of ideology, geopolitics, and a willingness to deploy military technology against civilians. Rather than my clumsy interpretation, it is perhaps more pertinent to share what Nikolai Kuleba, the ombudsman for children with the Office of the President of Ukraine, wrote on Tuesday about the impact on children. Please read his words and continue to donate so that the suffering of children, in particular, can be alleviated.
Mr O'Sullivan

Nikolai Kuleba:

I am trying to protect young ones in this war but the odds are against us. There is no military purpose to attacking primary schools, only savagery.

For the past seven years, I have been the ombudsman for children in Ukraine. This is the work of my lifetime. Today, every child in Ukraine is my charge because violence and terror rain upon them all. Childhood cannot coexist with war. And, for humanity, childhood must exist. Every child deserves that the promises made to them under the Universal Declaration of Human Rights and the Convention on the Rights of the Child be kept. Every child deserves a family who loves and keeps them safe. Every child deserves school and play and friendships and joy. Every child deserves to come home to a safe warm house, a nourishing snack and a loving parent excited to hear about their day. With war, no child in Ukraine can depend upon these fundamental rights.

Daily, parents call me pleading for assistance to evacuate their children, willing to take any risk to find safety. I cannot help them all now. I cannot tell them they are wrong to ask. As families are divided, mothers and fathers pin their names to their children's coats and inhale the smell of their hair before the bus door must shut. To answer their plea is also to break their hearts. To those who have Ukraine's children in their care – know they are loved and cherished. Please tell them this and put them to bed each night with a kiss on their foreheads, as their mothers and fathers would.

For the children who are still here, there is no safety, only terror. Across the country, schools are being deliberately destroyed, leaving wreckage strewn with tiny chairs and brightly coloured paper. Small shoes, left neatly lined up for the next day, are scattered and charred. There is no military purpose to attacking primary schools, only savagery. Food of any kind is scarce and becoming more so. Destruction of key infrastructure by invading forces means there is no water in many places and, if there is, it is too contaminated to even safely bathe a baby, much less drink. Hunger and disease march towards us like another army. History tells us these will cut down the young first and hardest.

When they are felled by artillery or disease or illness caused by too little food, warmth and medicine, there is nowhere to take them and few supplies or treatments. Damaged hospitals and devastated medical staff cannot even provide the promise of safe haven, as they are bombed themselves. Decent people are not meant to know what gunfire does to a six-year-old child's body. Today in Ukraine, we do.

I have seen depravity and violence in these past few weeks beyond any I had previously imagined. My staff and I committed ourselves to ensuring that every child in Ukraine would receive the full rights due them under Ukrainian and international laws. We have made sure that children had families not institutions to raise them, and we have begun to turn back generations of disconnection, suffering and neglect. Ukraine made real progress on these goals. We have much yet to achieve and the will to do it. I will continue – even in fatigues with a rifle on my desk.

Life is fierce. Every two minutes, a baby is born and takes their first breath in Ukraine. We make the same promise to them as every child: you will be safe, healthy, fed and loved in a free and thriving Ukraine. No mother imagined she would be welcoming her baby under gunfire, in mud and dark and dirt. But, in our bombed hospitals, homes and underground shelters, mothers bring their babies into this world with pain, sweat and fear. They welcome their babies in love and whisper their prayer for peace and freedom into tiny ears that God may hear.

We cannot fail them. Help us.
---
Ukraine Appeal
A huge thank you to everyone who has donated, planned, and coordinated to support this appeal. We have been overwhelmed by the response from our school community; your kindness and generosity is truly moving. The number of boxes we packed full of essential supplies is truly phenomenal! At the time of writing, we have raised over £1300 in monetary donations too; we will continue to accept these up until Wednesday 16th March.
Today a lovely gentlemen called Les, who has worked on similar appeals for over twenty years, collected our donations. They will go via Stanley Civic Centre, before being transported to the Polish Centre in Newcastle, ready for their journey East.
Particular thanks must go to the House Leads; Mrs Nixon; our caretakers; and other members of our school community who worked tirelessly to make this happen.
Miss Forbes
Senior Teacher, the House System
---
Year 11 Parents and Carers
Yesterday you should have received an email with details around the pre-exam release material for GCSE qualifications this year. Students were also spoken with in assembly this morning about the impact of JCQ regulations on the upcoming mock exams and it's relevance in the event of the summer exams once again being cancelled. Students were then emailed this information and you as parents and carers should also have a copy of this email for your reference.
News from classrooms…
Year 10 Business
Last week students presented their "Digital Marketing" ideas to the class. In the week leading up to this, students researched, developed, and designed media campaigns for a range of brands, considering how to engage with their target audience. They looked at financing, trends, and branding to support their pitch. Really clever and interesting campaigns - well done Year 10, you were all superb!
Year 10 Food
Year 10 have been honing their food preparation and nutrition skills over the last few weeks, producing some excellent work, including making pasta and pancakes! (To be consumed separately…)
World Book Day
Thursday 3rd March was World Book Day.
In addition to supplying pupils with the usual book vouchers, we held a full school masked reader quiz and the English Department discussed favourite books with KS3 classes, and then pupils recommended their favourite reads.
As part of this, pupils designed an open book to recommend a title and then got to write their own blurb to persuade others to read their favourite book.
All KS3 work has been displayed on our glass office. It is lovely to see (and hear) pupils stopping to discuss which books they have read, and what they will read next.
English Department
Intermediate Maths Challenge
On 2nd February students from Year 7 to 11 took part in the UKMT Intermediate Maths Challenge in James Hall. Of the 70 students who took part, we are pleased to report that 27 students won a Bronze Certificate, 11 students won a Silver Certificate and 11 students won a Gold Certificate.
13 students did so well that they qualified for one of the next rounds of the competition, the Kangaroo rounds, on Thursday 17th March. Congratulations to all students who won certificates in the challenge, particularly to John Phillips and Quinn Baldwin, who achieved such exceptional good scores that they qualified for the Maclaurin Olympiad instead, also on 17th March.
We wish all of the entrants in the next round the best of luck for Thursday.
Mr M Patterson
Mathematics Department
Sixth Form Notices
Please click the link below to read the weekly digest of news and information for Sixth Form Students.
Duke of Edinburgh's Award Success
We are delighted to be able to congratulate several current and past students on the completion of their Duke of Edinburgh's awards.
Omar Bilgin Mawson and Sam Brunton have recently achieved their Gold Award.

Simon Zhu, Alessia Skeates and Matthew Gill have recently achieved their Silver Award.

Romane Zeze, Harry West, Nick Steel and Abbey Kitson have recently achieved their Bronze Award.
A huge congratulations to them all, this is a great achievement.
Mrs Gibb
DofE Coordinator.
PE News
On Tuesday our Year 7, 8, 9 & 10 boys' football teams were in league action at Sedgefield. After an excellent night of football, honours ended even as our Year 7 team won 7 - 2 with Bobby Tomkins player of match. Our Year 8 team also had a comfortable 5 - 0 victory with Alex Wright POM. An injury hit Year 9 team lost 4 - 1 win with Cole Carter POM. Finally our Year 10 team also lost 4 - 1 with Louis Brown POM.
Also on Tuesday afternoon, our U15 handball teams were at Maiden Castle for a final training session in preparation for the north-east tournament which takes place next Wednesday.
The U19 county netball tournament was due to take place on Wednesday but unfortunately was postponed at the last minute.
On Wednesday we welcomed 150 primary school children from local primary schools to take part in an infant agility festival. It was a great morning of fun games and activities. The entire morning was run by our Year 10 & 11 BTEC sport leaders who did an outstanding job, showing great enthusiasm. They were a credit to the school.
On Thursday our U19 boys' basketball team travelled to Preston to take on Myerscough College in the last 16 of the English Schools Cup. They are regular national champions and a basketball academy who recruit players from all over the country and train full-time. Despite a battling performance they proved way too strong for us in a comprehensive win.
Tonight, our Year 8 boys' football team are taking on Carmel School in the county cup semi-final – good luck to them.
Finally, good news from our cross-country teams who were at Emmanuel College competing in the county championships today. We were the only school to qualify with every team, and they have just returned to school with the following set of outstanding results:
Year 7 boys - 1st and County Champions
Year 7 girls - 1st and County Champions
Junior boys - 1st and County Champions
Junior girls - 1st and County Champions
Inter boys - 1st and County Champions
Inter girls - 1st and County Champions
Senior boys - 1st and County Champions
Senior girls - 1st and County Champions
This clean sweep has only been done once before - by Durham Johnston 2 years ago!
Mr Hopper
Subject Leader for PE