4 March 2022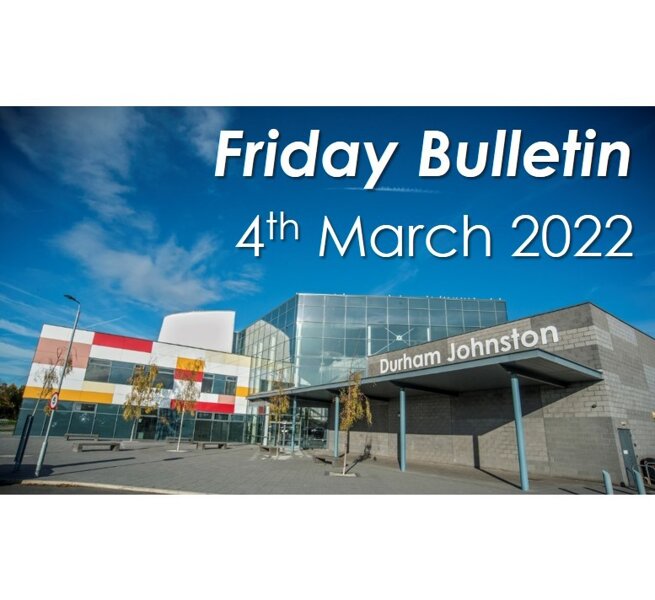 Dear Parents & Carers,
It was excellent to be able to start the new half-term by meeting together as a full staff for our Monday briefing. We met together in the school staffroom, the first time that we have done so since 13th March 2020. Whilst that was clearly very positive and a sign of things improving, one of the items that we discussed was the potential concern and anxiety that students might feel in relation to the Russian invasion of Ukraine, and the questions that students might have. We have a number of students in school of Ukrainian and Russian heritage, in addition to those from countries bordering Ukraine who are currently coping with a humanitarian crisis that is worsening by the day. Therefore, we wanted to ensure that everyone felt well supported. We also have students in schools with family links to similar, terrible situations that have unfolded in recent years in Syria, Iraq, Yemen and West Africa.
The key point for discussion on Monday was the need to answer any questions that students may have in a factual and honest way and to also think carefully about those affected in school. Our children of Russian heritage and their families are not responsible for the current action; those with family in the region will clearly be feeling anxious. The one clear thing that has emerged this week from staff and students is a desire to offer help and support for those currently suffering in Ukraine and those who have had to flee from their homes. As a direct response, we will start to collect goods and resources to help in the humanitarian effort from Monday morning onwards. Miss Forbes, senior teacher and our House System lead, has written to all students today and additional information about what and how to donate can be found in her update below.
To come back to that earlier point, the start of term has been noticeably different and things do seem slightly more 'normal' in terms of school life. We still have a small number of positive Covid cases from half-term affecting both staff and students, but nothing to compare with what our community experienced in January and early February. We have had a small number of queries regarding what to do if a child tests positive. Please read the following news item from Monday 28th February for a clear overview of what has and hasn't changed:
New guidance on self-isolation for people with Covid and their contacts
Could you please also ensure that you prioritise your child's attendance if they are well enough to be in school and that students arrive at school in the correct uniform? It is also important that they have the equipment that they need for the day ahead. We will offer an update on uniform in the coming weeks now that Covid-19 restrictions are being removed. During this half-term we have a busy schedule of parents' consultation evenings, parental information evenings and examinations for Years 11 and 13. We will also be writing to welcome parents and carers of the Year 6 children who has chosen the school for September 2002. It is a busy time, but good to be returning to the normal rituals and rhythms of a school year.
One additional 'return to normality' was clearly represented by the ongoing success of our sporting teams this week. Mr Hopper will comment on that wider success in his PE update, but we are very proud of the U16 boy's rugby team in particular. They managed to defeat Durham, Yarm and Barnard Castle in the County Championship finals on Wednesday. They succeeded in horrible conditions against teams with impressive track records. They deserve real credit for a wonderful achievement. Mr Humberstone is particularly proud of their success and has arranged a reward for them next week.
Have a great weekend and please help us to support the people of Ukraine by donating next week.
Mr O'Sullivan
Ukraine Appeal
This week we launched an emergency response to support the humanitarian efforts in Ukraine. From Monday March 7th we will be collecting essential items for the people of Ukraine, items which are very much needed as people are displaced and separated from their families. Donations could be monetary or essential items such as:
Clothing (all ages, especially warm thermal items and gloves, hats, scarves etc.), bedding, sleeping bags and blankets.

First-aid supplies (bandages, cotton wool, wipes, plasters etc.), sanitary products, nappies (young and old) and toiletries.

Food & drink – baby milk, hot chocolate, coffee, protein bars, porridge, oats and other non-perishable items.

Batteries, torches and candles.
Thank you in advance for your support.
Miss Forbes
Senior Teacher, the House System
Sixth Form Notices
Please click the link below to read the weekly digest of news and information for Sixth Form Students.
Music Notices
Music Rehearsals in James Hall during Year 11 and Year 13 Mocks
Week Beginning

Wind Band
Tuesday

Senior Choir
Wednesday

Senior Orchestra Thursday

7th March

No rehearsal

Soprano & Alto

Strings

14th March

Full

Tenor & Bass

Wind/Brass/Perc.

21st March

Full

Full

Full
N.B. Chamber Choir, Junior Orchestra, Junior Choir and Big Band are unchanged as they don't use James Hall.

School Spring Concerts - 'Music about Music'
Thursday 7th April– Concert featuring Junior Choir, Junior Orchestra, Big Band*, Wind Band and selected soloists.
This concert will be performed twice, at 6.30pm and again at 7.30pm. Performing pupils will need to be present for both performances and we ask that parents, carers, family and friends only purchase tickets for one of the two performances.
Friday 8th April – Concert featuring Senior Orchestra, Senior Choir, Chamber Choir and selected soloists.
This concert will be performed twice, at 6.30pm and again at 7.30pm. Performing pupils will need to be present for both performances and we ask that parents, carers, family and friends only purchase tickets for one of the two performances.
* Please note that Big Band will perform on Thursday, not Friday as they have in the past.
Tickets, priced at £4 (£2 concessions), will go on sale on Monday 14th March in the Music Department. Please note that these will be limited to 170 per performance and will not be for sale on the door but in advance only. Payment by cash or cheque, payable to 'Durham Johnston School'.
Soloists
If your child is interested in performing a solo in one of the Spring Concerts, ideally in keeping with the 'Music about Music' theme, please do encourage them to come and see me.
Mr Holmes
Subject Leader for Music
PE News
A very busy and successful week began on Tuesday as we hosted the U13 girls' county rugby festival. In excellent conditions, it was an outstanding afternoon of rugby. Our girls won all their games showing great promise for the future.
Also on Tuesday, our U15 girls' cricket team travelled to the Beacon of Light for the Area indoor cricket finals. We comfortably won two of our group games before losing a very close game to High Tunstall who won the group. Along with the group winners the best runner-up would now progress to the semi-finals. Despite scoring a lot of runs we somehow missed out on the best runner-up spot!
The highlight of the week came on Wednesday as our U16 boys' Rugby Sevens team were at Barnard Castle for the County finals. This competition is dominated by independent schools, and we were one of only two state schools to compete. We started with a close victory over Durham School. We then followed this with a more straight-forward victory over the hosts. After another comfortable win, we then met the other unbeaten school, Yarm, in the final game. This was an outstanding match which could have gone either way. In an amazing achievement we scored a late try to win the game and become County Champions. This is the first time Durham Johnston has ever won this competition. Well done to all the boys!
Also on Wednesday, our U19 boys' basketball team were at home playing Dame Allan's in a friendly. We took an early lead but couldn't maintain it as we eventually lost by 18 points. It was however important practice for our English Schools match next week.
Basketball continued on Thursday as our U16 girls' team took on Trinity School, Manchester in the English Schools national quarter-final. We made a nervous start but improved as the game went on. However they were a very strong team and despite an excellent second half we lost 79 - 42. Good luck to Trinity in the semi-final. It's a great achievement for our girls to be the best team in the North-East and one of the top 8 in the country.
The football league resumed after school last night as we hosted four teams from Bishop Barrington. It was a successful night as we achieved the following results:
Year 7 won 5 - 1
Year 8 won 6 - 2
Year 9 won 10 - 0
Year 10 lost 2 - 4
Also last night we launched our new hockey club, with help from coaches from Durham University hockey club - hopefully we can get some friendly matches in the future.
Good luck today to our Year 7, 9, 10 & 11 futsal teams who are at the Beacon of Light competing in the county finals. Unfortunately, our Year 7 Rugby Sevens scheduled county tournament has been cancelled today due to unplayable pitches.
Mr Hopper
Subject Leader for PE