18 February 2022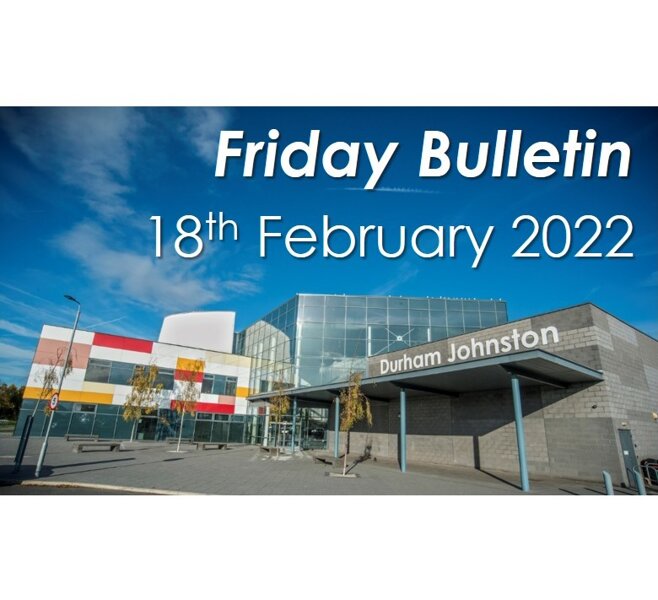 Dear Parents & Carers,

The final week of half-term is always a time for reflection. A time to review what has gone well, what still needs to be done, what could have been done differently or better and to then start planning for what comes next. That is true for the school and equally true for our students, who we encourage to review their work frequently. When reviewing the term it is clear that there have been distinct challenges, many of them related to Covid-19. I have worked in the school for 25 years and have never before faced a situation when 17 staff members have been absent on the same day. However, we have overcome those issues and are fortunate to have so many dedicated staff. They have ensured that teaching and learning are prioritised and we have found a way through January and early February without having to send students home. Positive case numbers have dropped considerably in the past two weeks and, for the first time since late November, we don't have any staff members isolating as a consequence of a positive test. Perhaps that's how schools will measure progress and success in the future, but I hope not.
I received an email from a parent this week explaining that after four years living in Durham, their family planned to move back to their home country after their child completes summer exams. They reminded me in their letter that they had experienced a difficulty in the first two weeks in our school community and that I had apologised and asked them to trust that things would improve in the future. I had asked for their trust and they had given it. They subsequently wanted to say thank you to the school because things had improved and their child has really enjoyed being a student at Durham Johnston. They trusted us at a key point and that helped a positive relationship to develop.
There has been an erosion of public trust in recent years and, whilst we can all speculate as to the various possible explanations for why that is the case, it is a very worrying development. Trusting individuals and institutions to behave appropriately and to explain their decision making is very important. British society has historically been characterised by high levels of trust in institutions when compared to some other countries. Matthew Syed wrote about this in an opinion piece in last week's Sunday Times, referencing the following:
In the 1950s an American called Edward Banfield travelled to southern Italy…. young people were taught to be suspicious of others and to expect them to act in bad faith. Banfield alluded to stories such as the one in a novel that tells of a father putting his six-year-old son on a high ledge. "Jump and don't worry: Daddy will catch you," the father says. When the boy jumps, the father allows him to fall to the ground. "Remember one thing," he tells his injured son. "In this life, never trust anyone."
Trust is hugely important if communities are to function effectively. The importance of trust and behaving ethically has been on my mind a lot recently. An important Sunday Times investigation in early February considered the grade inflation that took place as part of the 2021 teacher assessed grades. The investigation focused in particular on the number of A* grades awarded at A Level in independent and state schools. As part of their Parent Power investigation, they identified vast percentage point changes when the last nationally recognised A Level results were compared with the 2021 figures. That is exemplified by the following two examples (I have removed the independent school names), when compared with Durham Johnston.
Independent School 1
2019 A* 33.8%
2021 A* 90.2%
Independent School 2
2019 A* 6.5%
2021 A* 53.9%
Durham Johnston Comprehensive School
2019 A* 20%
2021 A* 23%
The investigation highlighted the top 250 schools in the independent and state sectors and any results that had been publicly shared. It is hard not feel a sense of disbelief and anger when reading the detail. The main article noted that, 'Not all schools took advantage of teacher assessment to record huge increases... Durham Johnston Comprehensive School was up only 3% percentage points.' The inflation wasn't just linked to independent schools, occurring in a small number of state schools too. My purpose is not to be critical of independent schools in some knee jerk way. Each school has a unique context and will make decisions that they deem to be appropriate for their students and families. I'm also aware that some people read the article and believed that those schools had acted astutely in the interest of those 'paying their wages' and that it highlighted clearly why independent schools were superior or savvier. But that is a disheartening interpretation of unsound conduct and suggests that acting in an ethical way is naive.
Schools were asked and instructed to behave ethically and to not game or exploit the system. One of the independent school Headteachers that oversaw a significant increase in A* grades was interviewed for the article and made the following comment, '...the school's academic results had been improving for 6 years…. These results reflect a trend that would have shown in any form of assessment. (Staff and students) adapted seamlessly to a robust online teaching programme.'
The number of A* grade awarded in that particular school rose from 29.1% in 2019 to 72.2% in 2021. That would suggest that their online teaching was clearly of a much higher standard than the actual teaching taking place when students were present in the classroom in previous years. Would that increase really have taken place regardless of the form of assessment? If so, I am keen to see an additional improvement when this summer's results are shared. Is the explanation offered trustworthy?
The story triggered a significant amount of public interest, and the following quotes exemplify the overwhelming response. We were also pleased to be mentioned on Twitter by Baroness Maeve Sherlock in reference to this story.
Robert Halfon, Chair of the Commons Education Select Committee:

"This ginormous increase in the private sector could have cost pupils at state schools a place at leading universities." (It could have can be translated into 'it most certainly did'.)
Alan Smithers, Professor of Education at Buckingham University:

Private schools have clearly gamed the system… (they have) taken the chance to hike grades…there should be a national enquiry…' (As far as I am aware, the Education Secretary hasn't made a public comment on the article.
Tom Richmond, EDSK Think Tank:

'It is hard to ignore the absurdity of the claims made by some institutions about the performance of their pupils… a lot of this is sailing very close to dishonesty and cheating.'
An erosion of public trust is bad for everyone and inflated grades might serve those students and their families benefiting well in the short-term. In the long-term, they may actually lead to greater problems, as unfairness diminishes our wider society and leads to less trust between individuals.
My reason for sharing this information is to highlight that trusting those who work in schools and other public institutions is very important. That does not, however, mean that those who get things wrong or who make mistakes are intrinsically untrustworthy. It also doesn't mean that if you can't get what you want, or feel that you deserve, then you should withdraw trust. In my professional career I have often trusted those most who have told me directly when they disagree with a decision that we have made. Therefore, I would like to specifically thank you for ongoing trust in the school during a very challenging term for all members of our community.
Have a good half-term.
Mr O'Sullivan
Advanced Information about GCSE, AS and A Level exams
On 7th February 2022 exam boards published information about the upcoming exams with advanced information. There is advance information for all GCSE, AS and A level subjects, with the exceptions of Art and Design (because they do not have written exams) and GCSEs in English Literature, History, Ancient History and Geography, which have some optional topics or content instead.
We will speak with students and write to you in much greater detail after half term. Senior staff will share additional information with Year 11 and Year 13 after half-term. We will also invite parents and carers into school to share important guidance about preparation for exams. For now, we would like to share a letter from Dr Jo Saxton, the Chief Regulator of Ofqual, which is the body that oversees this process. Her letter is aimed at students but also contains very helpful information for families and is reproduced below.
Dear students,
In my job as Chief Regulator of qualifications I get to meet many students, teachers and parents from different parts of the country. Speaking to students like you, who are getting ready for formal exams and assessments, it's clear to me that you want life to get back to normal and that you would like as much certainty about what is going to happen as possible.
For that reason the exam boards have, this week, published for you 'advance information' on their websites. This is subject by subject, specification by specification, specific outlines of the focus of questions across many of your summer exams. We've added a tool on our website which shows you what is available for each subject.
These materials are just one of the ways we are working to make sure that, despite the disruption caused by the coronavirus (COVID-19) pandemic, your exams and formal assessments are less daunting.
You will also get formulae sheets for GCSE maths exams and updated equation sheets for GCSE physics and combined science exams, so you won't have to memorise as much.
As well as advance information and formulae sheets, you will be supported by generous grading, which will provide you with a safety-net to protect you from just missing out on a grade.
We will also publish videos, infographics and other materials to help those of you who have been prevented from ever sitting a formal exam, to know what that feels like.
You can find more information at the following official sources:
Best wishes,
Dr Jo Saxton
Ofqual Chief Regulator
Year 10 Parents Evening
This will take place on Monday 7th March and booking opens on Monday 28th February. Year 10 Parents should have an email with this information but you can also find out how to book here on our website at this link.
Year 9 DTP-MenACWY Vaccinations
A large number of Year 9 students received their DTP-MenACWY vaccinations in school last week. For any students who did not receive the vaccination, Harrogate and District Foundation Trust have asked us to share details of the catch up clinics, which you can view at this link.
Sixth Form Notices
Please click the link below to read the weekly digest of news and information for Sixth Form Students.
Careers and Guidance Department Notices
This week's notices include a report the mock interviews experienced by Year 10 this week, as well as information about Year 10 work placements. It was a busy week for the cohort, as they also saw a live theatre performance of a production called 'Human Nurture'. More information and the reflections of our GCSE drama class on the experience of a workshop with the director and cast. I encourage parents and carers of Year 10 students in particular to have a look!
Please click here to view this week's Careers and Enrichment Notices
Mr Kennedy
Subject Leader for Guidance
Educational Visits
We are delighted that we are now able to phase back in our programme of educational visits. We have begun with more local day visits, particularly for sport and careers guidance. We are also planning to reintroduce our more major visits such as Year 7 & 8 Malaga multi-sports and Year 10 Battlefields for this summer. We are also hoping to offer a number of modern language visits as well as study visits for Latin. Key Stage 3 ski trips and Year 9 Howtown outward bound are planned to return next academic year and we hope to see the return of our World Challenge expeditions in 2023. The more complicated visits such as foreign exchanges will depend on a host of other factors but we hope to be able to re-launch these too in due course. All this is of course dependent on our emerging from the pandemic and there are challenges for the staff organising these visits – insurance is more complicated and we have never before had to consider the vaccine status of staff and students!
Student interest in taking part in visits has been enormous and where possible we have planned extra capacity to accommodate this. Inevitably some visits are oversubscribed and some students will be disappointed that their names are not drawn out of the sorting hat. Hopefully as the full programme returns over the next few months there will be the normal range of opportunities.
Mr McArdle
Educational Visits Coordinator
Duke of Edinburgh's Award
Following a covid-enforced hiatus, we are really pleased to announce that the Duke of Edinburgh's Award expeditions can re-start in the summer term.
Our initial focus will be on providing opportunities to complete expeditions for those students who are already registered on their award with school. These students should have received information via their form tutor, email and MS Teams about how to sign up to these expeditions, and about the initial information and planning meetings, which take place after half term.
Students must have completed their three non-expedition sections in order to go on their final expedition.
For further information, please contact school@durhamjohnston.org.uk FAO Mrs Gibb or Mr Briggs.
School Spring Concerts - 'Music about Music'
Thursday 7th April– Concert featuring Junior Choir, Junior Orchestra, Big Band*, Wind Band and selected soloists.
This concert will be performed twice, at 6.30pm and again at 7.30pm. Performing pupils will need to be present for both performances and we ask that parents, carers, family and friends only purchase tickets for one of the two performances.
Friday 8th April – Concert featuring Senior Orchestra, Senior Choir, Chamber Choir and selected soloists.
This concert will be performed twice, at 6.30pm and again at 7.30pm. Performing pupils will need to be present for both performances and we ask that parents, carers, family and friends only purchase tickets for one of the two performances.
* Please note that Big Band will perform on Thursday, not Friday as they have in the past.
Tickets, priced at £4 (£2 concessions), will go on sale on Monday 14th March in the Music Department. Please note that these will be limited to 170 per performance and will not be for sale on the door but in advance only. Payment by cash or cheque, payable to 'Durham Johnston School'.
Soloists
If your child is interested in performing a solo in one of the Spring Concerts, ideally in keeping with the 'Music about Music' theme, please do encourage them to come and see me.
Mr Holmes
Subject Leader for Music
PE News
Last Friday our Year 9 and 11 girls' futsal teams were competing in the Area tournament which we hosted. After an excellent night, our Year 9 team won to qualify for the county finals. The final of the Year 11 competition ended in a draw so went to penalties. Unfortunately we lost this to Parkside to finish runners-up.
On Monday, our Year 8 boys' football team were at home taking on Easington School in the quarter-final of the county cup. We played some excellent football to dominate the game and went on to reach the semi-final with a 5 - 1 victory thanks to two goals from player of the match James Ormerod.
On Tuesday, our handball teams were at Maiden Castle getting some last minute training before the North East finals.
On Wednesday, our handball teams travelled to Gateshead Leisure Centre for the North East finals. This is a new sport for us and we had no idea what to expect. It was virtually an identical story for both our boys and girls' teams. They both won their groups to reach the semi-finals. They then both lost close games - which they could have won. The boys conceded in the last 5 seconds of the game.
Both teams then won the 3rd / 4th place play-off to receive medals and qualify for the Northern finals, which take place after half-term.
Two football matches were due to take place last night, but the storm warnings meant they were both postponed. However, the Year 8 & 10 girls' futsal area tournament did go ahead. After another excellent night of high quality futsal our Year 8 team remained unbeaten to win the competition and qualify for the county finals. Unfortunately our year 10 team came up against a very strong Parkside team as we finished runners-up
This afternoon our Year 7 & 8 boys and girls Sports Hall athletics teams were due to be at Maiden Castle competing in the county finals. Unfortunately even an indoor event became a victim of the weather today and was postponed until after half-term.
Mr Hopper
Subject Leader for PE