15 October 2021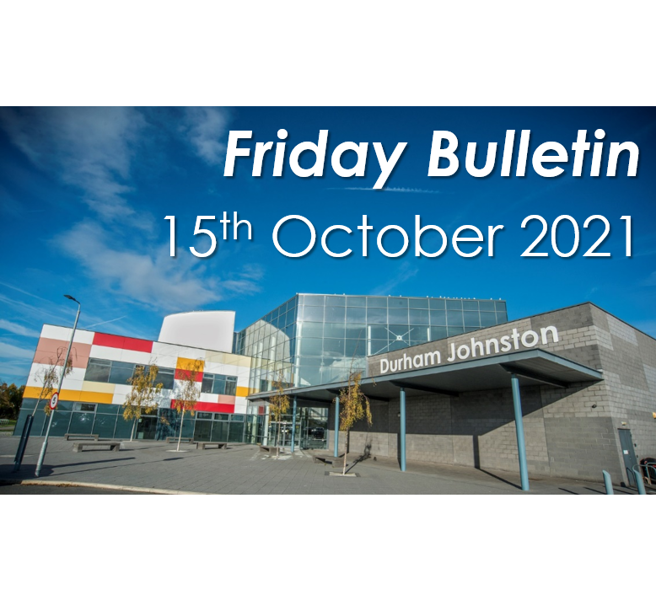 Dear Parents & Carers,
In the past 3 weeks we have shown around 50 prospective students and their families around the school and it has been an interesting experience to view the school through the eyes of others. It has also been quite invigorating to meet and discuss the school with so many new people. The questions that students and their families ask are also very revealing. In recent weeks I have shared the questions that we think prospective parents should ask when choosing a school, but we have received a wide variety of quite unique questions too. We have been asked Ofsted style questions about stretch and challenge, the curriculum and support at key points. We have been asked about food, school uniform and buses. Parents have shared information about how distance to the school is calculated by walkways that are well lit; others have asked about distance on the basis of how 'the crow flies.'
Some questions are clearly linked to primary school experiences, or a desire to be deeply involved with every aspect of their child's life. Families are excited by the prospect of taking next steps, but also anxious because their children are growing up and, inevitably, planning a move to the right secondary school for them is always challenging. Other questions have been linked to how Durham Johnston compares to other secondary schools in the area and I always remind parents that those comparisons are best made by them personally, on the basis of what is right for their child. Having grown up in an area of the country where many schools are deemed to require improvement, people in Durham are very lucky to have so many excellent schools on their doorstep or serving the wider community.
For many of the Year 6 students visiting the school is a bit like eating a large bowlful of smarties; they clearly experience a 'big building rush' and want to run, climb, hit and touch things. That too can be enjoyable if channelled and, in circumstances that I am still trying to fathom, led to a situation on Friday at 5.20 p.m. when I found myself playing the kettle drums and Depeche Mode's 'I Just Can't Get Enough' on a glockenspiel with a group of parents and 3 Year 6 students. We have met with a large number of our students on the visits, in corridors, classrooms and during break and lunch times. Those students have been polite, kind and keen to talk about the school. Others have been shy and that is completely normal. The same has been true of the visiting Year 6 students. They have expressed interests in a large number of subjects with our first stopping off points being across the full range of departments. One student had a particular interest in Genetics and DNA and Mr Horn, our Subject Leader for Science, gave his time up to discuss that interest in depth.
Showing those students and parents around the school has been very enjoyable. Teachers have stopped to chat and we have seen large numbers of students playing sport and involved in music. We have seen coding clubs, drop in revision and support sessions in English, Maths and Science. We have called in on students staying after school as part of homework club and have seen 6th form students working together in the Pod and around the school. We have seen the caretakers fixing things, cleaners working hard so that the school is tidy and GCSE and A Level Art students working collaboratively in their own time. We have seen reception staff trying to resolve queries for students and their parents and a range of people from external agencies meeting people in reception. In essence, visitors have seen the school functioning effectively as a school community. I have also been very honest when commenting upon how we are always seeking to improve and adapt what we do as circumstances change for our students and their families. No school is perfect and all schools make mistakes because that is human. The dates for both Year 7 admissions and 6th form applications are nearing and we have learned a lot from meeting with parents and holding our 4 open evenings. The fact that more than 800 people have visited us this term is very heartening and we hope to be able to open the school fully for our planned evenings in 2022. Thank you for your ongoing support as we enter the last week of this busy half-term.
Mr O'Sullivan

Covid, Testing & Vaccination Update
We have had confirmed 10 cases in school this week.
The Departments for Education & Health both advise that secondary school students should test twice each week. Students should complete a Lateral Flow Test each Wednesday and then again at the weekend.
Department for Education Update: Information on COVID-19 testing during October half-term
Staff, students and pupils should continue to test twice-weekly over half-term and preferably take an LFD test the night before they return to their setting after the break. It is important to communicate to parents, children and young people on the importance of COVID-19 testing over half-term.
Please remember that your child should not attend school if they are unwell or have symptoms associated with Covid. If your child tests positive via a Lateral Flow Test please ensure that they stay at home and that they are taken for a PCR test immediately. If the PCR test is positive, any siblings living at the same address are close contacts and we would recommend that a PCR test is booked immediately. To protect the school community, those students should stay at home until the result of the PCR test is known. If the result is negative, they can return to school. Please remember that school no longer undertakes any close contact tracing. That responsibility was taken over in August 2021 by NHS Test & Trace. Please contact them directly with any queries; details can be found at this link.
ASCL Press Release into the role that schools play in providing for basic needs
The following news item will be of interest to all those with an interest in school funding and the difficulties that many families have experienced since 2010.
Commenting on UCL research which highlights how the Covid pandemic has shown the extent to which families rely on schools for 'basic needs', Geoff Barton, General Secretary of the Association of School and College Leaders, said:
"UCL's research reflects the stark reality that life for many families is so hard that they have to turn to schools and colleges for basic needs such as food, clothing and other support.

This is a product not only of the Covid pandemic but of a decade of austerity. The Social Mobility Commission calculates that around 4.3 million children – almost one third of children in the UK – were living in poverty as of March 2020. This is an increase of around 700,000, or 3.7 percentage points, from March 2012.

It is a shameful state of affairs that condemns many young people not only to the misery of living in poverty but also affects their education as they are less likely to be in a fit condition to learn if they are hungry or live in poor quality housing.

Whatever the government's mantra of 'levelling up' is supposed to mean, there surely cannot be any greater need than that of tackling the scourge of child poverty."
School Menus and Prices
Durham Johnston provides healthy, nutritional meals, which are made using fresh, regional produce. Our menus are on a 3-week cycle which changes each term. Should you require further information relating to allergies please contact our Catering Manager in school.
We operate a cashless lunch system where students pay for their meals using a biometric thumbprint. The thumbprint is linked to an account that parents can top-up online via Parent Pay or by the students, themselves using the coin-operated machines in school. If you have any problems, or questions regarding your Parent Pay account or should you wish to set up a Parent Pay account, please call the Parent Pay Administrator on 0191 3843887 or email school@durhamjohnston.org.uk
You can view this term's menus and price list at the links below.
Sixth Form Notices
Please click the link below to read the weekly digest of news and information for Sixth Form Students.
Elle McNicoll Author Visit
This week, Year 7 enjoyed a virtual author visit from best-selling writer, Elle McNicoll. Elle's first book A Kind of Spark was Blackwell's Children's Book of the Year 2020 and the book she spoke to us about Show Us Who You Are was, also, selected as Blackwell's Book of the Month.
Elle spoke about what inspired her as an author and how she, as a neurodivergent author, uses neurodivergent narrators and characters to encourage diversity within literature. She answered several of our questions and, overall, it was an interesting and inspiring experience.
Mrs Clark
Subject Leader, English
Halloween Safety
We have been asked to share the following halloween safety messages from County Durham and Darlington Fire and Rescue Service.
Careers and Guidance Department Notices
Year 11 – Informed Choices
Last week I visited Yr11 form classes to show students a website that may help them make decisions about A Level choices. Informed Choices is a tool created by Russell Group and will help students who:
know what A levels they want to do as the tool will highlight from those choices which degrees they could apply for.

know what degree they want to do but doesn't know what A Levels to choose.
As always though this tool is a guide only and students are to clarify choices on the admissions section of the particular University of choice. You can view a PDF help guide for the page which has hyperlinks throughout the document at this link or visit their website www.informedchoices.ac.uk.
Please click here to view this week's Careers and Guidance Opportunities Bulletin Board.
Mr Kennedy
Subject Leader, Guidance
Drama notices
Extracurricular Drama Activities Room Changes due to Year 11 mock exams.
Tuesday 19th to Thursday 21st October.
| | | | |
| --- | --- | --- | --- |
| Date | Name | Time | New room |
| Tuesday 19th October | Year 9 Script Writing Club | 13.00-13.30 (lunch) | EN5 |
| Tuesday 19th October | Technical Theatre Club | 2.45-3.45 | EN7 |
| Wednesday 20th October | Year 9 Drama Club | 2.45-3.45 | EN7 |
| Thursday 21st October | Years 7 & 8 Script Writing Club | 12.00-12.30 (lunch) | EN5 |
| Thursday 21st October | Years 7 & 8 Drama Club | 2.45-3.45 | EN7 |
Ms Ayrey
Subject Leader, Drama.
Advance Notice of arrangements for School Christmas Concerts
In order to decrease the numbers gathered in James Hall for the 2021 School Christmas Concerts, arrangements will differ slightly from those advertised at the start of term and they will now be as follows.
Thursday 9th December – Concert featuring Junior Choir, Junior Orchestra, Wind Band and selected soloists.
This Concert will be performed twice, at 6.30pm and again at 7.30pm. Performing pupils will need to be present for both performances and we ask that parents, carers, family and friends only purchase tickets for one of the two performances.
Friday 10th December – Concert featuring Big Band, Senior Orchestra, Senior Choir, Chamber Choir and selected soloists.
This Concert will be performed twice, at 6.30pm and again at 7.30pm. Performing pupils will need to be present for both performances and we ask that parents, carers, family and friends only purchase tickets for one of the two performances.
Tickets, priced at £3 and £2 concessions, will go on sale on Monday 15th November in the Music Department. Please note that these will be limited to 170 per performance and will not be for sale on the door but in advance only. Payment by cash or cheque, payable to 'Durham Johnston School'.
Mr Holmes
Subject Leader, Music
PE News
It has been an extremely busy and exciting week of sport with competitions in football, rugby, cross-country, netball, basketball and indoor rowing.
On Monday, our Year 10 basketball team were at Dame Allan's for a friendly. This was an excellent game played in a great spirit. We gave a great team performance but were unable to stop one outstanding individual for Dame Allan's who led them to a 17 point victory. Also on Monday, the final Year 9 district football trial took place. Congratulations to the four boys from Durham Johnston who made the team.
We took part in six different competitions on Tuesday. Our Year 7 & 9 football teams made the long journey to Barnard Castle to play Teesdale School. It was worth the trip as we had two comprehensive wins; 6 – 0 and 4 – 1.
Our Year 11 football team took on St Joseph's in the County Cup. This was a close game throughout which we lost 1 – 0 thanks to a late goal.
Our U15 girls rugby team travelled to West Hartlepool RFC to compete in the county finals. This was an excellent evening of high quality rugby. We started with a draw against High Tunstall. However, we won our remaining games to join our U15 boys as County Champions.
Four netball matches also took place. Durham School were first to arrive with their Year 10 team. We dominated the game going on to win 23 – 11. Player of the match was Jemima Dowsett. Parkview then arrived for three more matches. Our Year 7 team won 21 – 1 with Verity Ranns player of match. The Year 8 game was much closer as we lost 5 – 11 with Sarah Law player of the match. Our strong Year 10 team had another comprehensive win, 35 – 4, with Tabby Barrie player of match.
Finally on Tuesday, 26 of our rowers were at Durham Amateur Rowing Club competing in the Durham City Indoor Championships. The top four in each race would qualify for the County Championships in November. It was an outstanding night for Durham Johnston as we had 7 Area Champions and 22 qualifiers for the County finals. Well done to Chloe Smith, Alexi Dyli, Linda Matthews, Fraser Ranns, Will Terry, Sam Terry and Dylan Swinburn who are Area Champions.
On Wednesday, our Year 7 football team were at Valley Gardens School in the English School Cup. We made a shaky start going 2 – 0 behind in the first 10 minutes. However, a great comeback saw us reach round 2 with a 6 – 3 victory thanks to five goals from Zack Smith.
Our VIth form football team were also in English Schools action against St Aidan's. Unfortunately this game didn't go our way as we lost 4 – 1 to a strong team.
Also on Wednesday our cross-country teams were at Preston Park competing in the first round of the English Schools Cup. It was an amazing afternoon for us as we achieved the following results:
Junior Boys – 1st
Junior Girls – 1st
Inter boys – 1st
Inter Girls – 2nd
As our Senior teams have already qualified for the Regional round we are the only school in the north-east to have all teams at the regional round which takes place at Stewart Park on Saturday 13th November.
Yesterday, our Year 9 football team took on Parkview in the County Cup. This was a one-sided game which we eventually won 10 – 1. Also last night, our VIth form football team were in league action against St Leonard's. It was another comfortable win as we ran out 7 – 0 winners.
Finally, good luck tonight to our Year 9 football team who have travelled to John Spence School in the English Schools Cup.
You can read more detailed match reports from our Sixth Form football ambassador here.
Mr Hopper
Subject Leader, PE