15 August 2019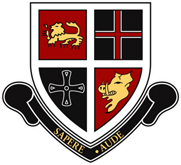 We are very proud of the excellent A Level results achieved by students at Durham Johnston. This marks yet another year of excellent academic and personal achievements for the school's 6th form students and underlines their hard work and determination. It also highlights the support of their families and the commitment and dedication of their teachers. We are very proud of the fantastic results that students have achieved, particularly in the national context of exams becoming increasingly difficult and a significant funding crisis.
We are very pleased to see so many of our students achieving their expected places at a wide range of universities. Students have secured university places across the breadth of the United Kingdom, from St. Andrews to Exeter. They will be starting courses in Cardiff, Edinburgh and London; at Bristol, Cambridge, Durham, Oxford and Warwick. A large number will study locally, at Durham, Newcastle, York and Leeds. Others will continue their studies in the United States and Switzerland. They are studying a huge range of subjects, from Accountancy to Zoology. A number of students will be starting degree apprenticeships, continuing a recent pattern where students have started apprenticeships in Accountancy, Business, Construction and Law.
To put their success in context, 19% of awarded grades were at A*. 50% of grades were either A* or A and, overall, 76% of all grades were A*, A or B. A staggering 32% of students, 50 individuals, achieved three or more A* or A grades. For each measure, the school either matched or improved upon last year's exceptional results.
Our core values relate to academic excellence for all, the need for students to acquire knowledge, the need to contribute to society and preparation for future employment, wherever in the world that might be. We also strongly believe that all students should have those opportunities, regardless of background. Once again, our students have risen to the challenges set before them, and we wish them all the best as they begin the next stage of their education, training or employment. Their results are outstanding and we are very proud of their achievements.
Mr O'Sullivan