23 November 2018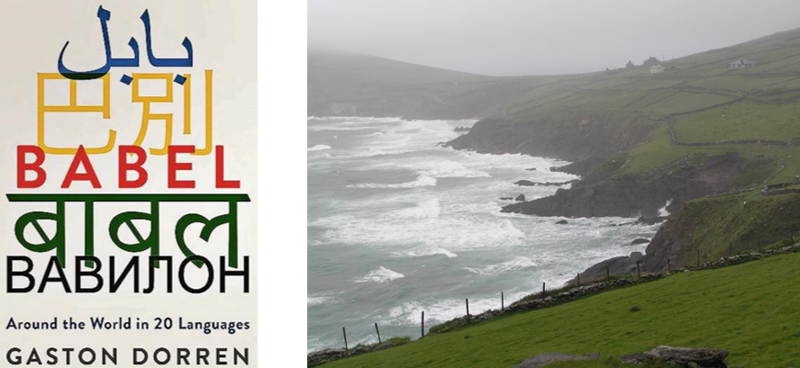 Fáilte chuig an teachtaireacht Dé hAoine!
We've been fortunate that for most of November the weather has been breacaimsir, but when walking into school this week my clothes have been aimliú on a daily basis. If on the off chance you hail from the West Coast of Ireland or Scotland you might recognise those words, if not, you are probably very confused. When observing French or Spanish lessons I often feel like that, I recognise a number of the words, but don't have the ability to engage or follow the conversation. As a 14-year old I chose not to study a language and have regretted it ever since. I am always impressed by those who can speak one or more additional languages and am still taunted by my niece about the time in Amiens I confidently tried to order, '…sept poulets et une pomme de terre s'il vous plaît' from a French rôtisserie market stall. The fear of getting it wrong led to me getting it spectacularly wrong and I still can't provide a logical answer as to why I wanted seven potatoes. Or why I asked for seven chickens instead.
The use and study of language has been central to my week. Learning a language and being confident enough to converse with others is hard. And it isn't just foreign languages that can be challenging. I went to the Theatre Royal in Newcastle on Saturday to see Macbeth and noticed a number of Durham Johnston students in attendance. How confidently did they follow the language of the early 17th Century? Did that affect their enjoyment? Even if you can't understand something immediately it is important that you are engaged and keep trying. It was an excellent version of the play, but it always takes a moment to adjust to such a different use of English.
Colloquial English can also be a challenge, with many words and phrases being unique to different regions of the British Isles. My childhood vocabulary was shaped by a combination of Northern Irish and West Midlands words and phrases and I'm curious if anyone reading this knows what a Bobowler is? Have you ever been for a dander? Why might you go to the Outdoor? Have you ever been scundered by a situation that you have found yourself in? Have you done a gambol, or played Ackee 1-2-3? Have you ever been chased by a Jasper? It's possible that those phrases are no longer in common usage; language is fluid and constantly changes. Each year the Oxford English Dictionary adds new words. Of the 2018 entries I was aware of ransomware and mansplaining – words of our time for good or ill – but had never encountered hangry or masstige. Have you? Similarly, when I moved to Durham in 1997, I didn't know how to react when told by a student that the 'ket' that he had bought was 'shan.' Are those words still used in the North East? Have they been supplanted by others?
English is the most commonly spoken language in the World, but clearly many people with an excellent grasp of English would be dumbfounded by some of the above terms. The widespread use of English can also make native speakers lazy and disinterested in learning something new. We have had a number of guest speakers present in school this week, explaining how learning a language helps to develop intellect, to access job opportunities and to understand other cultures. Their message was very relevant, but their delivery interested the students and hooked them in. That is equally important, because the study of languages continues to decline in the UK, with some GCSE and A Levels numbers being very small. Gaston Dorren's 'Babel, Around the World in 20 Languages' highlights how studying individual languages can offer a huge insight into how different societies have developed. The book also clearly highlights the dominance of English amongst the most commonly spoken languages. The top 20 are as follows: Vietnamese (85 million), Korean (85m), Tamil (90m), Turkish (90m), Javanese (95m), Persian (110m), Punjabi (125m), Japanese (130m), Swahili (135m), German (200m), French (250m), Malay (275m), Russian (257m), Portuguese (275m), Bengali (275m), Arabic (375m), Hindi-Urdu (550m), Spanish (575m) Mandarin (1.3 billion) and English (1.5bn).
A significant number of those languages are spoken by students and parents at Durham Johnston. One very enthusiastic student in our current Y11 began teaching himself Korean in Y9. This things are possible if you have the enthusiasm and inclination. By learning other languages, we can identify cultural similarities and differences, something that can only be viewed in a positive light. At a recent language event I was asked to identify the noises made by dogs, mice and bees amongst other creatures. I was unaware that dogs go blaf, wan, hev and wong. That mice go pip-pip, squitt and jjik. Or that bees boong. It is always good to be made aware that the things that we often take for granted are not universal.
At the heart of all success is good communication and, as things change globally in sometimes quite worrying ways, the more we can converse with others and understand their cultural idiosyncrasies the better off we will be. It is important to understand your own culture, but to also be interested in the culture of others. By doing so we can avoid stereotyping others simply because of their country of origin and can learn a huge amount about the wider world. If you have never had a particular interest in languages, start with some of the words and phrases in this bulletin. What do they mean?
Tá deireadh seachtaine maith agat!
An tUasal.Ó Súilleabháin