11 December 2018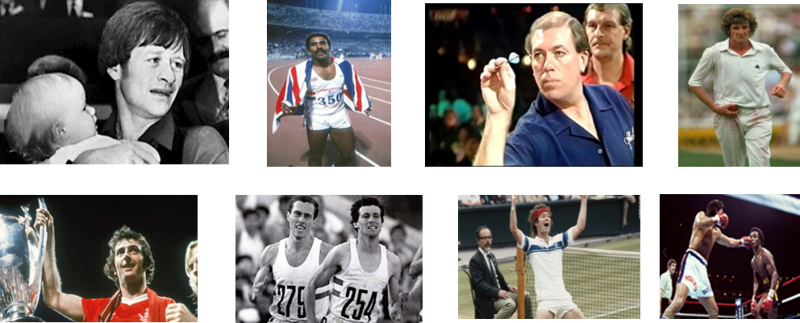 Above are a series of images of sportsmen (note the lack of women*) who loomed large in my early years and made the most of their ability. Alex Higgins winning the UK Snooker Championship and asking for 'his baby.' Daley Thompson winning his first Olympic gold medal in Moscow. John Lowe holding his nerve to win the UK Darts Championship, outwitting Eric Bristow, Jocky Wilson and Leighton Rees. Bob Willis taking 8 for 43 and terrifying the Australian cricket team at Headingley. Trevor Francis scoring the winning goal for Nottingham Forest in the European Cup Final in Munich. The rivalry between Steve Ovett and Seb Coe and consecutive world records being broken. John McEnroe's belligerence and dynamism. The great rivalry between the 'Fabulous Four' middleweight kings of the ring; Sugar Ray Leonard, Marvin Hagler, Tommy Hearns and Roberto Duran. If any of those sporting names or memories resonate with you then, bad luck – you are at least as old as me! In the late 1970s and early 1980s there were 3 Channels and I diligently watched any sport that was broadcast, getting up early to watch the pitch inspection for summer test matches, staying up late (if allowed) to watch the boxing or greyhound racing on Sportsnight each Wednesday. Those 800 and 1500 metre records were set on Friday nights; Bob Willis finished off the Australians on a Tuesday in the first week of the summer holidays in 1981. I apologise for the nostalgia and for straying too close to 'jumpers for goalposts' territory, or, worse, John Major's rose tinted 'Old maids bicycling to Holy Communion through the morning mist.' I didn't, however, just watch those sports, I tried each of them with varying degrees of success. You don't know what your strengths or weaknesses are until you have a go at something.
*(I should also note, the absence of female role models; women were written out of sport 40 years ago, of secondary importance in athletics and tennis, completely invisible in many other sports. Like many areas of life, there has been hard fought change and a contemporary list would, hopefully, be very different).
I wanted to share those memories because sport really is important. It allows us to marvel at the unique talent that some have and the commitment and endurance needed to succeed. Sport is also inspirational, the success of others can encourage us to take part and try new things.
Sport fosters many things that are good; teamwork and leadership. Ever since I was a kid, whatever situation I was presented with, I always tried to make the most of it. Daley Thompson, 1984
There are obvious health benefits that come from being active, but sport offers much more than that. A sense of achievement, self-worth, structure in a chaotic life, even a feeling of belonging can come from involvement in sport. In its purest sense, it also has the potential to be meritocratic; gender, race or socio-economic circumstances should be irrelevant and often are. However, participation amongst young people is in decline, with a fifth consecutive annual drop in participation in 2018.
https://researchbriefings.files.parliament.uk/documents/CBP-8181/CBP-8181.pdf
We are very fortunate that so many students contribute to the sporting life of our school. There are students that compete at the highest levels, regionally and nationally, and a great many more who do so purely for enjoyment and exercise. The PE department at Durham Johnston works very hard to encourage all students to take part in sport and that dedication was recognised in the School Sports Magazine rankings for 2018. Our school was ranked 14th, putting the school in the top 1% of schools nationally and one of the highest ranked non-selective schools. We are very proud of that achievement and of the ongoing commitment of students, staff and the vast number of parents and friends of the school who contribute to that success. As you know from recent bulletins, that success was added to recently with a very strong performances in the National Cross Country Championships in Ipswich. Our junior girls finished 3rdnationally, with the junior boys finishing 7th. In the same week that they were representing the school so admirably, the department also held a series of competitions and activities for local primary schools. Last week 22 of our BTEC, GCSE and A Level students worked alongside local students with disabilities as part of a regional Sports Camp. We were very proud that the head of PE at Trinity School shared the following comments;
'I wanted to let you know how well the Step into Sport Camp went and that pupils from Durham Johnston are a credit to their school. The A Level sports leaders students were amazing and of a very high quality generally, leading their groups and an inspiration to others to aim high.'
There are many ways to measure excellence in sport, but to paraphrase Daley Thompson, at Durham Johnston those involved in PE demonstrate leadership and teamwork; they make the most of the opportunities provided. We are very fortunate to have such talented students and the students are very fortunate to have such dedicated teachers and coaches.
That dedication is also a feature of the wider school. In the recent Sunday Times Parent Power Schools Guide for 2018 we were ranked as the highest performing state school in the North East and 14th nationally amongst non-selective schools. We are obviously very proud of this achievement, as it indicates that a large number of our students were successful. That too is the result of team work and a desire to encourage all to participate. Have a good weekend.
Mr O'Sullivan