17 November 2023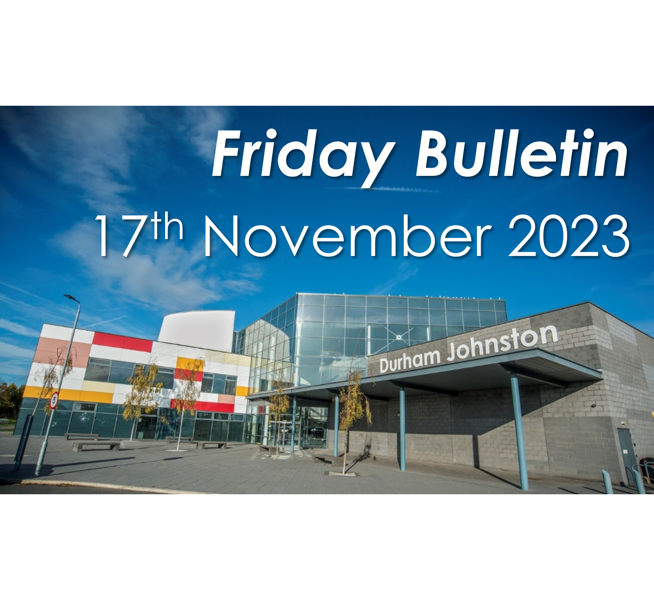 Dear Parents and Carers,
Thank you for your kind comments about last week's update and the way in which the school commemorated former students who had lost their lives in the wars of the 20th Century.
This week's update is brief as it has been a busy week in school. Year 13 have been completing mock exams, Year 11 had their mock exam results assembly today, and we are preparing for reports and parents' evenings in the coming weeks. We are finalising arrangements for our annual carol service at Durham Cathedral, and thinking carefully about plans for January 2024, when we intend to have a school wide focus on reading for pleasure and to develop more detailed subject specific knowledge. That has already started in 6th form with the establishment of a supra-curricular library, and we are hoping to build upon that idea in departments and year groups. If you have any books that you would like to donate to the 6th form library, please contact Miss Simpson (Deputy Head of 6th Form) or Mr Wilbraham (Head of 6th Form). Any parent reading this who works within publishing, journalism, library services or some other connected service or industry and is willing to help start a school project is welcome to contact us. We are keen to arrange events in 2024 that encourage reading for pleasure, develop disciplinary reading skills and that celebrate the importance of books, stories and ideas.
We have shared our annual parental survey today. We hope that you will take time to complete the survey, as it gives us valuable insight into your thoughts about the school. Your feedback is important and helps to shape how we share information and communicate. Additionally, we made some positive changes based upon parental responses in 2021 and 2022. For example:
I have shared these examples as they represent just a small number of the changes that we have made after consultation with parents. Please continue to tell us what we do well and how we might improve.
Analysis of the national 2023 GCSE and A Level results has continued this week. Unsurprisingly, the connection between attendance and success for Year 11 and 13 students is striking. Parents and carers often ask what they can do to support their child and to give them every opportunity to be successful. There are clearly a range of things, but there is nothing more important than high attendance. Similarly, we noted last week that an increasing number of students were late for school. All school buses were either early or on time and those who arrive late either walk or travel by car. Please do all that you can to ensure that your child is punctual, as being late means that they miss valuable information, assemblies and time with Form Tutors. Being present and on time makes a huge difference.
Have a good weekend.
Mr O'Sullivan
---
A reminder that school is closed to pupils on Friday 24th November. There will be no Friday Bulletin next week.
---
Parental survey
As a school we're always keen to know what our parental body is thinking. To that end we run surveys for parents twice in the academic year and the first one will be open from Friday 17th November at 8.00am to Friday 1st December at 6.00pm.
We have emailed parents and carers with a link to the survey; if you have not received this, please let us know via school@durhamjohnston.org.uk.
If you have multiple children in the school, please feel free to complete the survey multiple times.
The survey acts as a really valuable tool in letting us know what you as parents and carers think about the school and plays an important role in allowing us to think about what areas we need to continue to develop to best serve you and your children. We thank you in advance for sharing your views.
Individual responses are not possible to anything raised in the survey and we would encourage anyone with a specific question or concern to contact the school via the usual method.
As with the surveys conducted in the last academic year, we are using an outside organisation to carry out the survey who will then analysis the responses for us. However, this organisation has had no access to anyone's personal data at any point, nor will they share your responses with anyone other than us.
Mr Wright
Deputy Headteacher
What is my child learning?
In the Learning section of our website you can find guidance on what every student at the school is studying. As well as an overview of our curriculum and principles behind it, you can find an overview of each subject area.
You can also find a guide to the content being covered in every subject and how you can support your child for each half term here: Year 7 | Year 8 | Year 9 | Year 10 | Year 11 | Year 12 | Year 13
Author Visit
We are excited to be welcoming award winning author Andy Ruffell to Durham Johnston on Thursday 23rd November.
Andy will speak to all of Year 7 about his book Lily Grim and the City of Undone.
There will be the chance to buy a copy of the book and have it signed by the author; students wishing to do this should bring £7.99 in cash on Thursday 23rd November.
Mrs L Clark
Subject Leader for English
"Bearpee Challenge" Raises over £400 for Children in Need
A group of 20 Year 7 students and I undertook the Children in Need "Bearpee" challenge, demonstrating their commitment to a great cause. Over 25 days, we completed 40 burpees each per day, collectively achieving an impressive total of 21,000 "Bearpees."
The students, showing their fantastic dedication, arrived promptly at 8:15, ensuring they completed the challenge before their morning registration. Notably, their commitment extended even into the half-term holiday, with some wanting to continue the challenge for an additional month. No comment!
BBC Children in Need, the beneficiary of this initiative, is dedicated to ensuring every child experiences the childhood they deserve. By funding grassroots organisations and project workers across the UK, the charity provides essential positive relationships, helping children navigate life's challenges. Project workers support, inspire, and champion these young individuals, ensuring they have opportunities to reach their goals. The funds raised, which at the time of writing stands at fantastic £435, will contribute to the charity's impactful work. To provide some context of how this money is used, £50 supports a one-to-one counselling session for a child, £100 covers a series of 1-2-1 support sessions for a teenage girl facing mental health issues, and £200 sponsors a week of after-school club sessions for 30 children affected by mental health issues.
Heartfelt thanks go to everyone who sponsored the students, contributing to this remarkable donation. The participating students showcased dedication, enthusiasm, and are a true credit to the school.
However, the impact doesn't stop here. It's not too late to contribute and support their effort. Your continued support can make an even greater difference. Anyone can still make a donation on our just giving page here…!
Mrs Cummings
Business and Computing Department
Durham Johnston Christmas Concert 2023
---
Rehearsals
Monday 4th December - 14.45 - 16.30:
Rehearsal for Wednesday 6th (Concert 1). All members of Wind Band, Junior Orchestra, Big Band and Junior Choir must attend this please.

Tuesday 5th December - 14.45 - 16.30:
Rehearsal for Thursday 7th (Concert 2). All members of Senior Choir, Chamber Choir and Senior Orchestra must attend this please.
---
Concerts
Wednesday 6th December – 19.00-20.15:
Concert 1 – James Hall. This concert will include performances by Wind Band, Junior Orchestra, Big Band, Junior Choir & Soloists. Please could pupils be here by 18.40, in school uniform.

Thursday 7th December – 19.00-20.15:
Concert 2 – James Hall. This concert will include performances by Senior Choir, Chamber Choir, Senior Orchestra & Soloists. Please could pupils be here by 18.40, in school uniform.
---
Concert Tickets
Tickets are currently on sale from the Music Department, and are selling well. They are £4 (Concessions £2). Payment in cash, or cheque payable to 'Durham Johnson School'.
Mr Holmes
Subject Leader for Music
PE News
Last Friday our Year 7 boys' basketball team hosted Emmanuel College. It was another excellent performance by our team who won 48-31 to continue their unbeaten start to the season. Robert Hedley was POM.
On Monday, our Year 8 boys' football team faced Carmel College in the County Cup. Despite the windy conditions, this was a great game which we unfortunately lost 3-1. Our goal was scored by POM Louis Burke.
On Tuesday, our Year 7 boys' basketball team were back in action as they travelled to Sedgefield for the Bishop Auckland Schools tournament. We entered an A & B team. It was an outstanding evening for Durham Johnston as our A team remained unbeaten to become champions. Our B team finished runner-up after only losing one match – to our A team! This was the best game of the competition as a last second basket by Ewan Scott saw our A team win by 2 points.
Also on Tuesday, our Year 11 boys' football team took on Walker School in the English Schools Cup. They were an outstanding team and despite us never giving up they progressed to the next round with a 7-0 victory. Dan Burke was POM.
On Wednesday the VIth form football match against Whickham was postponed due to a waterlogged pitch. However, our U19 netball team were in action as they travelled to the Beacon of Light to compete in the first round of the English Schools Cup. The best schools from the area gathered for an outstanding afternoon of netball. We started with 2 comfortable victories before facing a strong team from Whitburn. This was a hard-fought game which we eventually won 19-14. Our final game was a local derby against Durham High. This was a tense game which was close throughout. It eventually ended 15-15 meaning we won the tournament and now qualify for the regional round in the New Year.
Also on Wednesday, our Year 8 boys basketball team were competing in the Tyneside Schools tournament. We started with a comfortable 26-8 victory against Framwellgate. We remained unbeaten and ended as champions after an 8-4 victory against St Cuthbert's. They also now progress to the final in the New Year.
Last night, our Year 9 & 10 netball teams hosted Durham High. As always these were excellent matches played to a very high standard. Our Year 9 team battled throughout the game but Durham High hardly missed a shot on their way to a 7-24 victory, with Harriet Howe POM. The Year 10 game was the reverse as we showed some great skill to win 11-3, with Willa Twaddle POM.
Finally, good luck this weekend to our Inter and Senior boys swimming teams who are travelling down to the Birmingham Commonwealth pool to compete in the English Schools National finals. They qualified for two events, the 4 x 50m medley & freestyle relays, and out of over 2000 teams entered they are in the top 24 in the country, which is a phenomenal achievement. The Senior boys are ranked 9th & 10th fastest with their qualifying times, Inter boys are 12th & 17th in the country. The races are going to be live streamed from 12:45pm if you would like to watch and see Durham Johnston race against the best schools in the country. As always at national finals we are one of only a handful of state schools represented.
The heats are Event 4, event 6, event 18 and event 20, and you can watch the livestream at this link.
Mr Hopper
Subject Leader for PE
We have also been asked to share the following:
Flu Vaccinations for Year 7 to 11
The Immunisation Team at IntraHealth will be in school on 4 & 5 December 2023 to administer flu vaccinations should you wish your child to have one. Please use the link below to complete either the consent form or to note that you do not want your child to be vaccinated. The school has no position on any decision that parents and carers choose to make.
The link contains the consent form and additional information such as FAQs regarding the vaccination. The link will close on 28 November 2023.
Please click here to either consent to or decline the vaccination.
If your child has already had the Flu vaccine since September 2023 please disregard this message. If you have any problems accessing the link, please telephone 0333 358 3397.