10 November 2023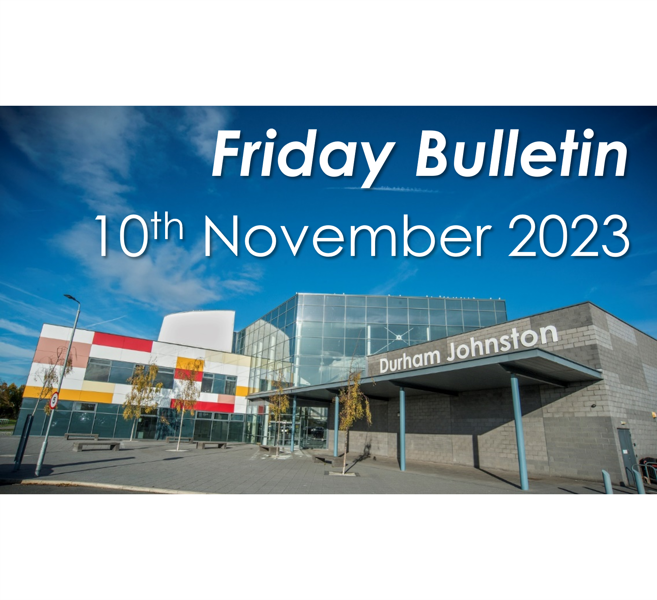 Dear Parents and Carers,
I had the pleasure of listening to a presentation by John Camp OBE, the new President of ASCL, on Wednesday. He shared how the 'state' had provided the things that his family couldn't afford to as he was growing up in 1970s and 1980s London. His story resonated with my own experience of growing up in that period. He echoed Professor Lee Elliott Major's view that the term 'disadvantage' is both inaccurate and inappropriate as a label for large groups of children and their families. (A steadily increasing number based upon recent research by the Joseph Rowntree Foundation - Government plans "fundamentally inadequate" in nation with almost 4 million experiencing destitution | JRF). Professor Lee Elliott Major, in 'Equity in Education,' argues that a better term to use is 'under resourced' families. He has written frequently on social mobility and has consistently argued that talent is being wasted because of a national inability to harness the potential of those from working class or low income families. When framed in such a way, it is fair to note that in broader educational terms, the North East is particularly under resourced and has been, by one measure, since our current Year 9 students were born in 2009 or 2010. That level of under resourcing can be measured by the entire life span of three-year groups at our school. Funding began to decline, in relative terms, when our Year 10 children were born. From a personal perspective that now represents half of my 27 years as a teacher. How many children have grown up in that period without access to the support that could capture and develop their talent more effectively?
My reason for sharing that detail is linked to the other important question that I was asked on Wednesday as part ASCL's regional conference:
As a Headteacher, if you had more money, what would you do with it?
That is a clearly a common DfE question for school leaders and one that could be used to suggest that schools request extra money but might not actually have a clear idea of what they would use it for. That is clearly a valid question, as public funds should always be spent in a sensible and transparent way. If you fail to use money wisely, then are you worthy of additional investment? But as I have referenced in may of these updates before, investment in schools is actually an investment in a more stable society and the future prosperity of the country.
What would I spend additional funding on?
Well, that's simple. I would ensure that it was spent on books, uniform and cultural opportunities for our financially under resourced students. I would enhance provision for those with a specific learning need and those near to a diagnosis where extra support is also clearly needed. I would create high quality provision for those who need an alternative curriculum or access to provision beyond the school. I would modernise IT provision for all students so that they could use devices effectively at home and in school and I would employ and train more people to support our wonderful administrators. I would also reduce teacher workload by employing more teachers to ensure an enhanced education for all students and a more balanced, flexible level of work to attract teachers into the profession. I would use extra money to establish social initiatives and drop ins opportunities for parents and would extend the range of clubs and activities that run before and after school. I'd ensure additional transport so that as many students as possible could participate. We already try to do all of those things but, because we are under resourced, we have to rely upon good will, volunteering, and using the money that we have in as concentrated a manner as possible. It's clearly an academic question as there won't be any additional funding available at any point soon, but the idea that schools wouldn't know how to use it effectively or wisely is inaccurate and possibly a little unfair. Under resourced individuals, institutions, sectors and regions will always find ways to succeed, but if you don't have the things that are needed it will inevitably have an impact on what can be achieved.
We have commemorated the former students of Durham Johnston who died in the First & Second World Wars in school today. This has been a longstanding tradition that makes me immensely proud to be the school's Headteacher. Our students recognised the silence impeccably and I would like to acknowledge publicly those that shared their family stories as part of this year's assembly, alongside Ben, who played the last post and reveille so beautifully for the third year in succession, and also senior students Tom and Anaita for reading so eloquently. Finally, I would like to thank our student governors Rowan and Elodie for laying a wreath at our war memorial with Councillor Scott. The memorial poppy display produced by our students who access 'Lydia' each day deserves a special mention too.
Whilst today we have specifically thought about the former students of Durham Johnston who died in the world wars of the 20th Century, we have also reflected on the futility, or pity, of war and conflict. I was Head of History for 9 years before taking on different roles at Durham Johnston and, in 2002, reinstated the school's annual battlefields trip for Year 10 students. I have a vivid memory of visiting both Tyne Cot and Langemark military cemeteries for the first time. For different reasons, both made me think very carefully about the nature of war and helped to shape my feelings towards conflict and national memory. At Langemark in Belgium there is a mass grave where 30,000 German soldiers are buried together. Whilst we can all hold a view about who was to blame for the Great War, the British war dead at Tyne Cot and those interned at Langemark are only really separated by nationality. They were young men in their late teens and twenties who never got to lead fulfilled lives or to grow old. My reason for sharing those observations is that war or conflict shouldn't be regarded as a football match where we pick sides, behave in a partisan manner and become blind to the common humanity of those with whom we might disagree. That is best reflected at Tyne Cot British war cemetery, where the decision was made to bury the bodies of some German soldiers found nearby in the 1980s, to acknowledge their common experience. Ordinary people suffer in conflicts regardless of race, religion or nationality and very few wars are simplistic in either their historical origins or the factors that interact to cause them. We should always seek peace, reflect upon our common humanity and avoid making simplistic judgements about international events that are sometimes incredibly complex. Silent reflection is always welcome on 11th November and would, perhaps, be beneficial within wider society more frequently, particularly when the world is faced with other terrible conflicts.
Have a good weekend.
Mr O'Sullivan
---
Biology Week Winners
Before half term there was a house biology photography competition to celebrate biology week - there were many amazing entries from students. The Biology Department would like to congratulate the winning students. They each gain 30 house points and a small prize - well done and many thanks to all who entered.
Miss Murphy
Subject Leader for Biology
Durham Johnston Christmas Concert 2023
---
Soloists
We have slots available for about 3 soloists to play in each concert. If you would like to play a solo (ideally something festive!) please see Mr Holmes ASAP to arrange a time to audition.
---
Rehearsals
Monday 4th December - 14.45 - 16.30:
Rehearsal for Wednesday 6th (Concert 1). All members of Wind Band, Junior Orchestra, Big Band and Junior Choir must attend this please.
Tuesday 5th December - 14.45 - 16.30:
Rehearsal for Thursday 7th (Concert 2). All members of Senior Choir, Chamber Choir and Senior Orchestra must attend this please.
---
Concerts
Wednesday 6th December – 19.00-20.15:
Concert 1 – James Hall. This concert will include performances by Wind Band, Junior Orchestra, Big Band, Junior Choir & Soloists. Please could pupils be here by 18.40, in school uniform.
Thursday 7th December – 19.00-20.15:
Concert 2 – James Hall. This concert will include performances by Senior Choir, Chamber Choir, Senior Orchestra & Soloists. Please could pupils be here by 18.40, in school uniform.
---
Concert Tickets
These will go on sale on Monday 13th November from the Music Department, and these are £4 (Concessions £2). Payment in cash, or cheque payable to 'Durham Johnson School'.
Mr Holmes
Subject Leader for Music
PE News
On Tuesday, our Year 7 boys' basketball team travelled to RGS Newcastle for a friendly match. We played some excellent basketball and secured a comfortable 30 -12 victory with Brodie Squares POM. This team remain unbeaten.
Also on Tuesday, our U13 girls' football teams were at Parkside for their first CVL. We had two teams competing. Our "Red" team won all four of their games scoring 10 goals and conceding 0 to win the competition. The "Pink" team won 2, drew 1 and lost 1.
On Wednesday, our U19 girls' basketball team faced Durham Sixth Form Centre in a friendly. We are a very strong team, and this was a one-sided game which we won 56 - 6. It was excellent preparation for the English Schools matches at the end of November.
Unfortunately, the U18 Tyneside rugby tournament which was due to take place at Percy Park had to be cancelled due to waterlogged pitches. However, our U18 football team did play as we hosted Ripon Grammar School in the English Schools cup. We dominated possession, and despite missing several chances, still progressed with a comfortable 3 - 1 win with a goal from Zach Twaddle and two goals from POM Harry Stewart. They have now reached the last 64 schools in the country.
Yesterday it was the turn of our Year 9 & 10 girls' football teams to take part in their CVL at Parkside. The Year 10 team played 5, won 4 and the Year 9 team played 4 won 2, drew 1 and lost 1.
The highlight of the week was the outstanding performances of our cross-country teams at the North-East regional round of the English Schools Cup. The best schools from the North-East and Yorkshire gathered with the top three schools in each race qualifying for the English Schools National finals. We were one of only two schools with all six teams represented. Our senior boys finished 13th, our junior girls 10th, inter girls 7th and senior girls 4th. However, in an amazing achievement both our junior and inter boys' teams won the competition (the junior boys by over 30 points) to reach the finals which take place on Saturday 2nd December at Woodbridge School, Suffolk. Congratulations to them.
Special mention to Ben Beale who is now representing the school in two national finals in two weeks as he is swimming for the school in the national finals next weekend in Birmingham.
Good luck tonight to our Year 9 football team who are in Middlesbrough taking on MacMillan College in the English Schools cup, and our Year 7 boys' basketball team who are hosting Emmanuel College in a friendly.
Mr Hopper
Subject Leader for PE
Guidance from Durham County Council's Road Safety Team November 2023
The Road Safety Team have asked the school to share the following information with all those within our school community. Whilst the school is not responsible for any issues regarding parking or other obstructions caused, we regularly reiterate the need for all members of our community to behave in respectful, kind and considerate manner.
Local residents have raised concern regarding parents/carers parking at the bus stops on the A167, parking on footpaths in the local area and causing obstructions to pedestrians both on the A167 and on Redhills Lane. In response to this the Parking Services team have requested that Civil Parking Enforcement Officers regularly visit the area following the autumn half term holiday. Parking issues relating to obstructions and pavement parking have been referred to the local Neighbourhood Policing Team. In addition, Operation Snap which was launched by Durham Constabulary at the start of 2023 to target unsafe and dangerous driving. Members of the public can submit video footage of dangerous driving and careless driving offences. In advance of enforcement measures taking place please could parents/carers please read this update carefully, avoid using bus stops for drop off or collection and park in a safe, considerate and legal way if near to the school. Should you wish to discuss this issue further, please contact the Road Safety team at road.safety@durham.gov.uk.
The Road Safety Team, Durham County Council