6 October 2023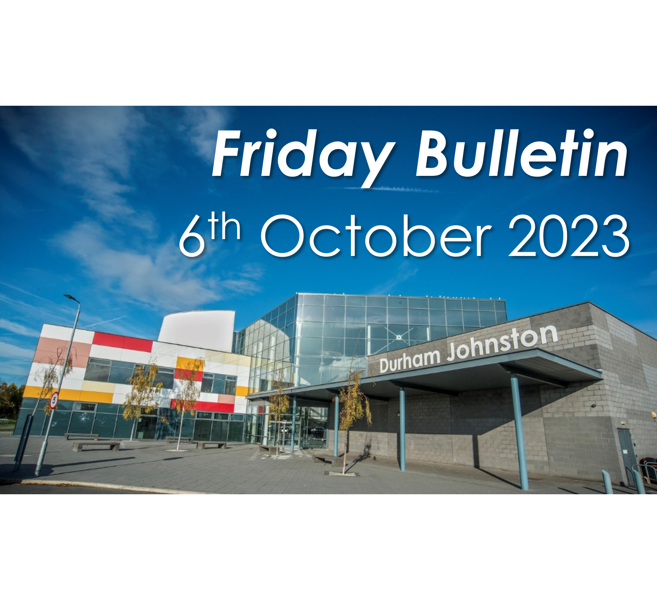 Dear Parents & Carers,
When reading back through the first updates of the new school year there seem to be two themes. The messages that we are sharing with students in relation to the importance of being a kind and positive member of the school community and our safeguarding culture. In simple terms, we want our students to feel safe and to be part of a supportive wider group. One of the ways in which they can show their commitment to our community is by helping others to learn and trying as hard as possible in the classroom. Another is by attending and supporting extracurricular activities. This represents a positive way to make new friends and to develop an interest. To gain an understanding of the variety on offer, I spoke with a large number of students as they were leaving school between 4.00 and 5.30 p.m. on Monday and Tuesday. In addition to those staying for a wide range of sport and musical activities, there were those staying to revise and access subject specific support and a sizeable number present for a session delivered by Professor Harriet Bulkeley FBA, an internationally renowned Geographer from the Geography Department at Durham University, on 'Climate Change and Urban Sustainability.' There were also students working on a Robotics project and the debating society were focused upon the ethics of space travel. That represents a snapshot of two evenings at school, and we want as many students as possible to participate and to take advantage of those opportunities. As I type this week's bulletin, one of our dedicated governors is delivering a session for our students on a career in law. We are proud of what our teachers do each day in the classroom, and it is excellent to be able to extend that quality to the extracurricular opportunities that we provide on a weekly basis. It was great to speak with students, and really encouraging to see so many so participating.
We have also hosted two successful parental events this week. Year 11 students and their families from a wide range of schools attended our 6th Form open evening on Monday, and the parents of Year 9 met with senior staff on Tuesday, to gain an understanding of the options process, careers and their current GCSE study of RE. Mr Blake and Mr Humberstone also discussed their focus on humility, kindness and celebrating the success of Year 9 students. It was good to discuss our approach with parents and to get feedback on what would be helpful in the year ahead. We have held year group information evenings for 3 years now and they have been an excellent way to form positive relationships and to discuss what does and doesn't work. If you have been unable to attend one of our parent information sessions, please feel very welcome to do so in the future.
Have a good weekend.
Mr O'Sullivan
---
What is my child learning?
In the Learning section of our website you can find guidance on what every student at the school is studying. As well as an overview of our curriculum and principles behind it, you can find an overview of each subject area.
You can also find a guide to the content being covered in every subject and how you can support your child for each half term here: Year 7 | Year 8 | Year 9 | Year 10 | Year 11 | Year 12 | Year 13
Geography Guest Speaker
On Tuesday 3rd October the Geography Department hosted a special guest speaker. Professor Harriet Bulkeley FBA, an internationally renowned Geographer from the Geography Department at Durham University, came in to deliver a session on 'Climate Change and Urban Sustainability' to A level and GCSE Geography students.
Over 40 students attended the session, which included discussing nature-based solutions to challenges in urban environments, the uneven distribution of carbon emissions and nature loss across the globe and examples of nature-based solutions being used which have numerous benefits alongside mitigating climate change.
Many of the students commented upon how much they enjoyed learning about alternative ways of thinking about climate change solutions and how it gave them additional case studies and resources to explore to benefit them in their studies. The Geography Department would like to pass on its sincere thanks to Professor Bulkeley for taking the time to come into school and giving our students such a unique learning opportunity.
Mr Ray
Subject Leader for Geography
7AK take on the Children in Need 'Bearpee challenge'
BBC Children in Need raises funds so that every child has the childhood they deserve – and the support they need to thrive.
They are committed to funding the grassroots organisations and project workers across the UK that provide the vital positive relationships children need to help them navigate the challenges in their lives. Their project workers support, inspire and champion them to ensure they have opportunities and can reach their goals.
They fund thousands of charities and projects in every corner of the UK, that support children and young people to feel and be safer, have improved mental health and wellbeing, form better, more positive relationships and be given more equal opportunities to flourish.
This year, Joe Wicks is challenging schools to get students sponsored to complete 1,000 Bearpees across Appeal month, every school day from Monday 16th October to Friday 17th November.
Mrs Cummings' tutor group, 7AK, and students who attend fitness club will be taking part in the challenge. Registration time will include the 40 burpees each…. Lucky 7AK!
We would be grateful for any small donations to Children in Need via this link.
More info about this challenge can be found here.
Burpees are the perfect morning energizer, brain break, or quick refresher for students!
We really appreciate any support with this, and wish us luck!
Mrs Cummings
Business and Computing Department
Sixth Form Notices
Please click the link below to read the weekly digest of news and information for Sixth Form Students.
Music Notices
We are delighted that so many pupils are able to have tuition on a wide range of instruments provided by Durham Music Service. Teaching timetables have now settled, and as a result of this we have space for new starters on the following instruments - Clarinet or Saxophone, Trumpet, and Percussion (Kit or Orchestral). If your child is interested, please ask them to come and see me in the Music Department for more details.
Mr E Holmes - Subject Leader for Music
PE News
On Monday, our Year 9 boys' football team hosted Cardinal Hume in the County Cup. We played some fantastic football to reach the second round with an 8 - 4 victory. Zack Smith, who scored a hattrick, and Tom Warbrick were joint POMs.
Also on Monday, our U18 girls' football team were in Middlesbrough in the English Schools Cup. Unfortunately, we had a very tough first round draw as Trinity School has a football academy attached and were national champions last year. Despite never giving up, we lost to an amazing team.
On Tuesday, our Year 7 boys' football team took on St Joseph's in the County Cup. We started slowly and despite an amazing second half comeback lost 4 - 2. Levi Gash was POM.
Also on Tuesday, our U14 girls' team were in County Cup action and shared 15 goals with Lord Lawson. Unfortunately, we lost 10 - 5 with our goalkeeper Grace Clark POM.
Thursday was a busy night of football and netball. Our Year 7, 8, 9 & 10 boys' football teams travelled to Whitworth for league games. Our Year 7 team scored 4 second half goals to win an amazing game 5-4 with Brodie Squares POM. It was more straightforward for our Year 8 and 9 teams who won 8-3 and 5-0 respectively. Henry Burns and Will Haselhurst were POMs. We were 2-1 ahead in the Year 10 game with only minutes to play when we conceded a penalty which they scored to level at 2-2. Leonard Lee was POM.
Our Year 11 football made the long journey to Cramlington in the English Schools Cup. They were 1-0 down at half-time but two second half goals from Alex Graham and Cole Carter saw us reach the second round with a 2-1 win.
Our Year 7 & 8 netball teams were at home against Parkview. Our Year 7 team lost a very close game 3-2 with Sophie Heath POM. The Year 8 team played some excellent netball to win 28-11 with Cherry Liu-Hill POM.
Good luck tonight to our Year 7 basketball team who are playing their first match away at Dame Allan's, and also our U14 girls football team who face St Joseph's in the county cup.
Mr Hopper
Subject Leader for PE