8 July 2022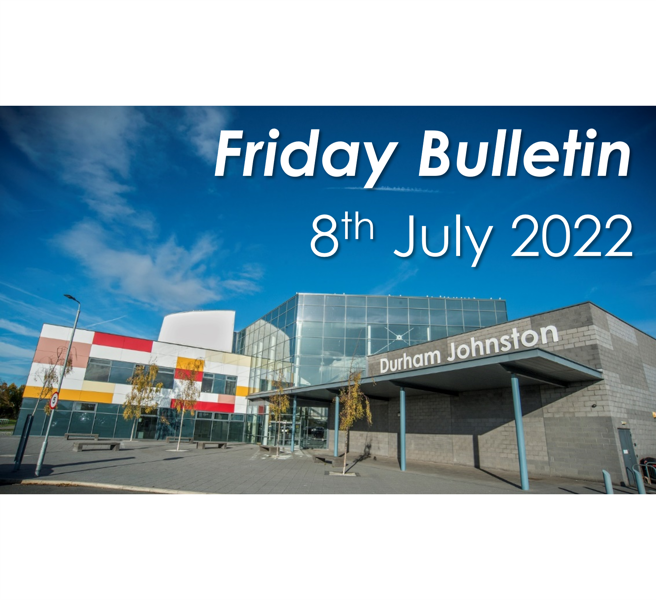 Dear Parents & Carers,
It has been a very busy week in school and, it's fair to say, a dramatic week nationally. We have consistently hoped and advocated for the Government to prioritise education and treat it with the importance it deserves, and it has been heartening this week to see that they have listened, throwing 3 separate Education Secretaries at the issue this week alone*. I would like to welcome both Michelle Donelan and James Cleverley to post as new Education Secretaries and to also wish them all the best in their future endeavours as we are assuming short, but effective, tenures. Whilst only in post for short periods individually, it is fair to say to say that they have both had a more positive reception than Gavin Williams.
I'm aware that sarcasm isn't a very attractive form of humour, but the last two years have demonstrated very clearly that education is far too important to the future success of families, and society more broadly, to be managed in such a chaotic manner. Students will receive their GCSE and A level results this summer. Their papers will be graded using the third unique marking system in a row. Do any of this week's Education Secretaries and the countless other Department of Education junior ministers have a firm grasp on that brief? Do they have a plan for improving the lives of young people through education, that isn't simply a rehash of the education that worked for them?
As Paul Whiteman, General Secretary of the National Association of Head Teachers stated much more eloquently yesterday:
I cannot help but reflect that Mr Cleverly is the eighth secretary of state for education since 2010 and the fourth since the last election. Education is far too important to be subjected to such damaging levels of instability. Ofsted would take a very dim view of that level of leadership change in a school. The temporary nature of this caretaker cabinet will merely compound the uncertainty. This is simply not good enough. Children and young people deserve better.
Fortunately, as teachers we can influence what happens in school more effectively and this week has been one of celebration and planning for the future. We welcomed Year 6 parents and carers into school on Monday, but without their children. We do this because it can be very hard for parents to make the transition from primary to secondary school too and there is important information to share that they need to reflect upon independently. We discussed communication, on-line safety, and safeguarding more generally, as students are growing up and sometimes make ill informed decisions, or are targeted by others. We also shared the observation that students start to become more independent when they start at secondary school and parents and carers can struggle as their children mature and seek to do things without parents. It was encouraging to get positive feedback, with parents commenting that they felt that the experience of our school leaders and Form Tutors was very apparent.
On Tuesday school leaders met with Subject and Year Leaders and we discussed our priorities for 2022-23, with a clear focus on teaching and learning and ensuring the highest standards for the year ahead. Most of my communication in the past two years can be broadly linked to the pandemic and its aftermath, or ongoing impact. That has been inevitable due to the impact upon society. As of September we will reiterate the actual purpose of this and any other school: for students to attend regularly so that they can learn, be taught well, and access a wide range of opportunities in and beyond the classroom as they grow up. We want students to have high attendance, make friends, take their next steps positively and enjoy their time at school.
On Wednesday it was wonderful to attend the first Sports' Presentation Evening since 2019. The PE Department did a brilliant job in celebrating the success of students (and the support of their parents and coaches) and it was great to see so many students and their families present.
On Thursday the Governing Body met to discuss our next steps in relation to the Government's White Paper/Education Bill and the Music Department also hosted their 'Music for a Summer Evening' with a range of genres and performances; a really excellent event. We have also had Geography field visits, Duke of Edinburgh expeditions, Relationship & Sex Education sessions and Careers advice sessions taking place this week.
Finally, after school today we say goodbye to some very long serving staff members and prepare for our final full week of the term. I will provide a very detailed end of term letter next week outlining important information for the summer and our return in September. I think it is fair to say that our school staff have worked hard for the good of students in the building through a hectic week. They are committed to doing so. As a minimum, that should also be the expectation of those in Government and leading the Department for Education. as they are responsible for all children and young people in the UK. As those responsible for standards in education might feedback on their performance this week; Requires Improvement.
Have a good weekend and I hope that Years 10 and 12 enjoy next week's work experience.
Mr O'Sullivan
*Accurate at time of publication. If a fourth has now been appointed, we would like to warmly welcome (Insert name here) to the role.
---
Public Speaking Competition
The English Department warmly invites you to the final of this year's public speaking competition. Students in Years 7 and 8 work to produce persuasive speeches as part of their English lessons, and the early rounds take place in school time. The final is on Thursday 14th July, starting at 6:00pm and expected to finish by 7:30pm, in James Hall.
Geography Fieldwork – 6th and 7th July 2022
On Wednesday and Thursday this week, it was a pleasure to take the year 10 GCSE Geographers out to Hamsterley Forest. Students investigated changes in the physical geography of the river, collecting a wide range of data including river velocity, depth and gradient. They also demonstrated their commitment to looking after our local environment by volunteering to collect litter throughout the day. Two fantastic days and well done to all the students for their great work ethic and positive attitude.
Ms Colquitt
Subject Leader for Geography
School Physicist of the Year
The University of Durham in partnership with the Ogden Trust run an annual 'School Physicist of the Year' award and the ceremony took place at the Calman Learning Centre, Durham University, on the evening of Tuesday 5th July.
The event celebrates the talent of some exceptional school students and highlights the excitement and opportunities of studying physics, and is attended by the nominees, their families and teachers. The event was a great celebration of physics, with some very interesting demonstrations and talks from Durham university professors and students.
Each school nominates one student to receive an award, and our winner this year was Year 10 student Peter Jones, whose nomination read as follows:
Peter is a phenomenal physics student. He has great enthusiasm for the subject and loves to share his extensive knowledge of physics. He has managed to stun the rest of his class on several occasions with almost immediate answers to incredibly challenging questions.

Polite, unassuming and a fan of xkcd, Peter is a worthy winner of Physicist of the Year.
Mr Batey
Science Department
Year 10 Student Awards
On Wednesday we held an achievement event for some of our Year 10 students.
Over the course of the last few weeks, teachers have been nominating students who have excelled in their subject, shown excellent character virtues and gone above and beyond - it has been humbling to read the commendations made. Students were invited to the Sports Hall and congratulated by the pastoral team and our Headteacher Mr O'Sullivan. Each student received a postcard with their commendation and the name of the teacher who nominated them(as well as a sweet treat to mark their achievements!) and an email home. We are so incredibly proud of the 77 students who received a nomination and hope you will join us in congratulating them. This is just a snapshot of an excellent year group, well done to all.
Mrs Anderson
Assistant Year Leader for Year 10
Routes into Languages National Spelling Bee Finals
On Monday 27th June, three of our Year 7s headed down to Cambridge University to take part in the National Spelling Bee Finals, a competition held annually by Routes into Languages, where each student has to spell as many words in either French, German or Spanish as they can in 60 seconds. After the regional rounds at Easter, Joy, Madeleine and Alex were chosen to represent the North East at the national finals.
All three spent a huge amount of time in the run up to the event practising, testing each other, and working on their pronunciation. They represented school incredibly well, and whilst they didn't make the Grand Final (for the top 4 nationally) in each language, they were amongst the top 107 out of 19,000 students who initially entered, which is an incredible achievement. They had a brilliant day and were thrilled to have the opportunity to visit such a prestigious university.
Joy summed up the day: "My brain just could not comprehend the fact that I was really going to Cambridge university. We got onto the train to Peterborough and then Cambridge - at last! It was a very beautiful place. We made some friends along the way- they were from York - they went to St. Peter's, and were also competing in the competition. As far as I know we were all trembling with fear but in a positive way. We walked to the language department, seeing cows and a heron along the way, got signed up and waited. Unfortunately, none of us won but everyone agreed it was a fantastic experience."
Ms Anderson and I are so proud of the hard work and determination shown by Alex, Madeleine and Joy. They have been great ambassadors for the school, and their commitment to languages is hugely impressive. They are already looking forward to starting the Translation Bee competition!
---
Routes into Languages National Translation Bee Finals
On Friday 1st July, fresh from their triumphs in the regional finals, Annie Dobson and Tina Huang in Y9 travelled to Cambridge to compete in the Routes into Languages National Translation Bee finals. This is the first year that Durham Johnston has entered the competition, and from the whole of the North, they came 1st in German and 2nd in French respectively to book their tickets for the national finals at Cambridge University.

We took the opportunity to explore the city a little bit, and enjoyed seeing sunny Cambridge during graduation season, with hundreds of happy people wandering around in their graduation gowns. After a little wander, we headed to the languages department, where we prepared for the qualifying round.

The competition was fierce, with only the top four going through to the grand final. There were tiebreaker rounds, and even a sudden death round for Annie, where the slightest mistake in pronunciation could mean you weren't going to make it through to the next round. Both Annie and Tina held their nerve, and were thrilled to be announced as grand finalists. The final round was incredibly competitive, but the months and months of work that they had put in prevailed, as they both managed to come 2nd in their respective languages.
This is an incredible achievement - in a national level competition that our school has never entered before, Annie and Tina emerged as in the very top two students in French and German. They have put in huge amounts of work to prepare for this, but also managed to keep their cool when under immense pressure. They are brilliant ambassadors for learning languages, but also for our whole school community, and Ms Anderson and I are immensely proud of their hard work.
Here are some of their thoughts on the day:
Annie: "I felt nervous all day but I felt very proud when they called my name for second place. The highlight of the day for me was looking at all the gorgeous college buildings."
Tina: "I think it was a brilliant experience and I was surprised I was so calm all day. I guess it's just because I was happy to be in Cambridge anyway - it's a beautiful city with beautiful architecture. My favourite part was walking around the city centre and taking a look at all the colleges."
Miss Daglish & Ms Anderson
Languages Department
Year 7 Robotics Festival (Royal Academy of Engineering)
On Wednesday, a team of Year 7 girls took part in the Northeast Robotics Festival where they built, coded & piloted robots and piloted drones. All were fantastic, and well done to Florence in particular, who was one of three students at the event chosen as demonstrating excellent engineering skills and given a personal award. Congratulations to Florence, Madeleine, Emma, Amelia, Lea and Sasha for their excellent work on the day and for being great ambassadors for the school.
Mr Corkin
Subject Leader for Technology
We have been asked to share the following publicity from Durham University's Team Durham Summer camps:
Drama Enrichment - Northern Stage Work Experience.
Three Year 9 students: Anya Pearce, Ellie Cole, and Charlie Rowley successfully took part in a week's work experience learning technical theatre skills at the Northern Stage in Newcastle. They had taken part in the school's Tuesday Technical Theatre Club which enabled them to successfully apply for the experience.
Anya writes: 'On the week beginning 27th of June I went to the Northern Stage to do work experience on the backstage of the theatre. In this week I learned how to do sound, lighting and stage management on a professional scale. At the end of the week, we created a performance using our newly improved theatre skills. It was an extremely fun week and an experience I can use in many different settings. This week was especially fun because I was able to use skills I learned in technical theatre club. In this extra-curricular activity you can learn useful technical skills as well as making many friends and gaining social skills.'
Well done to all three of them!
Ms Ayrey
Subject Leader for Drama
PE News
The highlight of the Durham Johnston PE department year took place on Wednesday as over 300 children, parents, teachers and governors gathered at Ramside Hall for our 26th annual sports presentation evening.
It was amazing to see how successful the young people of Durham Johnston have been. The presentations concluded with our special awards as we recognised outstanding achievement in each year group. We also awarded the John Sinclair Award and the Team of the Year. The standard was so high, this award was shared between the Junior boys cross-country team who finished 2nd at the English Schools national finals and the VIth form football team who completed the quadruple winning all four county titles. The evening concluded with a disco - with the PE anthem "Lovetrain" being enthusiastically danced to by everyone in memory of John Sinclair.
As well as this event it has also been a busy week of cricket.
On Monday our U15 cricket team played St Wilfrid's in the county cup quarter-final. This was an incredibly high scoring game. They scored 187 in 20 overs. However, we passed their total with 3 overs to spare thanks to a 115 not out from Joe Twiddy and 68 not out from Harvey Wright.
St Wilfrid's were back at Durham City CC on Tuesday, this time with their U13 team in the county cup semi-final. It was a similar story as they batted first and scored 101 runs. We reached the county cup final as we got the runs with 3 overs to spare.
On Wednesday it was the turn of our girls cricket team to play. Our U13 team were at Rockcliffe CC competing in the Regional outdoor finals. After an excellent day of cricket we eventually finished in 5th place in the region - a great achievement. The highlight was a great victory over the eventual winners - Mercia School, Yorkshire.
Yesterday our Year 9 cricket team played their county cup semi-final against St Michael's. This time we batted first and scored 130 runs. An excellent bowling display saw us restrict them to 104 runs to reach the final.
We now have two teams in the county final with our Year 10's still in with a chance of making it three teams.
Good luck this weekend to Charlotte Dillon and Mia Liddell who are representing County Durham in the English Schools national athletics finals in Manchester.
We are now looking forward to the Year 7 Malaga trip which leaves early Sunday morning - see everyone at school for 2.30am!
Finally, can I thank everyone who has been involved in making this such a successful sporting year. Enjoy the summer as we look forward to starting another year of sporting success in September.
Mr Hopper
Subject Leader for PE