20 May 2022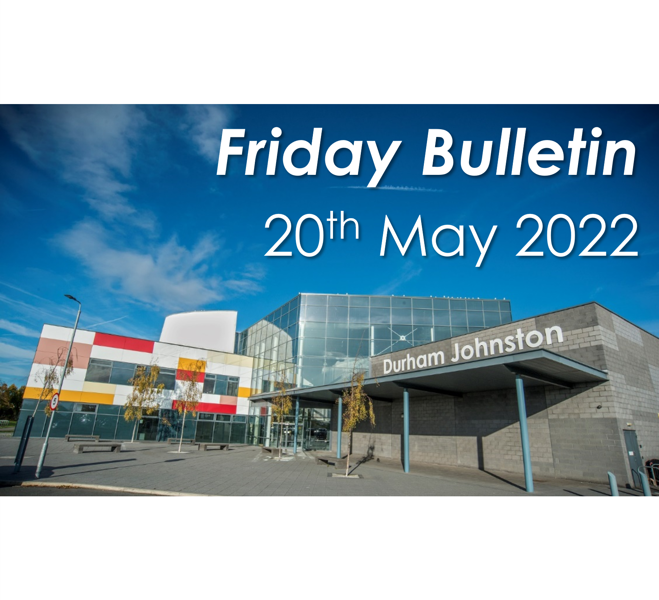 Dear Parents & Carers,
It has been an excellent end to the week for our Year 13 students. In March 2020 they had to leave school abruptly, without the opportunity to properly say goodbye to their teachers and each other; without the opportunity to sit exams or to celebrate together as all previous year groups had. They were also the victims of the notorious Ofqual algorithm debacle. In simple terms, they have not had it easy. It is excellent, therefore, that they have left 'properly' this week and it has been first class that they have doing what Year 13 students traditionally do in their last days together.
Year 13 students will start their formal exams next week. Year 11 started that process on Monday and things have gone very well to this point. They have been punctual, prepared and keen to access the support that we have offered. The school was full last night for Maths revision and, from talking to parents with previous experience of having children go through the exam cycle, the fact that exams have been spaced out over a longer period of time has been welcomed and is actually more humane. Students are actually benefitting from, in the main, having only one exam per day and are revising, getting exercise and seeing friends which is good for their wellbeing and increases their potential for success.
As ever, there are things to be wary of during an exam season and I would urge students, parents and carers to be aware of a national scam regarding hoax papers being shared for sale. This also happened in 2018 and 2019 and I would urge vigilance. The following link might be helpful for context:
Schools Week: students warned over hoax exam papers for sale.
The history of County Durham is fascinating and there is much to be proud of in the region. It is very exciting that the wider County has bid to be City of Culture in 2025 and we are hopeful that the bid succeeds. Students should feel proud of the County and its history. Durham Johnston has very good links with the Cathedral, which is currently celebrating the anniversary of the Venerable Bede's remains being interned at the Cathedral in 1022. Bede is an important figure in the culture, history and religion of the British Isles and we want all of our students to be aware of his story and global reach. If you haven't visited the Cathedral recently it is an excellent time to do so and the following information might be of interest in relation to Bede.
The Venerable Bede

In Durham Cathedral this coming week, they will be celebrating 1000 years since the remains of St Bede were buried there. Bede was a great scholar from the Anglo-Saxon period. He lived in the monasteries of Wearmouth and Jarrow between 673 and 735 AD and wrote or translated some forty books on practically every area of knowledge, including nature, astronomy, and poetry.

However, his most famous writing was on theology and history and his best known work is The Ecclesiastical History of the English People. He is remembered today as the earliest English historian, whose work has shed light on a period of English history that would have otherwise been unknown. Even to contemporary historians, it is considered to be the work of a scholar anxious to assess the accuracy of his sources and to record only what he regarded as trustworthy evidence. It remains an indispensable source for some of the facts and much of the feel of early Anglo-Saxon history. Bede declined to become the prior of Jarrow because he did not want administrative duties that would take him away from his scholarship, and it is probable that he never travelled further afield than Lindisfarne to the north and York to the south during his lifetime.

You can find out more via the links below.

Life & Death | Durham World Heritage Site

Saint Bede the Venerable | Biography, Facts, & Legacy | Britannica
Thank you to all those who have completed the questionnaire in relation to Relationship & Sex Education for 2022-23. We will be inviting parents and carers into school in July to discuss our curriculum, how work is this area is linked to the school's ethos and to answer any questions that you may have. I will share the date and time after half-term.
We will also be asking for your thoughts on our extra-curricular offer next week. We are keen to find out what your children enjoy and participate in, the possible barriers to greater involvement and thoughts on how we might broaden the range of activities on offer even further in 2022-23. We will also be asking for your thoughts on our Behaviour Policy in early June as we review our plans for the new academic year.
On a final note, it is excellent to have so many children participating in activities and sessions after school again and to be able to invite parents back into school. Miss Davies, our Special Educational Needs Co-ordinator met with the parents and carers of Year 6 students with a special educational need earlier this week. That aspect of transitions helps us to establish good relationships, to understand the needs of our students and to put in place foundations for the future. All of those things are very important as we strive to maintain high standards and to do all that we can for students in the school.
Have a good weekend.
Mr O'Sullivan
PE News
I'd like to start this week by informing parents that tickets are now on sale for our 26th Sports Presentation Evening which takes place on Wednesday 6th July at Ramside Hall between 7.00pm - 11.00pm. After a two-year gap, it is exciting to again bring together all our sporting community to celebrate the amazing success of our sports teams and individuals.
That success we will be recognising has continued this week.
On Monday, our Year 7 boys' football team were at St John's taking on Parkside in the league cup final. This was a close game in which we were 2-0 ahead at half time before we conceded in the second half. However, we hung on to become league champions and complete the double after already securing the league title. Will Haselhurst was POM with a commanding captain's performance.
Also on Monday, our Year 9 boys' football team faced Prudhoe in the Tyneside Cup final. We went 2-0 down but fought back to level at 2-2. Despite playing the better football we couldn't find a winner and unfortunately conceded a late goal to finish runners-up.
On Tuesday, our U15 pentathlon teams were competing in the county championships at Monkton Stadium. The athletes compete in 5 events throughout the day, scoring points towards the team total. Our girls' team performed very well to win the competition and become county champions with Miranna Nielsen finishing in 3rd place. The boys were in the lead after 3 events but eventually finished in 2nd place with Alex Graham in 5th place. Our B team also finished in 3rd place, which was an outstanding achievement.
Also on Tuesday, our U15B boys tennis team were at Barnard Castle for a league match. In perfect conditions this was an excellent afternoon of tennis. The score finished 3 - 3 so we needed a tie-break to separate the teams. We won this 10 - 2 to go top of the league.
Finally on Tuesday, our Year 8 boys' football team played their final league game of the season against King James. This was a one-sided game which we won 7 - 2 to remain unbeaten all season and secure the league title. Harry Clish and Alex Wright were joint POM.
On Wednesday, our Year 7 cricket team took on Whitburn in the second round of the county cup. We fielded first and bowled them all out for only 47 runs, with Ray Wright taking 4 wickets for only 4 runs. It took us 4 overs to reach that total and move into the quarter finals.
Also on Wednesday our Year 10 boys' football team were at St John's taking on Bishop Barrington in the league cup final. We went a goal behind but fought back through two goals from player of the match Dylan Powney, and an outstanding free kick from Harry Stewart to lift the trophy with a 3-1 victory.
The busy and successful week continued on Thursday as our U15 girls handball team travelled to Oldham Leisure centre to compete in the northern English schools' finals. The seven best schools in the north took part, and after a long day of high level competition we finished runners-up and therefore qualify for the national finals which take place on Saturday 18th June in Nottingham. This achievement is more remarkable as we only starting playing handball competitively in January.
Our Year 10 boys' football team played their second game in two days as they faced St John's in the Ben Potts trophy semi-final. We took a 2-0 lead and despite conceding a late goal won 2-1 to reach the final which takes place on Monday.
Our Year 9 boys' football team completed their season with a league cup final against St John's. This was a close match which remained 0-0 until 20 minutes from the end. Unfortunately, four late goals didn't go our way as we lost 3-1 to finish runners-up for the second time this week.
Finally yesterday, our U13 girls and boys tennis teams were in league action against Whitburn. Our girls claimed a comfortable 6 - 0 victory. The boys game was much closer as we eventually lost 4-2.
Mr Hopper
Subject Leader for PE