29 April 2022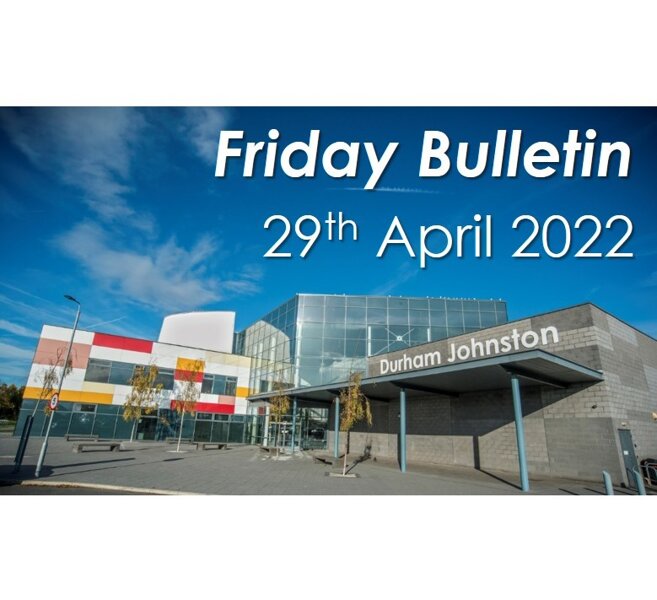 Dear Parents & Carers,
I hope that you had a restful Easter and that students preparing for examinations have managed to balance revision with rest, exercise and time doing the things that they enjoy. I hope that all other year groups and their families had a restful break too.
This is a very significant term for our older students and it is important that all students are respectful and considerate of others as they move around the building in the week ahead. In addition to our current focus upon support for exam year groups, this is the time of year when we start to review and think carefully about our strategic improvement priorities for the year ahead. We are very keen to get your thoughts on some of those key developments, and between now and the end of this half-term will be contacting parents and carers of Years 7-10 and 12 to share our plans in the following three areas:
Relationship & Sex Education – We wrote to parents last year to summarise national expectations around what we need to teach and how that should be adapted to the concerns and educational needs of our students. Next week we will share an update on what has been taught this academic year, how student views are integral to our planning for next year and the national guidance, advice and policies that inform the teaching of RSE and PHSE at Durham Johnston. We will provide a brief survey for parents next week, and will ask students for their thoughts as part of our planned annual review.
Behaviour & Attitudes – We will share our updated behaviour policy and how we encourage positive behaviour and relationships. We will share the national guidance that informs all school policies in relation to behaviour, and additional information about uniform and positive expectations in school too. We will again provide a brief survey for parents and will ask students for their thoughts as part of our planned annual review.
Personal Development & Extra-Curricular Opportunities – We will share our plans for the personal development of students in relation to careers education, how students can access our wide extra-curricular offer and encouraging participation from all students. We will continue to identify barriers to participation and share our plans for September 2022. Again, there will be a short survey asking parents what possible barriers might exist, and what additional support we can offer so that students take part in sport, music, societies and clubs beyond the school day.
This process will continue after half-term, when we will offer an update on staffing for September 2022, our plans for communication with parents based upon the Information Evenings for each year that we successfully ran during the autumn term of 2021 and our weekly updates. We will also share our policies, plans and focus for staff training so that we offer the highest quality of support for students with a special educational need or experiencing difficulties that are impacting upon their work in school. We will also share our plans for reading, literacy and oracy as we prepare to support students in September 2022.
It is important that we continue to modify school policies so as to respond to difficulties experienced by families during the pandemic and cost of living crisis; that we maintain our current strengths and think carefully about how we can improve the school in the year ahead. The perspectives of staff members, students and parents and carers are all very important in that process.
I would like to thank all staff and students that welcomed Year 6 families to the school yesterday afternoon and evening. It was excellent that those joining us in September could meet with staff, complete subject specific activities and talk to students from all year groups. We haven't been able to open the school up for families in quite that way for two years and it was wonderful to see how excited students were and for parents and carers to meet with students and key staff in such a pleasant way.
Enjoy the weekend.
Mr O'Sullivan
Year 6 Welcome Event
We were delighted to welcome over 200 families yesterday evening to enjoy a visit to our excellent departments meet key staff and pupils. Congratulations to our many pupil volunteers, who made our new starters and their families very welcome to our school, and provided tours and plenty of enthusiasm throughout the evening! Thank you to the school's Windband, whose outstanding playing greeted families on their arrival, setting the scene for the rest of the departments.
We're pleased to have had some very positive feedback from those who joined us. During presentations in the hall from senior leaders, we shared information to support the transition of our new starters into our school community. If you have accepted a place for September 2022, the key details are as follows:
April-May 2022 -

Completion of Common Admissions Form.

May 2022 -

We await passports from all partner primary schools.

May 2022 -

Transition visits commence.

May-July 2022

- Additional visits for those pupils who may require additional support

July 2022 -

Induction day, Friday 1st July 2022 – replication of a school day, permission slips issued.

July 2022 -

Parents (only) evening Monday 4th July 2022 6pm. We will discuss Safeguarding, Relationship & Sex Education and Communication.

August 2022

- Summer school, final week of summer holidays so students can familiarise themselves with the school. We hope to run our summer school in the week beginning 29th August 2022 for one week.
Mrs Bell
Deputy Headteacher
Vex Robotics National Finals
The Year 10 Vex Robotics team competed in the national final over the Easter Holidays after successfully winning the regional North East Heat. They arrived in Telford International Centre and competed in 14 qualifying matches in the Lovlace Division (won 6, lost 6, drew 2), finishing 17th out of 28 in their division. This got them through to the next round, where they paired up with the Royal Grammar School from Newcastle, and were seeded 9th for the knockout competition. They faced teams from Hoddesdon and London, and won a nail-biting match 110 to 108 to progress to the quarterfinal. Here, they were pitted against the Number 1 seed from qualifying (ATORE and HBS Phonex - both from London schools). Unfortunately, they were fairly beaten by a more experienced team 200 to 90. It was a great learning experience in engineering and robotics.
A fantastic trip was had by all. They interacted, collaborated, and socialised with other engineering enthusiasts from up and down the country. Many thanks to The Reece Foundation and CAD2Code for their support in making this trip possible.
Roll on for next year's Vex V5 Competition!
Mr Corkin & Mr Kennedy
Technology Department.
House Competition
Congratulations to the winners of our Photography Competition. An excellent array of talent on display - it was really difficult to decide. Creative ideas, angles and concepts on show in each of the three categories.
Well done to everyone who took part!
Miss Forbes
Senior Teacher, the House System
Sixth Form Notices
Please click the link below to read the weekly digest of news and information for Sixth Form Students.
PE News
It has been excellent to see so many people attending clubs this week at the start of the summer season. There were over 40 girls at rounders on Tuesday, over 70 children at athletics on Wednesday, and over 50 girls at tennis last night.
On Monday, our Year 9 football team were at home taking on St Thomas More in the Tyneside Cup semi-final. We dominated possession, but missed several chances and hit the woodwork four times. At half time, we were level at 1 - 1. Dom Ward scored his second goal of the game with 15 minutes to go to secure a 2 - 1 win. Our Year 7, 9 and VIth form teams have all now reached the Tyneside Schools finals.
As county cricket champions from last summer, our Year 8 cricket team are now representing County Durham in the English Schools National Cup. On Tuesday we travelled to Newcastle CC to play RGS. We batted first, and scored an impressive 170 runs in our 30 overs with Jim Twiddy top scoring on 43. We then produced an excellent bowling display to bowl RGS out for only 54. We now go on to face Sedbergh in the north semi-final which means we are into the last 16 schools in the country.
Yesterday it was great to see Year 3 and 4 children from our local primary schools taking part in a mini-tennis event on our fields. This event was organised by our Year 10 BTEC PE students as part of their leadership unit.
Mr Hopper
Subject Leader for PE