14 January 2022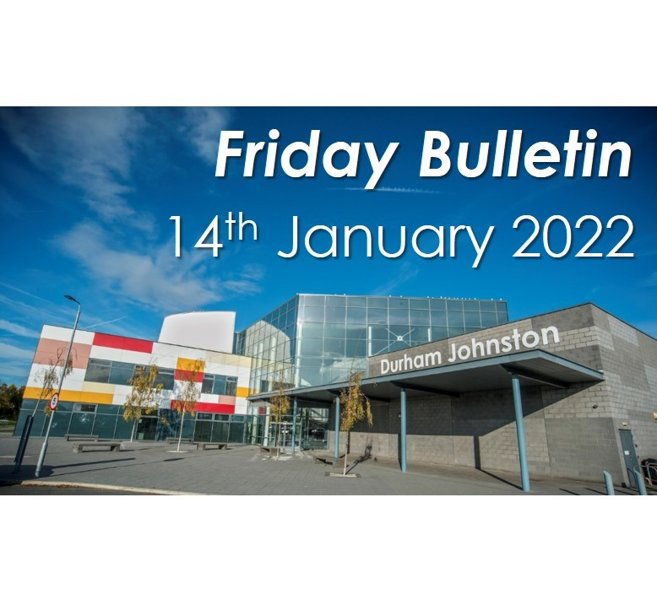 Please note: there is no update from Mr O'Sullivan this week; parents and carers will receive a direct email communication in due course.
Key Stage 4 Option Choices 2022-2024
We have begun our Option Choices process for Year 9 students today, with a letter to all parents and carers, which has been emailed directly and can be found at this link.
Some key dates for this process are below:
Reports issued – Friday 14th January 2022
Letter to parents – Friday 14th January 2022
Options Assembly – Monday 17th January 2022
Virtual Options Event – Friday 21st January 2022 (on the website)
Parents Consultation Evening – Monday 31st January 2022
Deadline to submit options form – Friday 18th February 2022
Mrs McFadden
Deputy Headteacher
Sixth Form Notices
Please click the link below to read the weekly digest of news and information for Sixth Form Students.
Drama News
Information for parents and carers of current Year 7, 8 and 9 Drama Club participants.
As you aware, your child has been working very hard rehearsing for the planned performance on Thursday 27th January. Unfortunately, due to the current Covid situation, we will not be able to have an audience in to watch the performance. We intend for the students to perform as planned on the 27th January after school. As we are not able to have an audience, this performance will happen earlier in the evening, at 4.30pm. The Year 7 and 8 drama club will go first, followed by the Year 9 performance.
We intend to film the productions and then invite parents and carers via a private YouYube link to watch the relevant film in order for students' excellent effort be seen and rewarded. I will contact you later when we confirm the date of the film's release.
Ms Ayrey
Subject Leader, Drama
PE News
Last Sunday, ten of our students travelled to Edge Hill University, Lancashire, to compete in the Northern Regional biathlon championships. They all performed very well, finishing in the top 10 places. The best performance was by Year 7 student Ben Beale who won both the run and the swim to win the event and become Northern Schools Champion! He now goes on to the national finals which take place at Bath University in March. His younger brother, who is at St Margaret's School, finished in second place and also qualified for the national finals.
On Wednesday, our U15 girls' football team travelled to South Hunsley School, Hull in the last 32 of the English Schools Cup. We played some amazing football but unfortunately, we lost 3 - 1 to a very strong team. It was a great achievement to get this far and we wish South Hunsley good luck in the next round.
On Thursday, it was the turn of our U16 boys to compete in the last 32 of the English Schools Cup. This time we were at home to Whitley Bay High School. In perfect conditions, this was an excellent game in which we never gave up. At 3 - 0 down Harry Alderson scored, but despite some late pressure we couldn't get back into the game going out of the competition 3 - 1.
Also last night, our Year 9 boys' football team were at St John's in the county cup. We produced some very good football, including a great strike from Alex Graham after 70 seconds. Unfortunately, despite some excellent chances we just couldn't find another goal losing 3 – 1.
Good luck tomorrow to around 40 of our cross-country runners who are at Barnard Castle School competing in the County Championships.
Finally, the PE department are pleased to announce the return of school trips. Letters for both the Malaga Sports trips this summer and ski-trips 2023 will be available to collect from the PE office on Monday morning.
Mr Hopper
Subject Leader, PE