10 December 2021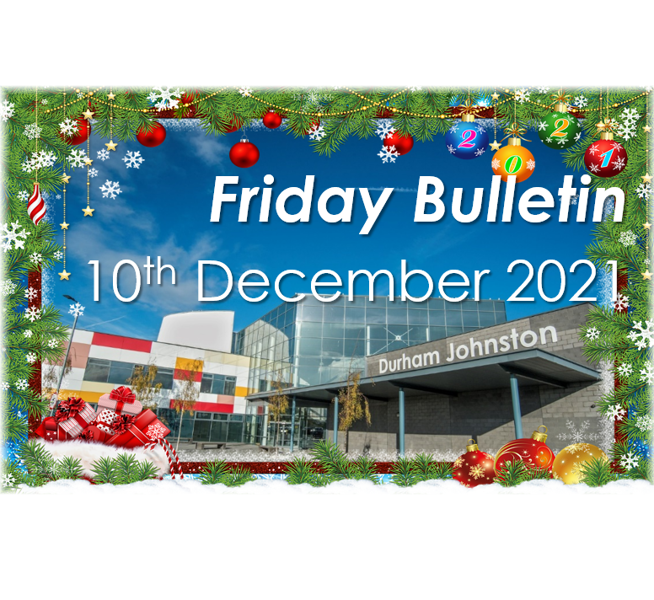 Dear Parents & Carers,
The two themes of this week's update are the celebration of Christmas in school and respect for public service. As I write this, our Christmas tree is very visible in the Atrium and the school musical ensembles can be heard rehearsing for our school concerts on Thursday and Friday. (Note: Since writing those words the first performances have taken place, with Wind Band, Junior Orchestra and Junior Choir performing. It was wonderful to be part of an audience listening to live music in the school again after a gap of nearly two years. I would like to thank all of the families in attendance, our talented musicians and the school's fantastic Music Department and other participating staff. Mr Holmes, Subject Leader for Music, spoke very movingly at the start of the performance and his words were appreciated by all present).
In a continuation of the Christmas theme, 350 Year 7 and 8 students braved Storm Barra on Tuesday afternoon, dressed as elves, Christmas puddings and reindeers, and managed to raise £750 in total for local charities as part of our annual Santa Run. They deserve real credit, as conditions were horrible but they persevered! Our Year 12 and 13 helpers should be applauded too, alongside the PE Department, whose commitment to the event is wonderful. Students and staff had their Christmas lunch on Thursday and there will be a shorter, recorded Carol service for all form classes to watch on the penultimate day of term. We have also started to send out our school Christmas cards. This year's card was designed by Zyzy Elnemer in Year 9, who won the annual competition run by the Art Department. Well done to Zyzy!
I suggested that the other theme of this week's update is public service. We said goodbye to our longest serving Governor, Nigel Martin, on Thursday. Nigel was elected to the Governing Body in September 1989, and has served the school community for 32 uninterrupted years, playing a significant part in the building of a new school between 2006 and 2009. Nigel also served the wider Durham community for many years in his role as a Local Councillor, and has been an intelligent, consistent and reassuring presence throughout that time. From a personal point of view, Nigel's good common sense and attention to detail were vitally important in March 2020 when we encountered a situation that was completely alien to all those working in education. We said goodbye to Nigel at this week's Full Governing Body meeting, and I feel it important to reassure everyone reading this that the governing body meeting was virtual and cannot be classed as a party, gathering or business meeting; no cheese or wine was served, and no Secret Santa gifts were exchanged. I would like to thank Nigel publically for the excellent example that he has set for our staff and students, and for his longstanding public service. He is a kind and decent man and will be greatly missed.
The Sunday Times Parent Power survey was shared online on Friday 3rd December and then published as part of the weekend print edition. We are very proud to have been identified, by their measure, as the North East's Comprehensive School of the Year and also as 20th in the national comprehensive school list. School results between 2017 and 19 have been used for comparison and those years represent the school's best ever GCSE and A Level performance, with large numbers of students achieving great success. We work very closely with many other local secondary schools and it is excellent that their success is being celebrated in the survey too.
The school term will finish next week at 1.00 p.m. on Friday 17th December and we will reopen on Wednesday 5th January 2022. We have not been informed of any changes to the national advice given to schools but will check regularly for any new guidance from the Department for Education over the holiday period.
Thank you for your ongoing support this year and I would like to wish all members of our school community a Merry Christmas and a Happy New Year. I hope that you get to enjoy a happy Christmas with your loved ones.
Mr O'Sullivan
Flu Vaccinations
Thank you very much to the Flu Vaccination Team who came into school on Thursday this week and vaccinated just over 450 of our students.
Only students in Years 7-11 were eligible to receive the flu vaccine in school. Any students who were absent on Thursday, or are in the Sixth Form, can still access a vaccine at a drop-in clinic. The dates, times and location of these are given in the table below. As these are drop-in clinics, there is no need to make an appointment. Please note that the clinics that only one adult attends with a child and that face masks are worn.
Apple ID to access SIMS Parent App - Action needed from 10th December
To support the ongoing security of the Apple ID and SIMS ID integration, the way Apple ID logins work with SIMS ID is changing and parents using Apple ID to access the SIMS Parent app will need to re-activate their account.
SIMs will be emailing all Apple ID users directly on the evening of Thursday 9th December with instructions and a link.
If you normally use an Apple ID to login to the Parent app, please check your email and follow the instructions given to re-activate your Apple ID ensure your continued access to the app. If you don't receive the email please contact simsparentapp@durhamjohnston.org.uk; you should then receive a new activation link the next working day.
Sixth Form Notices
Please click the link below to read the weekly digest of news and information for Sixth Form Students.
House System Christmas Appeal
Every year as we reach the deadline for our Christmas Appeal, I hold my breath and hope. I hope that we can help those in our local community who are in need. I hope that the students have worked together to "give back" – after all, this is the main focus for our house system. I hope that they have learnt along the way about the importance of what we do as a collective; that by working together we can make the world a little better for others.
As ever, though, I didn't need that momentary worry; that moment of thinking "can we make this happen?"…because we always do. Students, tutors and house leads have once again worked together to donate an overwhelming amount to our chosen charities. I am genuinely in awe of what they have done! This year we have contributed a significant amount to Feeding Families food hamper appeal, Family Actions Toy Appeal for young carers, Durham Foodbank, and the local community. The generosity shown by everyone involved really is phenomenal.
Thank you to everyone who took part and a special mention to my House Leads - it would not happen without you!
Miss Forbes
Senior Teacher, the House System
Christmas Concert Review
Last night saw a joyful return to live music at Durham Johnston School. We welcomed pupils, parents, friends and colleagues to the first of four Christmas Concerts. Two were held last night, and two will be taking place tonight.
I began by welcoming those for whom it was their first time at a school concert, and explained that, at Durham Johnston, we are firm believers in the necessity of cultural and artistic experiences for our pupils, and to be making music together in front of an audience, is what that is all about.
We had many talented and enthusiastic musicians performing, and that was only possible because of the support they had received. I offered my thanks to parents and carers for encouraging practice and attendance at rehearsals, to the staff of Durham Music Service, and other local private teachers, for their unfailing professionalism, valiantly teaching via Zoom every week in the dark days of lockdown to keep the show on the road, and finally, to all the staff at school, who recognise the value and importance of artistic endeavour to our communal school life.
I finished with a word to the musicians. The last concert was Christmas 2019, and although we have missed making music together, it has been hard to get back in to the routine. However, this is what school music should be – busy, slightly chaotic, stressful at times, but ultimately a fulfilling and rewarding experience.
The musicians of Durham Johnston wish you a very happy Christmas.
Mr Holmes
Subject Leader, Music
PE News
Last weekend our Junior boys', Senior boys' and Senior girls' cross-country teams were competing in the ESAA National cross-country finals in Newquay. Despite the long journey all three teams produced outstanding performances against the best schools in the country. It was a very testing course, made worse by gale force wind and sleet. However, our Junior boys produced our best ever finish as they came second – only beaten by Cooper Company and Coburn School from Surrey. Will Jardine was our first finisher in 12th place.
Our Senior girls were next, and they finished in 14th place. Finally, as conditions deteriorated our Senior boys finished in 21st place. Both senior teams were well inside the top 10 state schools in the country. All three teams were a credit to the school throughout the weekend, receiving several compliments on behaviour and appearance.
On Monday, our Year 9 basketball team were at Emmanuel College competing in the Tyneside tournament. We started with a comfortable 14 point victory over the hosts. Another win in our final game against Whickham meant we won the competition, and now progress to the final after Christmas.
Also on Monday, our U15 girls' football team took on High Tunstall in the National Cup, trying to reach the last 32 schools in the country. We played some excellent football to win 3 – 2 thanks to a great team performance and a hat trick from Lucy Wells. They now travel to Hull in the next round.
Finally on Monday, our Year 8 Futsal team were taking part in the Area Tournament. They won all their games to reach the final, but unfortunately lost this to a strong team from Wolsingham 1- 0.
On Tuesday, it was the turn of our Year 9 Futsal team to compete in the Area Tournament. They also reached the final, but this time it was better news as they beat Wolsingham 2 – 0 to win and qualify for the regional finals in March.
Two outstanding netball matches also took place on Tuesday as our Year 9 & 10 teams took on Durham High. Our Year 9 team won 29 – 10 with Anna Cunningham as player of the match. The Year 10 game was close throughout, and eventually ended in a 16 – 16 draw with Arianne Jones as player of the match.
Also on Tuesday, our U13 girls A and B basketball teams were at Sedgefield in the BASFA tournament. Both teams played very well. Our A team remained unbeaten to win the competition and our B team finished in 3rd place despite an excellent draw against our own A team.
On Wednesday, our Year 8 basketball team were in Tyneside Cup action against Valley Gardens School. We started strongly and dominated the game, eventually winning 53 – 14. They now join our Year 9 team in the finals after Christmas.
On Thursday, our Year 7 futsal team were also competing in the Area Tournament. We had a slow start drawing our first game. However, we improved, eventually reaching the final. We dominated this match, becoming champions with a 5 – 0 win.
Also last night, our Year 8 boys' football team were in Darlington taking on Longfield in the county cup. We produced a powerful performance reaching the next round with a straight-forward 8 – 1 thanks to four goals from Alex Wright with player of the match Tom Briggs.
Finally, good luck tonight to our Year 10 basketball team who are trying to follow the Year 8 & 9 teams in reaching the Tyneside final.
Please click here to read recent match reports from our Sixth Form Football Ambassador.
Mr Hopper
Subject Leader, PE