8 October 2021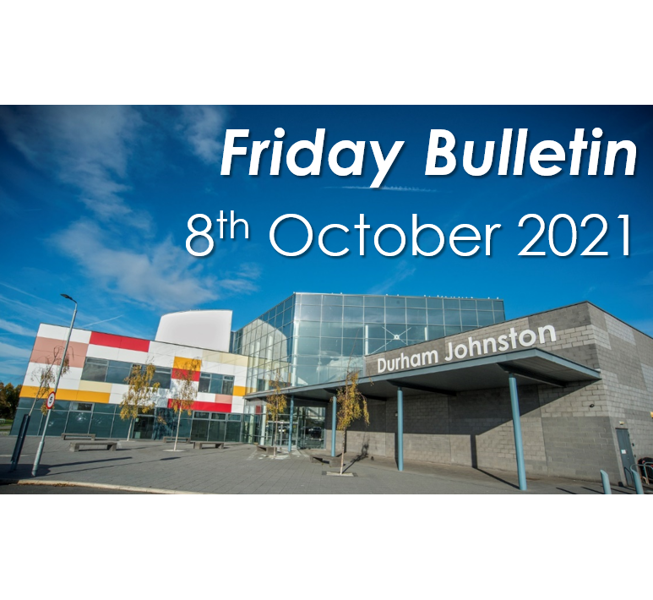 Dear Parents, Carers & Students
This week's update is comparatively brief as we are preparing for the final two weeks of the school term. Our Year 13 students have just completed their diagnostic examinations and Year 11 examinations begin on Wednesday. We have held two very successful 6th Form Open Evenings and would like to thank our Year 11 families for the interest that they have shown in continuing their studies at school. We also welcomed a very large number of prospective students from other schools and that is very heartening.
We shared a significant amount of detail regarding A level study and encouraged students and their families to consider the different ways that success might be measured. I explained that for some people data and judgements matter. In that respect, our 6th form provision has been judged as outstanding in all areas in previous Ofsted inspections. The Sunday Times chose the school as its National Comprehensive School of the Year in 2019, noting that:
Barely 50 grammar schools achieved better A-level results than Durham Johnston last summer, a beacon of educational excellence and a flag bearer for the comprehensive school ideal. The best sixth-form results in the school's history this summer saw more than half the A-levels taken secure A* or A grades and 56 children gain AAA or better. Outstanding sport and music, plus a wealth of other outside activities led by committed staff mean this is no examination factory. There is a strong commitment to social justice and tolerance that help make Durham Johnston the standout state school in the northeast and one of the very best in country.
In the last external examinations 51% of grades were awarded A* or A, with 20% of grades being A*; representing the best A Level results in the school's history, with significant progress as well as that high attainment. Large numbers of our students go on to very completive university courses, employment, degree apprenticeships or additional training. All are examples of evidence that families might want to consider when choosing a 6th form. However, those end results don't occur in a vacuum, they are based upon good relationships, support and advice at key points and experienced staff working hard to support and develop students on a daily basis. At the two open evenings we encouraged families to also think about the day to day experience of 6th form life in relation to 10 questions. External judgements and results might be helpful, but the real test of our school is what we seek to do each day for the 350 students in the 6th form. On that basis, we ask the following questions when planning for our students:
Will they be happy?

Will they make friends?

Will they access consistently outstanding teaching and subject specific guidance?

Will they be well advised about the best choices post 18?

Will they be given opportunities to contribute to our community and to develop their leadership skills?

Will we offer cultural opportunities that help them to develop beyond the classroom?

Can the adults working in the school be trusted to behave in a kind, fair and ethical way?

Does the school communicate effectively?

Will the school be supportive if they encounter difficulties as a family?

Do students leave us after 2 years fully prepared for life in modern Britain?
Students have achieved great success in our 6th form for a substantial period of time, but we are always seeking ways to improve or to respond to new challenges. That, perhaps, is the most important reason for choosing to join or stay with us. The application process and additional supporting materials can be accessed at the link below.
Apply to Durham Johnston's Sixth Form
Have a good weekend.
Mr O'Sullivan
Covid & Vaccination Update
The number of positive cases recorded in school has dropped again this week, with 10 confirmed cases. The pattern that we have observed since the start of term is still relevant, with the majority of those cases affecting families and siblings.
We are still awaiting confirmation from the NHS Harrogate Immunisation Team of a date for vaccinations to take place. As soon as we receive any additional information we will share it with all families immediately.
Lost Property
Many of you will have seen the tweet posted by the PE department in Week 2 regarding the huge amount of unclaimed kit, with a plea to parents and carers to ensure that all PE kit is labelled.
Similarly, since the start of term we have amassed a huge amount of general lost property. We are unable to unite any items of lost property with their rightful owners if garments, shoes and bags are not clearly named.
Outdoor coats in particular are very expensive items, which we are sure that parents would not wish to have to go to the expense of replacing. It would be helpful if students could check that they have not mislaid any items in school, particular outdoor wear.
We will arrange for suitable times during morning break next week on both Monday and Tuesday for pupils to reclaim their property. Students should go to James Hall where the lost property will be temporarily stored.
Forms tutors will remind students of this opportunity on Monday and Tuesday.
We regret that given the volume of lost property and the lack of storage space in school, that any items unclaimed after a month will be bagged and appropriately recycled.
Sixth Form Notices
Please click the link below to read the weekly digest of news and information for Sixth Form Students.
Careers and Guidance Department Notices
---
Doctors Live – workshop sessions
'DoctorsLive' is a team of doctors passionate about inspiring the next generation of students into a career in Medicine, Dentistry, Nursing, and Allied Health Professions. They run a weekly interactive anatomy club covering live virtual dissections of the human body, discussing how the systems of the body work and what could go wrong. There is a cost for attending ranging from £40 for a month (4 sessions) or £100 for 3 months (12 sessions). At less than £10 a session this seems good value for money. Please see link below for details of costs, but in order to widen access to healthcare careers for all students they offer a variety of bursaries. To find out more please get in touch with via email: info@doctorslive.co.uk.
They are starting their next anatomy club for this academic year in November 2021. These sessions give students the chance to gain an insight into a career as a medical professional and sessions are fun, interactive, and accessed online from the comfort of your home. Each session will cover an organ system and delve into:
1. How the organ system works
2. What could go wrong
3. Live virtual operations
4. Live practical examinations
5. Reviewing anonymised real-life cases and scans
The sessions are perfect for any student aged 14+ interested in a career in healthcare. Certificates will be provided for participation and can be used as evidence of virtual work experience.
Sessions run live every Thursday from 6pm until 8pm, covering a new system each week. The complete program runs for 12 weeks (covering the 12 organ systems) from November 2021 to January 2022. Recordings of the session will also be available on demand to re-watch later. If you are interested please go to: www.doctorslive.co.uk.
---
Mr Kennedy
Subject Leader, Guidance
Music Rehearsals for the next two weeks.
Due to the reduced availability of the hall during Year 11 exams, the rehearsal schedule for Wind Band, Senior Choir and Senior Orchestra will be as follows.
Please note that rehearsals for all other ensembles are not affected.
Tuesday 12th October
Windband – full rehearsal
Wednesday 13th October
Senior Choir - Sopranos only (in MU2)
Thursday 14th October
Senior Orchestra – Wind, Brass and Percussion only (in Music Dept)
Tuesday 19th October
Windband – no rehearsal
Wednesday 20th October
Senior Choir – Alto, Tenor and Bass – (in MU2)
Thursday 21st October
Senior Orchestra - Strings only (In Music Dept)
Mr Holmes
Subject Leader, Music
PE News
I'd like to start this week by making a plea for any parents / family members or friends with local businesses to consider sponsoring a school team kit. We always try to keep our teams looking smart as we travel around the county and hope to continue this year. We have given letters out to children this week. The school can organise the purchase of the kit and arrange for company logos to be added.
Please contact me at school if you would be willing to help or want some more information.
On Monday our U18 girl's football team travelled to St Robert's in the English Schools Cup. The game was level at 1 – 1 when one of our players received a nasty injury causing the game to be abandoned. The PE department would like to wish Emily a speedy recovery.
The first basketball game of the season took place on Tuesday as our Year 9 team were at Dame Allan's. We started strongly, and were always in control of the game, eventually winning 57 – 41.
Also on Tuesday, our U15 boys' rugby team were competing in the county finals at Eaglescliffe RFC. Despite the poor weather conditions, the standard of rugby was very high. We remained unbeaten throughout the evening. This included an excellent victory over a very strong Yarm School team. This took us into the final against Carmel School. Unfortunately, another injury caused the game to end early and with scores level we ended up as joint champions – a great achievement.
Our Year 7 – 10 football teams were in league action at St John's on Wednesday. We continued an impressive start to the league season with three more victories. Our Year 7 team won 4 – 2. Our Year 8 team won a one-sided game 8 – 0 and it was a comfortable 7 – 0 victory for our Year 10 team. Unfortunately injuries and illness caught up with our Year 9 team as they lost 4 – 2.
Last night was a busy night as our U16 girls football team travelled to Dyke House in the English Schools cup. We started well taking a 1- 0 lead. However, they were a very good team who took control in the second half going on to win 7 – 1.
Our Year 10 boys' team were also competing in the National Cup with a visit to Mortimer School. This was a much closer game. We were 2 – 1 down with 15 minutes to go but despite some late pressure, we couldn't find the equaliser, losing 2 – 1.
Finally, last night our U14 rugby team had their county tournament at Stockton RFC. We started slowly losing our first game to Northfield. However we improved from there, winning the rest of our games to qualify for the County finals which take place in the New Year.
It was amazing to welcome back former student and now Manchester United player Joe Hugill to school yesterday. He has a few days off training and kindly gave up his day to come into school and spend time with some of our PE classes. He also posed for hundreds of photos and signed countless autographs. He is next in action for Manchester United U21's on Wednesday when they take on Sunderland at the Stadium of Light in the Papa John's Trophy.
Good luck tonight to our Year 8 & 10 football teams who are both in county cup action against Parkview.
You can read a football match report on our Sixth Form's match from our football ambassador here, and a reminder that you can see the week's schedule of activities here.
Mr Hopper
Subject Leader, PE