15 July 2021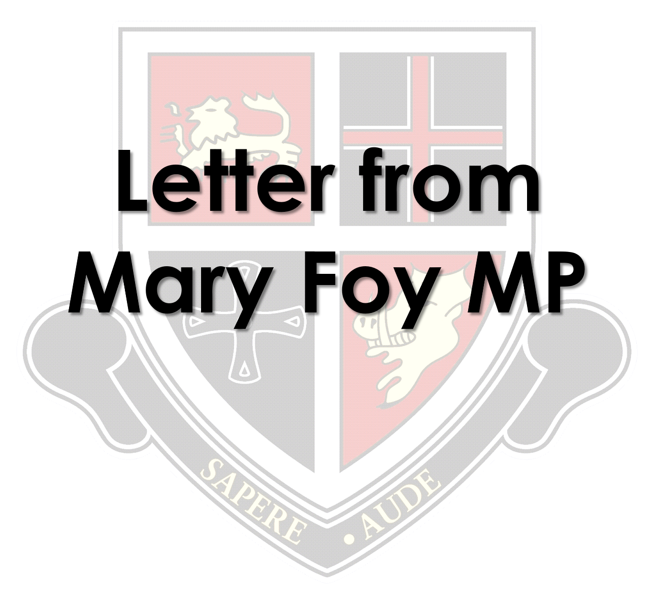 Questionnaire on the Rising Cost of School Buses – Mary Foy, M.P Durham City

Dear Parents and Carers

In recent weeks many parents have contacted me to raise their concerns about the rising cost of school buses. I was very concerned to learn of this development, and the financial pressure that this will undoubtedly place on many families during uncertain economic times.

Consequently, I recently raised how this issue was affecting parents of children at St Leonards RC School in the House of Commons, and have now succeeded in securing a meeting with the Secretary of State for Schools, Nick Gibb MP, on the 20th July in order to discuss this issue further.

I am therefore writing to invite you to complete a very short survey so that I can gather the views and questions of as many parents and carers as possible on this subject, and raise these directly with the Minister during my upcoming meeting.

This survey is very short and should take no longer than 2 minutes to complete. It can be completed here at: https://www.maryfoy.org.uk/school-buses-survey/
I would like to thank you in advance for taking the time to complete this survey, and for helping me to accurately raise the issues that matter to you with the Government.

Yours Sincerely,

Mary Kelly Foy MP
Mary Kelly Foy MP
Member of Parliament for the City of Durham
Email: mary.foy.mp@parliament.uk
Constituency Office: The Miners' Hall, Redhills, Flass Street, Durham, DH1 4BD
Tel: 0191 374 1915
General Office Hours: 09:30-16:30

Follow me!
Twitter: @marykfoy
Facebook: @marykfoymp
Instagram: @marykfoymp
Or visit my website: www.maryfoy.org.uk