30 June 2020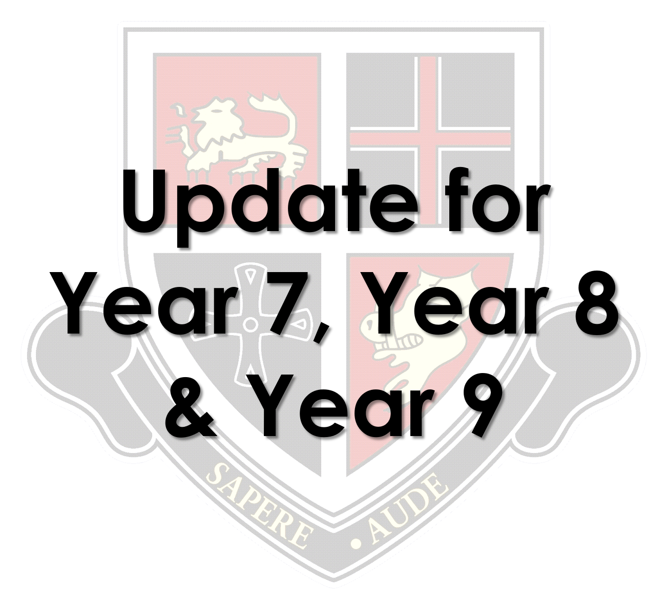 Dear Parents & Carers,
On Friday 26th June I explained that we intended to provide support and time in school for Year 7, 8 and 9 students. Thank you for completing the survey and for informing us that your child will be accessing face to face provision in school. Years 7, 8 and 9 students will be working with their Form Tutors, with the form being split into two groups of a maximum of 13 to ensure social distancing. Their session in school will provide the following support:
Pastoral support and guidance by their Form Tutor and Year Leader.

Practical guidance on how to use Microsoft Teams, email and 365.

English, Maths and Science support.

An academic review, with next steps and information about each subject in September.
Groups have been assigned a specific date and time to attend school as you will see below. You will receive a personal email on Wednesday 1st July which will identify the relevant day for your child. Please check your email folders to make sure that you have received the email and please consider adding the No Replies email address to your safe senders list. All emails are sent to the First Contact email address identified by families when data was collected in September 2019. If you are keen for your child to participate but haven't yet responded, please contact the school before 3.00 p.m. on Friday 3rd July.
Date

Year 7 Forms

8.20 a.m. start

Year 8 Forms

8.30 a.m. start

Year 9 Forms

8.40 a.m. start

Tuesday

7th July

7D1

7U1

7R1

8D1

8U1

8R1

9D1

9U1

9R1

Wednesday

8th July

7D2

7U2

7R2

8D2

8U2

8R2

9D2

9U2

9R2

Thursday

9th July

7H1

7A1

7M1

8H1

8A1

8M1

9H1

9A1

9M1

Friday

10th July

7H2

7A2

7M2

8H2

8A1

8M2

9H2

9A2

9M2

Tuesday

14th July

7J1

7C1

7S1

8J1

8C1

8S1

9J1

9C1

9S1

Wednesday

15th July

7J2

7C2

7S2

8J2

8C2

8S2

9J2

9C2

9S2
As an example, on Tuesday 7th July 7D1 through to 9R1 will be accessing provision in school. Your email will confirm your child's group and day of attendance. Students will have a staggered start and end to the school day as outlined for their year group below:
Year 7 need

to arrive at school at 8.20 a.m. They will be met by Senior Teachers and will depart school at 11.50 a.m.
Year 8 need

to arrive at school at 8.30 a.m. They will be met by Senior Teachers and will finish school at 11.55 a.m.
Year 9 need

to arrive at school at 8.40 a.m. They will be met by Senior Teachers and will finish school at 12.00 p.m.
We have worked closely with the Local Authority and Garnett's and Arriva to ensure that school buses are available. They will pick up in the morning at their usual times and on their usual routes. If your child is using public transport you must ensure that they wear a mask and understand the need for care at all times regarding social distancing. Buses will return all students from 12.05 p.m. onwards.
The following letter outlines very carefully why we are opening and provides guidance for all students and their families, including on practical issues such as uniform and equipment.
Please click here to read the letter.
Could I please ask you to discuss the letter in detail at home so that your child is fully aware of the risks and rules associated with a return to school.
I am aware that your child will have been following the social distancing rules advised by the Government. They need to maintain that upon their journey to and from school. Remember too, that if your child has any symptoms associated with Covid-19 – a temperature, dry cough, loss of taste or smell – that they should not attend school and should seek advice by calling the NHS 111 service.
Year 10 and 12 students have been nervous initially upon their return to school, but have soon settled into a routine and I'm sure it will be very similar for our younger students. There are a number of changes to the school environment, and new things to be aware of, but we are very keen to have students back and we look forward to seeing your child next week.
Yours faithfully
Mr O'Sullivan