26 June 2020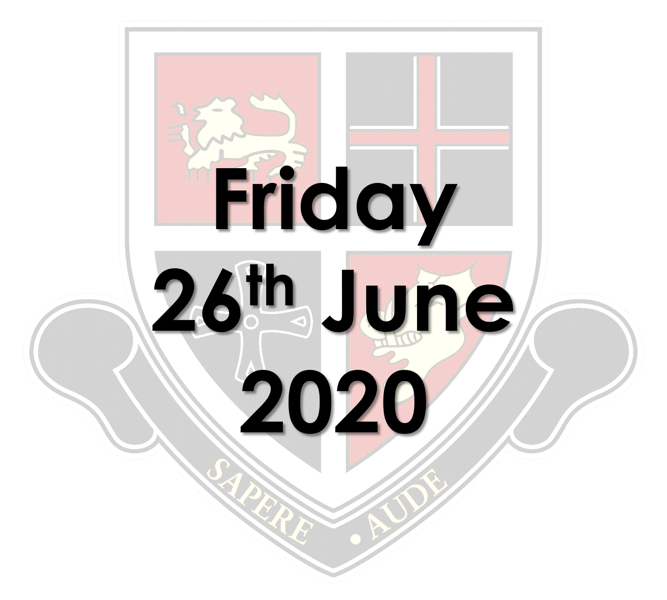 Dear Parents, Carers & Students,
A brief update today, as there will be a significant amount of information to share on Tuesday 30th June. Things have developed significantly since I wrote to you last. Year 12 students have been in school for lessons in Business, Chemistry, History & Music and our Year 10 students have responded very positively to their first week back with Form Tutors. We are currently planning for the next three weeks, with sessions planned for Year 12 in all of their subjects; Year 10 will have English, Maths and Science lessons next week, with options subjects to follow in the week beginning 6th July. During that week we will also have Years 7, 8 and 9 back to spend time with their Form Tutors. All of the above is being done in a way that staggers the amount of time spent in school, the classrooms in use and that focuses very carefully on safety.
If you are the parent or carer of a students in Years 7, 8 or 9 could you please complete the survey that was sent to you on Wednesday 24th June? Thank you to all those who have completed the survey to date. The first question asks if you intend to access provision in school, which will help us greatly with our planning. If you haven't had the opportunity to do so, could I encourage you to complete the survey before 9.00 a.m. on Monday 29th June.
The survey was sent via the current email address that we hold on our system from data checking in September 2019. Correspondence is always sent to the First Contact on our system. Please contact the school if your email address has changed.
If your child is coming into school, please be aware that we have arranged school transport for Friday 3rd July for Year 10 students and from 7th to 15th July for Years 7, 8 and 9. Buses will pick students up at the usual bus stops on routes through Brandon, Browney and Meadowfield and between Coxhoe and Shincliffe. Buses will pick up at their usual times in the morning and will return students from 12.15 p.m. onwards. Please be aware that students need to wear masks and to follow social distancing guidelines when using school transport.
We are continuing to develop our remote learning offer and the survey will help us to offer greater support in this half term, but also to develop our use of Microsoft Teams and other platforms in the future. It would be fair to say that this has been a steep learning curve for the school and that, with hindsight, we would have done a number of things differently. We will think very carefully about your feedback and will find ways to improve in the weeks ahead.
Please check the website on Tuesday for a more detailed update about the timetable for Year 10 and 12 lessons in the coming weeks and for more specific information about the times and dates for Years 7, 8 and 9 to be in school.
A J O'Sullivan