29 September 2023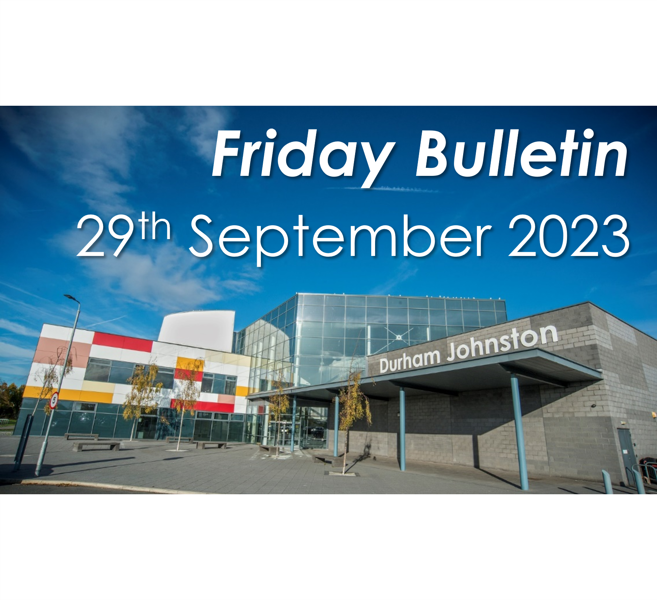 Dear Parents & Carers,
We were thrilled by the large number of families who attended our Year 6 Open Evening on Monday. We had over one thousand people in attendance and, as ever on these occasions, our students were superb. They answered queries from parents and students, supported in departments and helped to guide visitors around the building. The 6th form students who spoke about the time in the school embodied the ethos of the school and we were particularly impressed by the Year 7 students who spoke so eloquently and clearly in our main hall to two large audiences. For context, they have only been students at Durham Johnston for (just over) two weeks. Additionally, they are only 11 years old. I'm always nervous before speaking to large groups and I can only imagine how they felt. Well done to all those involved, we are immensely proud of them. At the end of the evening a parent praised a Year 7 student who had acted as their guide very vociferously. She made me promise that the student in question would be properly rewarded with house points and I can confirm that I have done so.
Year 11 parents attended an information session on Tuesday and we have received similarly positive feedback. We shared a recording of our Year 12 students reflecting on their experiences in Year 11 and offering advice. All of Year 11 had seen the interviews in this week's assembly and it is clear that the reflections and thoughts of those who have recently completed exams had an impact. We are truly fortunate to have so many students to call upon in such circumstances and it has made me feel great pride in the school this week. The information from the Year 11 PIP has been emailed directly to parents and carers, and we will share the slides from Monday evening via the website soon.
Last week I referenced our current focus upon safeguarding those within our community. Whilst we want students to think about how to stay safe, we also want to educate them and to provide factual information on how to pass on a concern. Mrs Bell has led a series of age-appropriate assemblies this week, sharing a student friendly version of how we 'keep children safe in education,' explaining who the safeguarding team are in school and what students should do when in school and how they can access help when they aren't. Safeguarding assemblies will continue next week for our older students and we are also sharing age-appropriate information about fire safety in separate assemblies this afternoon. Many of the messages that we are sharing are quite simple and we will continue to update parents and carers too.
It is always heartening to focus upon positive things, but we should also acknowledge the sorrow that others may currently be experiencing. Reading about the appalling murder of 15-year-old Elianne Andam on her way to school in Croydon this week has been difficult; it is hard to comprehend the pain her family and friends must be experiencing. It seems clear from initial reporting that Elianne was trying to support a friend in need when she was attacked. Please talk at home about her tragic death, as young people often struggle to understand the difference between what they do and see online and the reality of how violence actually impacts on others. When that terrible incident occurred a number of people rushed to aid Elianne. Others chose to film what was happening and to then share those terrible images via social media. Which of those two responses would you expect and want from your child? What would you choose to do yourself? We have recently shared information with our students about the dangers of carrying a knife and the possible criminal consequences of doing so. We also regularly reference the importance of understanding that actions online have consequences in the real world. The death of such a young, clearly kind and talented individual in such terrible circumstances should be a moment of reflection for all those with teenage children. Whilst the murder of a young person in this manner is extremely rare, the fact that people choose to film others in distress or the victims, of crime is, unfortunately, all too common. Please discuss this at home so that your child understands that helping others should always be their first reaction if it is possible and safe to do so.
It is clear from walking around the school after 3.00 p.m. each day this week that the term is now in full swing. There are lots of extra-curricular clubs up and running and parental meetings linked to school trips and visits. We have students completing their Duke of Edinburgh expedition work and our Year 10 and 13 PE students have been working with a large number of Year 3 primary school children as part of a tri-golf event today. Durham Johnston staff and students give up their time to offer a wide range of opportunities and we want as many children as possible to participate, whether they are our students or those from a range of primary schools. Please discuss those opportunities at home – your child might develop a new interest, make friends, or discover a hidden talent – and thank the teachers involved if you get the chance; it is always greatly appreciated.
Finally, I hope that you have received an email linked to the Durham Johnston school lottery. We are very keen to raise money so that we can continue to offer extracurricular activities. You will be fully aware of the financial challenges faced by a large number of people and organisations at present and Durham Johnston is no exception. Every ticket that you buy will help us to maintain as wide an offer as possible and, more importantly, will help others within our community to access those opportunities. Please support the school, if at all possible, by buying a ticket.
Have a good weekend.
Mr O'Sullivan
---
Industrial Action by Go Northeast Buses
We have been made aware of industrial action that may impact upon those traveling to school by service bus. Please note that this does not affect school transport. For more information, please click here.
What is my child learning?
In the Learning section of our website you can find guidance on what every student at the school is studying. As well as an overview of our curriculum and principles behind it, you can find an overview of each subject area.
You can also find a guide to the content being covered in every subject and how you can support your child for each half term here: Year 7 | Year 8 | Year 9 | Year 10 | Year 11 | Year 12 | Year 13
What Extra-Curricular opportunities are there?
We are very proud of the range of clubs and opportunities we offer as a school. Please do encourage your child to take advantage of the activities available. You can see this term's offer at this link.
World Challenge 2025
Information for Year 12 and Year 11 students
This week saw the World Challenge Parent's Evening take place for the 2025 expedition to Northern India. The expedition is open to students in Year 12 and those in Year 11 who plan to attend Durham Johnston Sixth Form.
For any student wishing to sign up for the expedition please visit the trip launch website via the same link previously used to access the parents evening. Links to the trip sign up page can also be requested via e-mail or teams from Mrs Hardwick.
If anyone was unable to attend the virtual parents evening and would like a copy of the recording then please also contact Mrs Hardwick or Charlie Whitfield at this link. The deadline for applications for the expedition is the 20th October 2023.
Mrs Hardwick
School World Challenge Coordinator
Personal Development Update:
We were delighted to welcome County Durham and Darlington Fire and Rescue Service into school today as they delivered fire safety assemblies to Year 7, 8 and 9 in the lead up to Halloween and Bonfire night.
Miss Robson
Assistant Headteacher
Sixth Form Notices
Please click the link below to read the weekly digest of news and information for Sixth Form Students.
Music Notices
---
Music Ensembles
All seven school ensembles have made a good start to the year. If your child may be interested in joining any of the groups, please ask them to speak to a member of the Music Department. Further details of groups and other musical activities at lunchtimes may be found on the school website.
---
Composition Competition Success
On Wednesday evening three of our students were awarded prizes from the St. Cecilia Lodge in Durham at an awards dinner. Joe and Tilly were the winner and runner-up in the Under-19 category and Aine was the winner in the Under-16 category. The students were presented with cheques, and the Music Department was presented with trophies for each category. Recordings were played of Joe and Tilly's pieces, and Aine performed her duet live to the delight of the assembled audience. Many congratulations to them all.
---
Instruments
If your child brings an instrument into school, please ensure that it is clearly labelled with their name. Also, please do encourage your child to take their instrument home at the end of the school day, unless they may need it for a lesson or rehearsal the following day. We are delighted that so many need to bring instruments in, but our storage is limited.
---
James Etherington Award
Entries are now open for the 2024 James Etherington Award. This is a music competition which has been running for several decades and has a first prize of £500 with a runner's up prize of £250. All other successful entrants receive £75. The competition is held in the form of a concert where it is open to the public to come. Successful applicants are invited to perform for around 12 minutes to a very appreciative audience. Please click on the following links for a more information and an entry form.
Mr E Holmes - Subject Leader for Music
PE News
On Monday, our U19 football team travelled to Middlesbrough to face Macmillan Academy in the English Schools Cup. We produced a dominant display to win 10 - 1 which included a hattrick from Louis Brown. Alex Graham was POM.
On Tuesday, our Year 7, 8 & 10 teams were in league action against Woodham. Our Year 7 team dominated possession but struggled against an excellent goalkeeper. However, we did secure a 2-1 win. Sam Glasper was POM. It was more straightforward for our Year 8's who had a comfortable 7 - 0 victory. Joint POMs were Louis Burke and Alejandro Roberts Morales. The Year 10 game was close throughout. Despite leading 3 times we kept getting pegged back and eventually had to settle for 4 -4 draw. James Ormerod was POM.
Our U14 girls' football team were also due to play Dyke House in the National cup, but they conceded at the last minute. Unfortunately, the same happened on Wednesday as John Spence conceded our U13 match.
The U19 Durham Area netball tournament did go ahead on Wednesday as we hosted the best schools from the area. Despite the rain the standard of netball was extremely high, and all the games were close. We ended up with the same number of wins as Durham High and Durham School so the winners were decided by points difference. Unfortunately, we finished 3rd as Durham School secured the title.
Yesterday our U15 girls played in the English Schools Cup. We had a difficult first round draw as we faced Peterlee St Bede's who have a football academy attached to the school. Despite a battling performance they proved too strong for us. Poppy Gill was POM.
Also last night, our Year 7 football team were in Hartlepool taking on English Martyrs in the national cup. We struggled in the first half but produced an outstanding 2nd half performance to fight back. Despite several chances we couldn't equalise as we lost 4-3. Reid Stewart was POM.
Good luck tonight to our U19 football team who make the short journey to Framwellgate in the league.
Mr Hopper
Subject Leader for PE