22 September 2023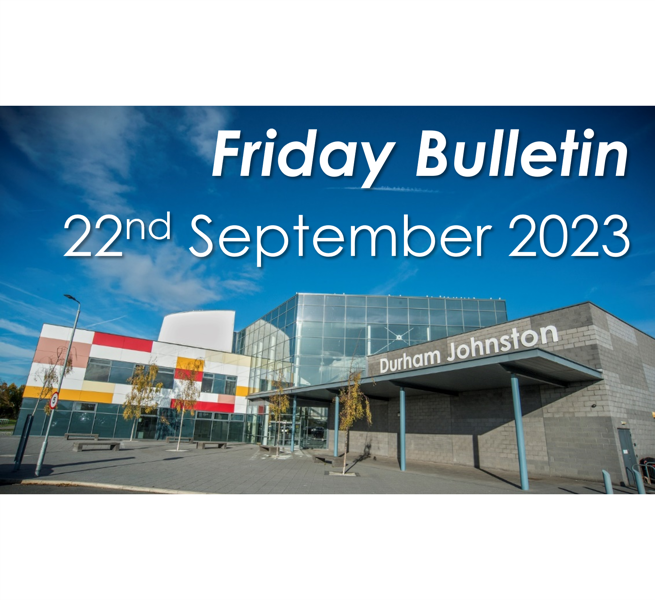 Dear Parents & Carers,
We have had a very positive week in school, with high attendance and students learning in and beyond the classroom. Year Leaders have been discussing the year ahead in assemblies, and have been choosing Form Class and House Representatives. Next week's assemblies will be delivered by Mrs Bell, our Deputy Headteacher and Designated Safeguarding Lead, and will offer guidance on how to stay safe. As part of Durham Johnston's safeguarding culture, we want students to feel comfortable and confident that they can raise a concern with any member of staff in school. If they do, those concerns will then be shared very quickly with the appropriate member of our safeguarding team. Mrs Bell is our Designated Lead, a role that is statutory in all schools, and she is supported by three key stage leads: Mr Simpson, for Key Stage 3, Mr Bowman for Key Stage 4 and Mr Wilbraham, Assistant Headteacher for Key Stage 5. In addition, Mrs Woods, our very knowledgeable Student Support Centre Manager, is part of our very experienced team. Please contact any member of the team if you have a concern about safeguarding in our community. We also support students by focusing upon issues that exist within our local community and Miss Robson, Assistant Headteacher for the personal development of children at the school, shapes our curriculum so that all members of our school community can access information that helps them to stay safe. We will be discussing safeguarding at our parent information evenings in the coming weeks and will continue to provide updates for parents and carers on how to help your child stay safe online.
One straightforward way to stay safe is through consistent attendance in school. If students are present, they will learn, they can access academic support, and they can share any concerns that they have with experienced and well-trained professional teachers. All parents and carers should aim for 100% attendance and our recent GCSE results highlight that those with 97% attendance and above performed a whole grade higher than their Key Stage 2 predictions. If students have high attendance, they will have a wide range of opportunities to access excellent teaching and will also develop their social skills and make friends.
Another aspect of safety is our need to ensure that adults do not come onto the site unattended or without prior agreement. If you are collecting your child from school, please arrange to meet them away from the school site. Parents and carers are not allowed to walk onto the site at 2.45 p.m. to meet their child. Similarly, please do not drive onto the school site to pick up your child unless you have a pass from school to do so. Parents and carers have never been allowed to drop off or pick up children by car because we lack the space to do so safely. Those driving onto the site are putting children at risk of injury. Please think carefully about an appropriate place to collect your child if necessary and be mindful of local residents. As members of our school community, it is important that parents and carers also help to keep children safe.
Have a good weekend.
Mr O'Sullivan
---
---
What is my child learning?
In the Learning section of our website you can find guidance on what every student at the school is studying. As well as an overview of our curriculum and principles behind it, you can find an overview of each subject area.
You can also find a guide to the content being covered in every subject and how you can support your child for each half term here: Year 7 | Year 8 | Year 9 | Year 10 | Year 11 | Year 12 | Year 13
What Extra-Curricular opportunities are available?
We are very proud of the range of clubs and opportunities we offer as a school. Please do encourage your child to take advantage of the activities available. You can see this term's offer at this link.
World Challenge Launch 2025
Information for Year 12 and Year 11 students
This week saw the launch of our 2025 World Challenge expedition to Northern India. The visit will take place in July 2025 and lasts for 21 days. During the expedition students will fly into Delhi and experience India's capital city before making their way north to Rishikesh and Uttarkashi. They will then complete a six day trek in the Himalayas followed by a community project in the rural north. After living and working with the rural community, students will then take in the sights and cultural experiences of Jaipur and the Taj Mahal before flying home.
The aim of the visit is to complete physical challenges and community projects whilst developing a range of independent skills along the way. Students are also encouraged to take ownership of the experience by fundraising as much of the cost as possible in the two years preceding the visit.
For further details about the trip, and information about how to sign up for to 2025 expedition students, parents and carers are invited to sign up for the Zoom virtual parents evening on Wednesday 27th September at 6pm via this link: register for the Zoom presentation here.
The cost of the trip is £4495; however over the two years the students are given opportunities to fund raise both as a group and independently. Our previous experience tells us that those that raised more of it themselves got far more from the visit, and developed a wider range of skills on the run up to the expedition.
This expedition is open to students currently in Year 12 and to those students in Year 11 who intend to attend the Sixth form at Durham Johnston.
Mrs Hardwick
School World Challenge Coordinator
Ethics and Philosophy Club Launch
Ethics and Philosophy debate club starts next Thursday, 28th September in RE3, after school from 2.50pm. This is open to all students from Year 10 -13 interested in exploring ethical issues, not only those who take A Level EP.
Mr Bray
Subject Leader for Religious Education
Sixth Form Notices
Please click the link below to read the weekly digest of news and information for Sixth Form Students.
PE News
Clubs and trials continue to be amazingly well attended. Football and netball fixtures have also started this week.
On Monday, our Year 10 football team travelled to Hartlepool to take on Manor School in the English Schools' Cup. We played some excellent football to dominate possession and reached the second round with a comfortable 5 - 3 victory. Jacob Moore was POM.
On Wednesday, we were due to play Greenfield School in league games at Year 7, 8 & 9. Unfortunately, they were unable to play the matches and have conceded those games.
On Thursday, it was the turn of our Year 8 team to be in English Schools action as the faced a very strong team from Ponteland High. This was another excellent match, however we started slowly and eventually lost 5 - 1. Goalkeeper Lewis Grieve was POM with some excellent saves.
Also last night, the netball season started as our Year 7, 8 & 9 teams faced Belmont in friendly matches. We played some great netball and remained unbeaten winning all the matches.
Good luck tonight to our U16 girls' football team who are playing Hurworth School in the English Schools cup.
Mr Hopper
Subject Leader for PE