1 July 2022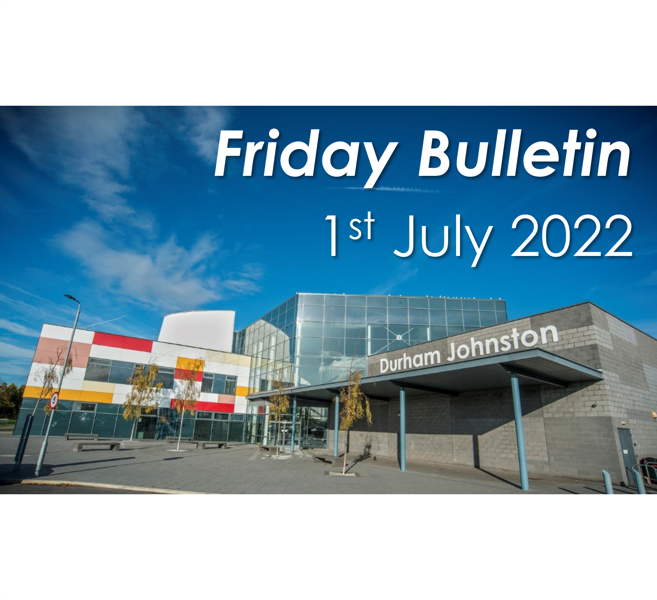 Dear Parents & Carers,
It is always good to compare different years and situations experienced by our school community. This time last year the school had been forced to cancel both the Year 6 into 7 and Year 11 into 12 transition days. Covid figures were very high across the country and there was an ongoing debate around the speed at which vaccinations for children could and should be rolled out, with schools frantically trying to access information about whether the 2021-22 academic year would start in protective bubbles. Popular trips and study visits to Malaga, the Battlefields and Howtown had all been cancelled, as had our wellbeing week.
We have already had a successful Year 12 open day, and as I write we are preparing for all of our new Year 6 students to be with us this morning. The Battlefields and Malaga visits are ready to go, final details are being addressed and students are excited about leaving in the week beginning 11th July. This is, clearly, a much improved and encouraging position for the school to be in when compared to 2021. Last year we couldn't have a Sport's Presentation evening; we will be able in 2022 as we have had a very full season of sporting fixtures. Last year we couldn't hold our Music Festival or Music for a Summer Evening, this year we can. These all examples of a much-improved situation.
A more worrying comparison is that this time last year we had fewer staff members absent with covid than now, with at least one staff member testing positive for every day of the last two weeks. Fortunately, all those affected have remained well. Unfortunately, staff absence inevitably has an impact upon school provision, as does student absence. That pattern is reflected nationally with rising numbers of positive cases and a significant drop in national attendance figures. This week Geoff Barton, General Secretary of the Association of School and College Leaders, commented that:
It is very worrying to see that the percentage of students and staff absent from school has risen. These statistics no longer contain a breakdown of absence due to Covid because of the government's 'living with Covid' policies. However, it is highly unlikely to be a coincidence that we are seeing absence in education settings rising at the same time as Covid infections are increasing in the general population.

Our concern is that this is going to keep happening with wave after wave of infections causing fresh disruption in our schools and colleges. There is absolutely no government strategy to deal with this issue. We are not for a moment calling for a return to a battery of restrictions but there surely needs to be some thought given to providing some free Covid testing, more financial support for supply staff cover, and looking again at issues such as ventilation ahead of the autumn term as it is abundantly clear that the virus is not going away.
None of the above is intended to alarm parents or carers, but it is intended to share an ongoing concern for all schools and to perhaps make all members of our school community aware of the ongoing operational difficulties that schools face. The Department for Education has failed to meet its teacher recruitment targets for September by some distance, meaning a diminishing pool of people entering the profession as the population increases. It is important that I share this information as schools will need to continue to improve and adapt in a comparatively difficult context.
As part of our focus upon a high quality of provision, we have repeatedly referenced that Durham Johnston plans to use the experience gained in the pandemic to improve; that is our constant goal. However, when the pandemic is actually over might be a little more difficult to pin down then we had originally hoped.
Much more positively, we were very encouraged to read the Department for Education's 'New National Plan for Music Education.' Culture, performance, and creativity enrich everyone's lives and offer pathways for students to access successful and rewarding careers in adult life. It is right that music and the creative and performing arts are seen as integral features of a good education for all.
The new National Plan for Music: The power of music to change lives sits alongside the Model Music Curriculum, published last year. The plan references that:
every primary and secondary school should have a designated music lead

every school should have a music development plan

new Lead Schools will be identified by the existing Music Hubs

four new Music Hubs will be set up by 2024 focused on: inclusion, CPD, music technology and routes into the music industry
It suggests that high-quality music education should include:
timetabled music lessons at least one hour a week for KS1-3

access to lessons in a range of instruments and singing

a school choir or vocal ensemble

a school ensemble/band/group

space for rehearsals and individual practice

a termly music school performance

opportunity to watch a live performance once a year
Disappointingly, no additional funding is being given directly to schools to implement this very important initiative as many schools no longer have functioning Music departments. More positively, Durham Johnston is already offering, by any measure, a very high-quality music education and we are hopeful that the department's excellence will be recognised by becoming a Lead School for Music, as we continue to improve in terms of our music provision.
Hopefully these two examples highlight our current position. We are striving to be stronger than ever before and it is important that we continue offering a high-quality education, with improvement where needed. That is the correct ambition, but ongoing issues with Covid and staffing issues are making that very hard for all schools.
I will share our end of term letter 2022 in the week beginning 11th July 2022.
Have a good weekend.
Mr O'Sullivan
---
Inspiring Mathematicians
On Tuesday 21st June 30 students from Year 9 and 10 travelled to the Northern Stage in Newcastle to see the Maths Inspiration show, where they took part in the Maths Inspiration show Playing for Real, hosted by mathematicians Ben Sparks and Rob Eastaway, sponsored by the Advanced Maths Support Programme. Students took part in a series of games over the course of the show and also looked at the mathematics involved in making good decisions in games of chance and games of strategy. Out students got very involved in the event, with Annabel being very unlucky onstage in a game of "Play Your Cards Right" right at the start of the show, and Mischa and Sharvin being gazumped onstage by less trustworthy competitors in the game of "Greed". The students enjoyed the event, and the games and activities produced much discussion on the journey back to school!
Mr Patterson
Maths Department
UCAS Parental Information Evening 29th June 2022
It was a pleasure to welcome parents and carers of our Year 12 students back into school for our 'What's Next' information evening, where we shared details of our PHE and Pastoral support programme. Additionally, Durham University gave the university perspective and information regarding personal statements. Through fortnightly lessons and our assembly and workshop programme we endeavour to help students make informed choices about the increasingly adult decisions they are faced with as they move through A levels and towards more independent living when they leave us in summer 2023. As mentioned on the evening, there are still places available on our Consent & Safeguarding workshops on 18th and 19th July (9am - 12pm). These workshops share details of rights, responsibilities, and the law - please encourage students to sign up.
You can read the presentation we shared on Wednesday at this link.
Mrs Lennon
Head of Sixth Form
Sixth Form Notices
Please click the link below to read the weekly digest of news and information for Sixth Form Students.
House System News
Colour Run in memory of Gill Bittlestone
Wednesday saw the return of our annual Colour Run. The colour run takes place in memory of a much-loved colleague who sadly lost her battle with cancer in 2016. The colour run represents her fun loving and positive outlook. We were joined by her vibrant 10-year-old daughter (who gave everyone a run for their money!)
We were delighted to see so many of our Year 7 & Year 8 students taking part (almost 300 in total) and genuinely enjoying themselves. We also enjoyed pelting them with powdered paint, water and volleyballs, often ending up with more on us than them!
We have raised in excess of £1200 for the MacMillan Centre at South Tyneside. We chose this hospital as they took such good care of Miss Bittlestone.
Well done to everyone who supported, set-up and took part! You were all superb.
Miss Forbes & Miss Anderson
Organisers
End of Year House Event
After a very competitive year, with lots of movement for the top slot I am pleased to announce Annand are the 2022 cup winners!
Students in this house have won a rewards Day on Friday July 8th 2022. A letter will be issued on Friday, along with a waiver which includes details of the event. Please return waivers by July 6th.
House representatives and House Leads are also invited as a thank you for their commitment to our "giving back" pledge and our school community by collecting, taking part, organising, and inspiring others.
Well done to Annand and their tutors!
Miss Forbes
Senior Teacher, the House System
Music Notices
We're looking forward to the return of our Music Festival this evening after a two-year hiatus. A reminder that participants are very welcome to bring friends and family to support; no tickets are required for this event. Results will be announced after each class - keep an eye on the school Twitter account for the latest news!
Tickets for Music for a Summer Evening, our cabaret-style 'farewell' event for Sixth Form musicians are still available from the Music Department at a cost of £7.00. This includes food and your first drink and please note that performers still need to purchase a ticket to cover refreshment costs.
Finally, to aid forward planning, please see below for dates for next year's Music Department events.
Mr Holmes
Subject Leader for Music
Music Performances 2022-2023
Christmas Concerts: Thursday 8th & Friday 9th December 2022, James Hall
Carol Service: Friday 16th December 2022, Durham Cathedral
Chamber Choir Evensong: Monday 23rd January 2023, Durham Cathedral
Spring Concerts: Wednesday 29th & Friday 31st March 2023, James Hall
Music Festival: Thursday 29th June 2023, James Hall
Music for a Summer Evening: Thursday 6th July 2023, Atrium Café
PE News
On Monday, we hosted the U13 Tyneside tennis tournament. It was an excellent afternoon of tennis with close games throughout. Kings School ended up winners with our A team finishing 4th and our B team 5th.
On Tuesday, we held the U15 Tyneside tennis tournament. This was more successful for us as we beat Kings in the final to become Tyneside champions.
Also on Tuesday, we were hosting the Year 8 area rounders tournament. Our girls won 2 matches and lost one to finish runners up to Durham High. There were some amazing rounders scored and diving stops made by our hard-working team.
On Wednesday, our Year 7 basketball team travelled to the Vertu Newcastle Eagles arena to compete in the finals of the Junior NBA competition. We started with a defeat to Gosforth School. However, we improved as the day went on and an excellent 20-point victory over Jesmond Park School, saw us reach the final. We again faced Gosforth and started much better taking an early lead. However, they were a very strong team and took control in the second half as we finished runners up. A great day of basketball and a great result to finish second in the North East.
Cricket continued yesterday as our U15 team took on St Thomas More in the semi-final of the Tyneside Cup. We batted first and scored an impressive 105 runs in our 16 overs with Harvey Wright top scoring on 55 not out. An outstanding bowling display saw us bowl them all out for only 52 runs to reach the final which will be played next week.
The Year 7 area rounders tournament also took place yesterday. Unfortunately, several schools dropped out meaning the final was between ourselves and Durham High. As on Tuesday they proved too strong for us as we again finished runners-up.
Finally, the PE department are looking forward to welcoming students and parents to our 26th annual sports presentation evening which takes place next Wednesday at Ramside Hall. We have now sold over 300 tickets so it should be an excellent evening which will start at 7.00pm.
Mr Hopper
Subject Leader for PE