11 February 2022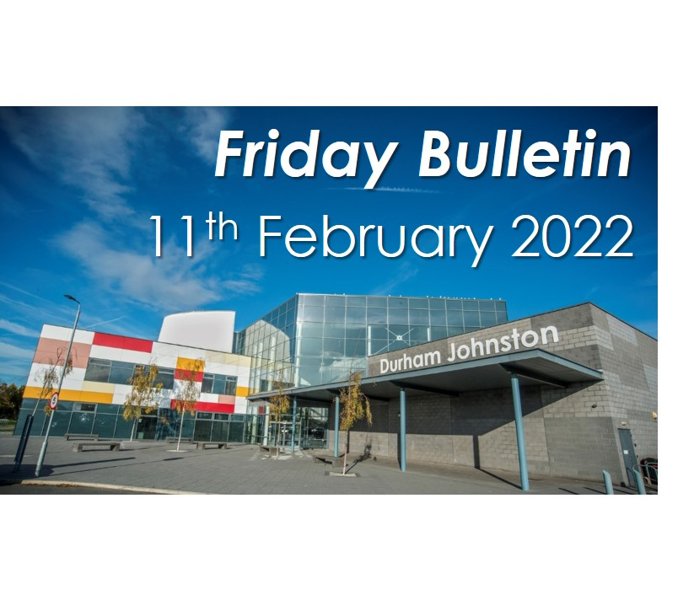 Dear Parents and Carers,
We were pleased this week to return to in-person staff briefings after a prolonged hiatus. So much of our work takes the form of collective endeavour, and whilst we work together closely on a daily basis, it was good to see the whole staff assembled. We discussed our priorities in the weeks and months ahead, particularly in light of the update shared by Ofqual update on summer exams this week. We are currently processing this information and will share key details with students and their families over the coming weeks.
It has been a busy week in school, and I look forward to sharing a more detailed update with you next week.
Thank you for your continuing support.
Mr O'Sullivan
Year 8 Cyberfirst Girls Competition Final
Congratulations to Evelyn Terry, Abigail Luckley, Lucy Defty and Thea Matthews for finishing in the top 10 in the North East Cyberfirst Girls Competition Final! There were 1000s of applicants for this competition and it is fantastic that they got so far in the competition. The day involved meeting university staff and leaders in cyber security and it was truly brilliant to see so many talented students tackle some of the biggest problems in online security.
For those in Year 7 who are interested in a challenge next year, the Cyberfirst Girls competition focuses on solving puzzles and problems online in order to gain points, the groups with the highest points will then qualify for the final to face a series of more challenging puzzles. Here is what one of our finalists had to say about the day:
"I really enjoyed the day because the puzzles were challenging but fun! Free refreshments and lunch were provided, and we had around four hours to work on the puzzles. There were five categories of puzzles, and in each section there was beginner, intermediate and expert. We managed to solve an expert question by scanning multiple QR codes around the room and using them to form a message. We then followed what the message told us to do, which was to put a certain code into hash. We then input the answer into the computer and earned 100 points!"
If you are interested in taking part next year, there will be a chance to register your interest at the start of Year 8.
Mr O'Connor
Computing Lead, Business and Computing
Sixth Form Notices
Please click the link below to read the weekly digest of news and information for Sixth Form Students.
Careers and Guidance Department Notices
George Fouche – 'Dare to Aspire' assembly and workshop
Recently our Year 9 cohort took part in an assembly and workshop with George Fouche. George is a former South African international rugby player who also played rugby in the UK in the English Premiership and in the Heineken Cup. Throughout his career he had to overcome challenges and he now shares his life story and the hardships he had to endure in order to encourage students to 'dream big'. As a motivational speaker George has toured the UK and spoken to almost half a million students.
This event coincided with Year 9 Options and in the workshop that followed the assembly, George challenged students to look at the qualities needed to become successful. He also asked them to think about how to overcome hardships and to follow their dreams without giving up on their dream careers. It was an inspirational morning, and we were very grateful for his time.
Please click here to view this week's Careers and Enrichment Notices
Mr Kennedy
Subject Leader, Guidance
House System Opportunities
The House Team have launched two house competitions this week, open to all students.
Design Competition:
We are looking for designers to create an emblem for their house, and the House System as a whole. We welcome submissions from all year groups – originality is key! You can use graphics-based software, freehand or a combination of design techniques to do this – all designs must be original!
Your design will then be used in house competitions, advertising, school badges etc. You can submit two entries – one for your house emblem and another for the house system emblem!

Photography Competition: Love where you live? Then show us – Submit a photo which showcases the North East.
The North East is really diverse. Dramatic landscapes, areas of natural beauty, modern architecture, and World Heritage sites. With strong community links and monuments which show the rich mining heritage of our region. It really is a beautiful place to live, a place to be proud of – can you capture that?
There are four categories, and we welcome entries from all year groups!
1: World Heritage & Historical Sites
2: Modernisation
3: Our Traditions
4: Bird's Eye View
Entries need to be submitted via email to Miss L Forbes
Closing date is Monday 28th February 2022.
Miss Forbes
Senior Teacher, the House System
Music Notices
Applications are now open for the 2022/3 Samling Academy. This is a charity which exists to help young people who live or study in our region to find and develop their talent for classical singing. If your child is aged 14 or over, and might be interested in this, please follow the links below for more information.
Mr Holmes
Subject Leader, Music
PE News
We start this week with a message from Mrs Hopper regarding the ski-trip:
The 2023 ski trip has proved extremely popular; at the deadline today, we have had over 170 applicants. Due to this popularity we have managed to organise a second trip which will be for current Year 9s only; however there has been a change of date since the original letter for that extra trip. Year 9 (who will be Year 10 when we travel) will now go skiing from December 11th – 18th 2022. That is the last week of term before the Christmas break.
The original dates of January 8th – 15th 2023 will be for current Year 7s & 8s - who will be Years 8 & 9 when we travel.
Both trips are oversubscribed which means that a draw of names will take place. Unfortunately, there will be some disappointed students and of course deposits will be returned to those who are unsuccessful. Names can remain on a waiting list in case of any pupil dropping out. I'm sure parents and carers appreciate that a lot of hard work has gone into securing these trips in order to allow as many pupils the opportunity to ski as possible, however it is just not possible to take everyone. Please accept apologies in advance in case of disappointment.
Last Friday, we had a successful evening as our Year 9 basketball team were at Dame Allan's competing in the Tyneside Cup final. We took control from the start and kept a comfortable lead through the game, eventually being crowned champions with a 56 - 40 victory. Also last Friday, our Year 8 rugby team secured a victory in a friendly against Emmanuel College.
On Saturday, 14 of our cross-country runners were representing County Durham at the Northern Inter-counties competition at Stewart Park. The best runners from the north of England were competing and we achieved some outstanding performances. The highlight was in the Year 7 boys' race which was won by Ben Beale. He is now unbeaten in every Year 7 race this year as he is Area, County and Northern counties champion, as well as being ranked number one in the country for biathlon. Charlotte Dillon finished 3rd in the Inter girls race and Tess Graham and Emily Chong finished 4th and 5th in the Senior girls' race. Several of our runners now qualify for the national finals which take place in March in Kent.
On Monday, our Year 7 girls' futsal team were competing in the Area competition which we hosted. The standard was very high, and after an excellent event we finished runners-up to Teesdale School who now qualify for the county finals.
On Tuesday both our U14 and U16 girls' basketball teams took on Tapton School, Sheffield, in the last 16 of the English Schools Cup. These were both outstanding games. Our U16 team took an early lead and always maintained a single figure advantage going on to reach the national quarterfinals with a 54 - 47 victory. The U14 game was also close until half-time where we trailed by only 1 point. However ,we ran out of steam in the second half, eventually losing 35 - 57.
After school on Tuesday our Year 10 boys' futsal team were at King James in the area tournament. Several schools dropped out so it ended up a straight final between us and the hosts. We won comfortably to reach the county finals.
Last night we hosted the U14 area basketball tournament. As last week, we also entered our girls' team to give them some competitive fixtures. Our girls started with a 20 - 10 victory over Hermitage. Our boys then had a 20 point victory over Hermitage which set up an all Durham Johnston final. The girls never gave up, but the boys proved too strong, becoming area champions with a 42 - 8 win.
Also last night, our Year 11 futsal team were at King James competing in the area tournament. It was another success for Durham Johnston as we remained unbeaten to reach the final where a 2 - 1 victory over Bishop Barrington saw us win and go on to the county finals.
Finally, good luck tonight to our Year 9 & 11 girls' futsal teams as we host their area tournament.
Mr Hopper
Subject Leader, PE