24 September 2021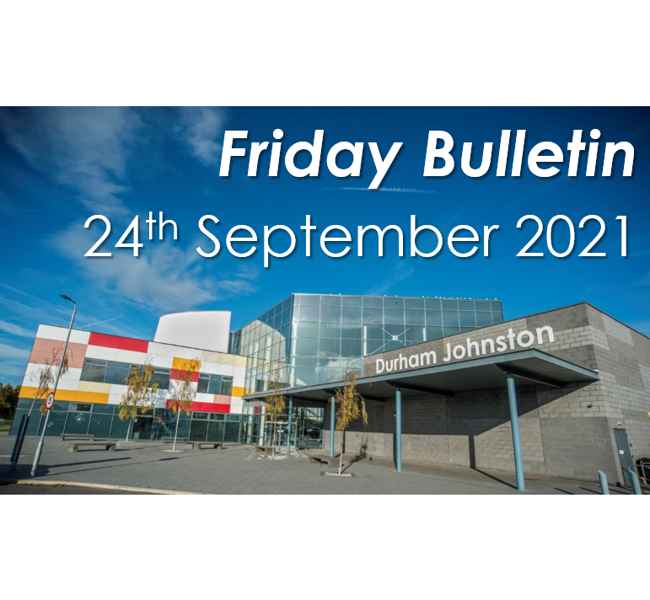 Dear Parents & Carers,
We have continued to be very busy in school during the third full week of term and have greatly enjoyed inviting a large number of Year 6 students into school with their parents and carers. Our two open evenings were very successful and I would like to thank the students in Years 7 and 12 who met with visitors and represented the school so positively. We shared an overview of the school's ethos, details of our broad curriculum and the importance of pastoral support and well-planned transition activities. There are a number of questions to consider when choosing a school and we encouraged parents and carers to consider the following questions when making a choice about their child's next steps:
Will my child be happy?
Will my child make friends?
Will my child be safe and treated kindly?
Will my child be taught well?
Will my child be given the right level of support to succeed?
Will my child be given opportunities to develop beyond the classroom?
Will my child be prepared to make important decisions at 11, 14, 16 and 18?
Can I trust the adults working with my child to behave in a kind, fair and ethical way?
Does the school communicate effectively?
Will the school be supportive if my child or family encounter difficulties?
We think that those are also important questions for parents of students in Years 7 to 13 and we have prioritised the same points at the Year 8 and 9 information evenings, and with a more specialised focus as part of the Year 13 information evening on Wednesday of this week. There are equivalent, bespoke sessions planned for other year groups, with a very important session about the year ahead for Year 11 parents and carers on Monday 27th September and for Year 12 on Wednesday 29th September. Those events are followed by our two 6th Form open evenings on Monday 4th October and Wednesday 6th October. As noted above, this is a very busy period but it has been excellent to invite parents and carers back to school and to share our plans for the year ahead. Year 11 and 13 have diagnostic exams planned for the final three weeks of term too and we are encouraging them to prepare effectively, seek help if unsure and to respond positively to feedback after the exams.
We have welcomed a large number of new students to the school this term and are currently completing the school census. There are students from over 50 different countries studying at the school presently and I regularly share with parents and students that our size is a key strength. I would add that our diversity has also become a great strength too. We intend to celebrate the wide range of nationalities represented in our student body in the term ahead and would encourage you to share additional information with us. As part of that, students have completed a language quiz today and we will continue to celebrate the local, national and global traditions and cultures of our students.
I would like to thank a number of parents who have contacted us to share success stories this week. In June we appointed 6 Assistant Year Leaders who are prioritising a new reward system that will sit alongside Miss Forbes' excellent work on our House System. Please continue to share those success stories and we will make sure that such achievements are acknowledged in form time and by our pastoral team. Key successes this week relate to medicine, ice hockey and swimming – reflecting the wide range of extracurricular activities that our students participate in. Annand House are also celebrating their house success in 2020-21 with a special afternoon event.
As a final comment on the Year 6 Open Evenings, I shared the number 1702* with Year 6 students and asked if they knew what it related to. A confident Year 3 student was brave enough to respond but spoiled it by suggesting that it might be my year of birth. Whilst slightly harsh, it highlights the value of meeting in person; you don't get those moments virtually.
In a similar way, I would like to reassure prospective patents that there is more to the school than Bunsen burners, pepperoni pizza and bubble gum ice cream. Which is not to suggest that they don't play their part in a balanced diet or curriculum.
Have a good weekend.
Mr O'Sullivan
* The number of students who attend the school.
Sixth Form Notices
Please click the link below to read the weekly digest of news and information for Sixth Form Students.
Careers and Guidance Department Notices

NHS Virtual Work Experience
The NHS Allied Healthcare Work Experience successfully invited 12,000 students to participate in the last academic year, making it the largest programme for students who are specifically interested in the following careers: Nursing, Midwifery, Paramedicine, Physiotherapy, Occupational Therapy, Dietetics, Radiography, Prosthetics and Orthotics, Speech and language therapy and Pharmacy!
Applications for this programme are now open, and they will be open throughout this academic year, with the first programme taking place on Sunday 3rd October from 10am to 5pm. During the work experience day, students will follow 2 patients from their initial presentation to recovery. Students will observe the healthcare professionals as they interact with the patients and each other. Students will have an opportunity to ask questions and gain knowledge through teaching. This will help students to make an informed career decision as well as learn about how healthcare professionals work together as part of a multidisciplinary team.
Each work experience day is completely different and students will be able to build on their knowledge of NHS careers as they see different patient cases and healthcare professionals work in a variety of settings, such as hospital and community.
Students will also receive certificates as evidence of having participated in the work experience programme. Those that complete the entire 6-month programme will be awarded with Highly Commended References too.
Places are £10 a day to cover administrative costs and run the tech on the day. Learn more and register for the programme at this link.
---
NHS Nutrition and Dietetics Careers Day – Years 11-13
County Durham and Darlington Foundation Trust's Nutrition and Dietetics department will be holding their annual Careers day on 11th October 2021. This would suit any students who are interested in food, nutrition and Dietetics as a future career path
Please click here for details and the application form.
Please return all application forms to Mr Kennedy who will forward on your behalf.
---
STEM and Medicine Careers Experiences – Years 11-13
Please click here to find details of STEM and Medicine Career Experiences.
Please be aware there is a cost involved; more details at the above link.
---
Newcastle University – Volunteers required for gaming research
Newcastle University have been funded by the Government to conduct research on children and young people's experiences of in-game purchases. The findings will help the Government make decisions around the regulation of in-game purchases to protect and safeguard children.
It is important that they hear from families across the region and will be disseminating the findings to parents and practitioners through a series of workshops. These will take place during Spring 2022. Please read the flyer below for details if you would like your child to get involved.
---
Mr Kennedy
Subject Leader, Guidance
World Challenge
Many thanks to everyone who joined our Zoom presentation about our exciting expedition to Borneo in Summer 2023. If you missed the meeting, you can view a recording here.
To see all the information about the trip and to register to be part of the team, visit our expedition page at this link; if you have any questions, please come and ask, or email support@myworldchallenge.com.
A reminder that this opportunity is available to Year 11 and 12 students only.
Mrs Hardwick and Mr Everett
Year 7 and 8 Book Club

Greek Club
We are proud to be part of the pilot for a new initiative to improve access to ancient Greek in schools - the Intermediate Certificate in Classical Greek. The aim is to provide an externally accredited and widely recognised qualification for those who do not have sufficient teaching time to access the GCSE. After-school Greek clubs are up and running for Year 11 on Mondays and Years 9-10 on Tuesdays. New members are welcome and should contact Mrs Bothwell for further information. In addition to learning the basics of the language, students will be introduced to the history & mythology of Greece and its influence on our world. We may even learn some songs...
Mrs Bothwell
Drama Activities – Room changes next week
Next week only (27th September –1st of October)
| | | | |
| --- | --- | --- | --- |
| Date | Name of session | Time of session | New room |
| Tues 28th Sept | Year 9 Script Writing Club | 13.00-13.30 (lunch) | EN5 |
| Tues 28th Sept | Technical Theatre Club | 2.45-3.45 | EN7 |
| Wed 29th Sept | Year 9 Drama Club | 2.45-3.45 | EN7 |
| Thurs 30th Sept | Year 7 & 8 Script Writing Club | 12.00-12.30 (lunch) | EN5 |
| Thursday 30th Sept | Year 7 & 8 Drama Club | 2.45-3.45 | EN7 |
Ms Ayrey
Subject Leader, Drama.
PE News
All clubs are now fully up and running and it has been great to see some children staying behind every night to take advantage of all the opportunities on offer.
Alongside these clubs it has been a busy week of football.
On Tuesday evening we welcomed four teams from Woodham. It was good news as we maintained our unbeaten start to the season. Our Year 7 team had another comprehensive 6 – 0 victory. The Year 8 game was 0 – 0 at half time. However, an incredible 11 goals were scored in the second half as we ran out 8 – 3 winners.
The Year 9 game was also a "game of two halves". We took a 4 – 0 lead thanks to four goals from Dominic Ward. A second half fight back from Woodham brought them back into the game, but we hung on for a 4 – 2 victory. The Year 10 game was also entertaining as we edged a close game 3 – 1.
On Wednesday it was the turn of the girls as our U13 team took on Benfield in the English Schools Cup. We dominated possession but the first half ended 1 – 1. However we took our chances in the second half, eventually going through to the 2nd round with a 3 – 1 win.
Last night our VIth form team were due to open their league campaign with a trip to Darlington to face Carmel School. Unfortunately they had to cancel at the last minute meaning our VIth form will start their season with a local derby against Framwellgate on Monday.
Finally, good luck tonight to our Year 8 footballers who are attending District trials.
You can read more detailed match reports from our Sixth Form football ambassador here.
Mr Hopper,
Subject Leader, PE