20 November 2020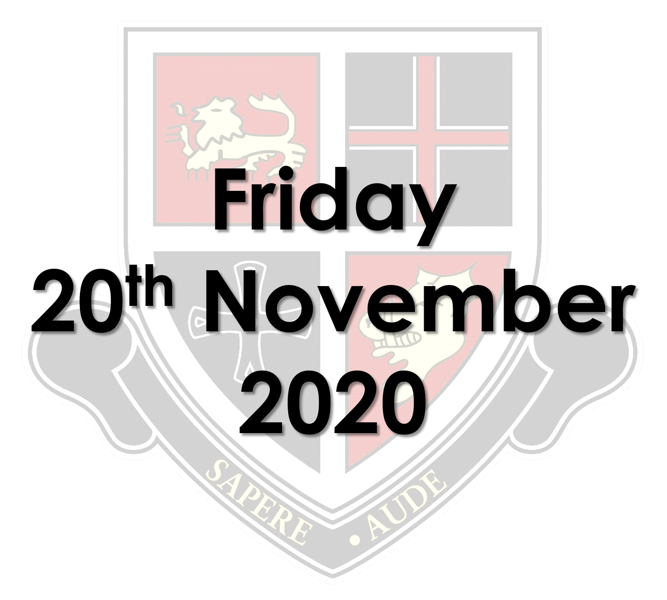 Dear Parents and Carers,
Sometimes the floodgates can open with students at unexpected times. All teachers will know that, on occasion, they can ask a question and their whole class will be silent, with no one willing to contribute. There are hours and hours of teacher training sessions dedicated to ensuring variety in questioning, or how to frame a good question, but sometimes, young people just don't want to answer. At other points, a whole class will want to join in and will also have a huge number of supplementary questions, with the things they have wanted to discuss or ask rushing out in a torrent of what, who, how, why, when and where. Year 11 have, rightly, done exactly that this week in light of their upcoming mock exams. This highlights a desire to do well and the expected nervousness that precedes any exam period.
Like them, we have a number of questions about next year's exams and it is frustrating that we are still awaiting clarity. I'm aware that this has become a constant refrain in my weekly updates, but the recent Ofsted briefing based upon conversations with school leaders, undertaken in October 2020, noted that schools, '…were building in more assessment opportunities, including additional mock examinations, in case there were no public examinations again next year and they had to rely on their in-school assessments. The uncertainty was reportedly causing some anxiety for pupils and staff.' The final line is a masterful example of bureaucratic understatement and nifty footwork, so as to avoid offering an opinion on whether or not such a situation is acceptable. We have worked very hard to remove 'uncertainty' for our students regarding mock examinations. We have also worked hard to cope with the logistical difficulties of creating an exam timetable for large numbers when space and resources are at a premium and, at any moment, students might need to self-isolate. It is our job to do these things effectively, but it is important to acknowledge that there is a higher level of complexity than in a normal exam season, and it is not a straightforward proposition.
Mock exams are always useful as a learning experience and students need to understand that their work across the year is as important as any individual result achieved during the autumn term. There is still significant time to improve, learn, and develop the necessary experience and technique. Learning is also about more than exam results, even though they are obviously very important, and education should not be viewed simply as a transactional process. Therefore, there will be uncertainty nationally until we receive the promised Ofqual/Department for Education update, but we will continue to do all that we can to keep students calm and on track as each week passes. Please support us in this at home, so that students keep a sense of perspective and approach their exams in a sensible and mature manner.
We recently offered a number of updates regarding vaccinations and the Home School Partnership that we ask Year 7 parents and carers to sign. Could you please return the Home School Partnership Agreement if you are yet to do so? The information regarding Year 7 flu vaccinations is referenced below, with parental consent needed by 7th December 2020.
2020-2021 Influenza Vaccination Programme – Parent/Carer of children of Year 7
The flu vaccine is being offered to your child; to consent please visit: www.hdft.nhs.uk/electronic-consent. The School Code is: 114312 and the last date of submission is midnight 07/12/2020. If you do not have internet access, please contact us on 0300 003 2554
I would also remind parents and carers that school is closed on Friday 27th November 2020 for an in-service training day, as shared in school letters in July and October 2020. Your child should not attend school on that day.
We have navigated another week successfully, with more good news about prospective vaccines and high attendance in school. It is important to remain optimistic regardless of our current difficulties and, in that spirit, I would quote another line from Derek Mahon; we can't guarantee it, but should approach the weeks ahead with the hope and belief that 'everything is going to be alright.'
Mr O'Sullivan