9 October 2020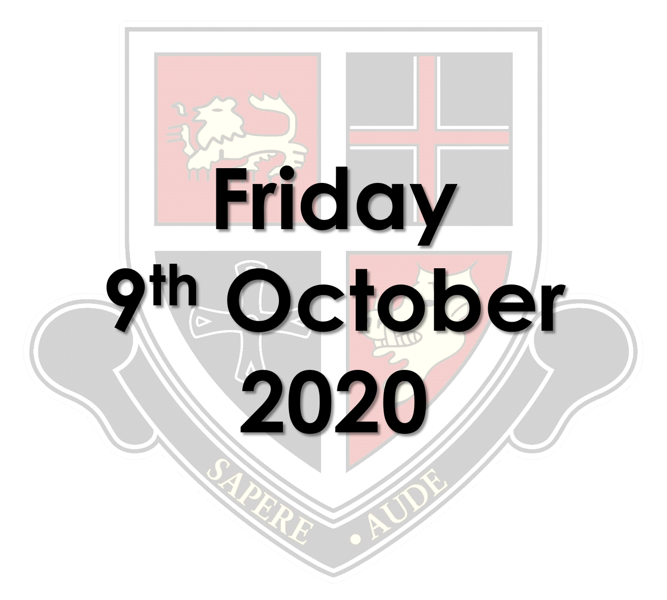 Dear Parents & Carers,
We are 6 weeks into the school term in England and Wales and all schools are waiting patiently for the Department for Education to outline their plans for the remainder of the academic year. We were hoping that the Education Secretary might offer more detailed information this week regarding plans for the GCSE and A Level examinations due to take place in the summer of 2021. It seemed logical that there would be an announcement at the Virtual Conservative Party Conference that took place earlier in the week. Unfortunately, no plan was forthcoming and we are still waiting. We do, however, have an increased understanding of the legal requirement for teachers to be politically neutral in the classroom and to avoid any form of party political stance. Schools have faced many difficulties since March, but I am yet to deal with any concerns being raised about teachers being overly political in the classroom. In simple terms, all teachers are aware of this as part of nationally recognised codes of conduct and standards regarding conduct in public life. A lack of impartiality is not something that is preoccupying our thoughts at present, but exams, funding and staying open do feature prominently. Students, their families and schools need clarity on these important issues and that is a question of leadership and planning, not politics.
Therefore, it is hard to remain quiet and impartial when we are still to receive the funds promised in between April and September for the costs that the school has incurred. We have had to pay a significant sum on cleaning materials, IT, food and resources for struggling families, signage, changing non-teaching areas into classrooms and extra student support, or, without any thought for the pressure it places upon students, what the DfE has chosen to call 'catch up' sessions. We were promised additional financial support; none has been received to date. We are seeking clarity on examinations, funding and the difficult work inherent in keeping schools open with rising transmission rates in the North East of England. That too is a question of leadership and planning, not politics.
At present, the Department for Education's intention is that exams will take place 3 weeks later than usual, with some minor modifications to the content and skills associated with some courses. On 2nd October 2020, the leaders of ASCL, NAHT, NASUWT, NEU and the National Governor Association put forward a series of recommendations regarding the 2021 examinations, so as to allow clarity for students, their families and those working in schools. They too are seeking leadership and a sense of coherent planning; a plan B in case too much valuable time is lost. Their identification of the issues and recommendations can be found here:
Proposal for awarding GCSE, AS and A Level Grades in 2021
They are sensible, largely apolitical suggestions, and it is hoped that the Department for Education will grasp the urgency of the situation and start to discuss a range of alternative plans. The best possible outcome is that exams do go ahead as normal to avoid yet more disruption for GCSE and A Level students, but it represents failure of leadership if alternatives aren't planned and considered.
There are a number of important updates that I hope parents and carers will find useful.
Symptoms & Illness – The number of students who appear to be unwell at school has decreased significantly since the start of term and our systems have been refined so that all students can be quickly assessed and given the correct level of support. As we enter the final weeks of term, it is important to remind everyone of the Local Authority's guidance regarding the symptoms of coronavirus and the normal actions that need to be taken for seasonal colds, flu and any general illness. Some students are, understandably, nervous about having a cold or if someone else is unwell. As ever, please remember that it is important to behave sensibly and to be kind to others. If you are unsure about what to do if your child is unwell, the Local Authority guidance on symptoms can be found at this link.
School Transport – We have been working closely with the Local Authority transport team and Garnett's, the company responsible for our bus routes. It is important to reiterate that face coverings on school transport are now mandatory by law and that not wearing a covering can put students, their families and other members of the community at risk. It also puts each individual driver at risk, and they have the right to deny access to the service if any student refuses to wear a face covering, or removes it when seated. If your child travels to and from school by Local Authority transport please make sure that they understand this mandatory rule. If they choose to ignore this rule at any point, they can have their right to travel removed.
Photographs – I have referenced the importance of school rituals on a number of occasions in previous letters. For example, students have an individual photograph taken each September and older students have a photograph with their year group. This is for safeguarding reasons in school, but it also offers an opportunity for parents and carers to buy a photograph; photographs that can then be used at some point in the future to embarrass their children when prospective or new partners visit the house (or maybe that was just my parents). It isn't possible for a professional company to provide that service this year because of the potential risk, but we do still need to take photographs of Year 7, Year 12 and any other new students for safeguarding purposes. Photographs will take place on Monday and we will book an external company to take professional photographs as soon as it becomes possible for schools to do so again. We know that this is an important ritual of school life.
Applications for September 2021 – We have had an excellent response to the materials shared on the website in relation to students joining the school in September 2021. 6th Form Applications can be completed online, via this link on the school website. The deadline for applications is 5th November 2020. For those applying for a Year 7 place, applications should be made via the Local Authority admissions team. The deadline is 31st October 2020.
Finally, we have been discussing how the House System will operate in the coming weeks and Miss Forbes will outline arrangements for Form Representatives and House Leaders to be elected soon. We intend to prioritise fund raising activities for local charities, particularly local foodbanks and the charity Feeding Families. Whilst our current context is proving difficult for everyone, it is important that our students understand that many people are facing extreme hardship. The need to help and support others, both within and beyond our school community, is central to our ethos. Miss Forbes will contact students shortly so that our four Houses can start their good work again. We are also planning our annual act of remembrance for 11th November and plan to record a series of performances linked to the Cathedral in place of our annual Christmas Carol Service. Whilst these events cannot take place in their usual manner, we still intend to maintain our traditions and to allow students to experience those important rituals of school life at Durham Johnston.
Thank you for your ongoing support.
Mr O'Sullivan