29 November 2019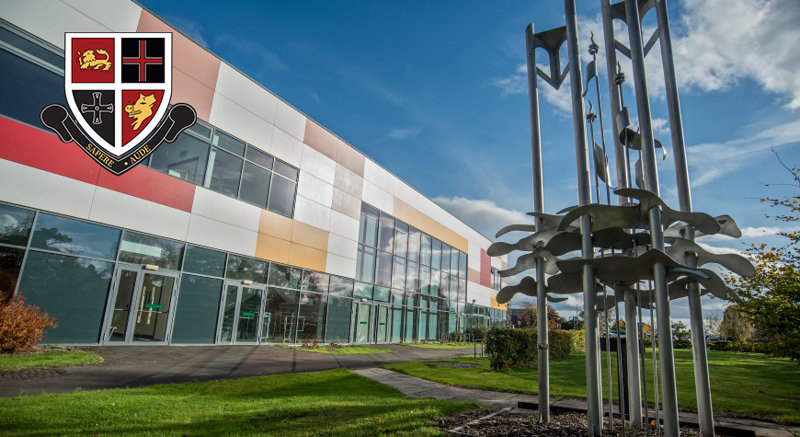 Dates for your Diary - Autumn Term 2019
INSET - Friday 29 November - SCHOOL CLOSED
Year 13 Parents' Consultation Evening, Monday 2 December 2019, 4.00 - 6.00 p.m.
Year 9 Options Evening, Monday 13 January 2020, 4.00 - 6.00 p.m.
Year 9 Parents' Consultation Evening - Monday 20 January 2020, 4.00 - 6.00 p.m.
Year 12 Parents' Consultation Evening - Monday 3 February 2020, 4.00 - 6.00 p.m.
Year 7 Parents' Consultation Evening - Monday 2 March 2020, 4.00 - 6.00 p.m.
Year 8 Parents' Consultation Evening - Monday 23 March, 4.00 - 6.00 p.m.
Year 10 Parent' Consultation Evening - Monday 27 April 2020, 4.00 - 6.00 p.m.
Mr O'Sullivan Writes
Comprehensive School of the Year: Durham Johnston Comprehensive School
As I noted on Friday 22nd November 2019, we are very proud to have been recognised as the 'Sunday Times' Comprehensive School of the Year 2019-20.' The following article is taken from the more detailed coverage published on Sunday.
Great relationships between pupils and teachers who know them well are key to consistently good results, writes Sue Leonard
It's not surprising that families buy a house in catchment or take their children out of private school to send them to Durham Johnston Comprehensive School. Since 2013, this northern powerhouse in the cathedral city of Durham has sent 82 of its students to Oxford and Cambridge – 14 this year alone. Students put in a typically excellent A-level performance this summer with 77% of grades awarded A*/B, a record 51% at A*/A. An unsurpassed 56 students achieved AAA or better in all three subjects.
Measured on A*/B performance, these results place Durham Johnston 56th in the UK – and 37th for A*/A results – beating more than 100 selective grammars and deservedly winning our Comprehensive School of the Year award. An impressive 95% of leavers headed to university, the majority to institutions in the elite Russell Group. At GCSE, 36.1% of grades achieved 9-7 (equivalent to the former A*/A).
Andrew O'Sullivan, who moved up from his deputy role in January 2018 to become the ninth head, puts Durham Johnston's consistently high attainment down to trusting what works: collective endeavour and excellent staff who know their students well. "There are some fundamental things in education that never change," says O'Sullivan, who has spent all of his 23-year teaching career at the school. "If you look at any success a child achieves, at the heart of that is the relationship with the teacher and I think by going off on all kinds of other tangents, education sometimes shoots itself in the foot. If you want a student to love school it is that personal care and attention, the relationship with the teacher, that is at the heart of all success.
To read more please click here

Hustings
On Thursday 28th November the five parliamentary candidates for the City of Durham seat visited school to meet 6th form students, many of whom will be voting the first time in December. The candidates spoke with 350 students as part of school hustings and answered a range of questions relating to their reasons for standing, climate change, education policy, whether Britain will be better off after leaving the European Union and their plans for public services. The students were very engaged by the debate and we are delighted that the candidates have arranged to meet with students again informally via politics lessons. Our school ethos is based upon public service and students were encouraged to look beyond the personal nature of much political discourse and to weigh carefully the ideas expressed by each individual and their reasons for wanting to serve the local community. We are very grateful that the candidates gave their time and wish them all the best for the final two weeks of campaigning.
Mr O'Sullivan and Mr Wilbraham
Technological Roadshow
On Monday we were very privileged to be invited along to Sunderland University to take part in a "Technological roadshow". Students were given access to an array of kit, some of which was still in the developmental stages.
We experimented with toys of the future. Students had the opportunity to build their own futuristic toys, using a block editor and an array of materials. We talked about voice activated technology and students gave their opinions to a panel of experts. We also spent some time on campus experimenting with VR and HoloLens, a truly immersive experience. The "old school" games machine proved very popular. However, experience won over youth – Street Fighter is my forte! Finally we visited the Huawei 5G truck, flight simulators, state of the art technology (including a foldable phone) and of course the 5G experience were all part of the session.
A professional film crew recorded throughout the day – the final presentations from our Y9's showcased not only their communication skills, but also what they had learnt throughout the day.
Huge thanks to Sunderland University and the whole team for an incredibly interesting day.
Miss Forbes, Subject Leader, Business and Computing
PE Department News
Excellent news from last Friday as our U16 basketball team won an excellent English Schools game at Kettlethorpe School, Wakefield 61 – 47 to go top of the group.
On Monday it was the turn of the U14 girls' basketball team to be in English Schools action as they travelled to Harrogate to take on St Aidan's School. An excellent defensive display saw us record a comfortable 30 – 10 victory to move top of their group.
Also on Monday our U13 boys indoor cricket team continued their season with matches against St Leonard's and Parkview. We played some very good cricket to win both matches. We are now joint top with Hermitage who we play in a deciding game on Monday.
On Tuesday our Year 7 and 8 boys and girls sportshall athletics teams were at DCBC competing in the Durham City finals. After an excellent afternoon of competition all our teams won meaning all four qualify for the county finals in March.
On Wednesday our U16 girls' football team took on Whitley Bay High in the English Schools cup. We were 3 – 1 ahead with 5 minutes to play but conceded a late goal to make it a nervous last few minutes but we held out to reach the next round.
Our Year 7 football team were at Hummersknot in the county cup. Despite dominating possession we went into half-time level at 1 – 1. Unfortunately we conceded 3 last goals in the second half eventually losing 5 – 2.
Finally on Wednesday our Year 7 and 8 netball teams were at home against Durham High. These are also very close matches. We lead the Year 8 game 5 – 1 at half-time but a second half fight-back from Durham High made an exciting finish. However we held on for a 13 – 10 win. The Year 7 game was also a high standard but again we proved too strong eventually winning 12 – 6. Jemima Dowsett and Libby Clarke were voted players of the match. Both teams remain unbeaten and top of the league.
Yesterday our Year 7 girls' football team were at home against Ovingham Middle School in the English Schools cup. This was an excellent performance against a strong team which we won 2 – 1 to reach the next round.]
Congratulations to Erin Keeler-Clarke who last Sunday was competing in the National Biathlon championships in Nottingham. After an excellent day of competition she finished in 4th place in the country – an outstanding achievement.
Finally congratulations to Jack Crampton a member of Durham City Golf Club. After an excellent season Jack received the following trophies;
Junior Joe Schofield cup - winner
Junior Neil Davison cup - winner
Sharpley Open - winner
As part of team Durham;
Blue tee league - winner
Golf sixes.
This is an excellent year round performance and Jack received much deserve praise and accolades from older/senior players at the club. He intends to defend all the trophies he has won this year in 2020.
Mr Nopper, Subject Leader for PE

Whole School Literacy
Plenty of quizzes this week in Year 8 forms, to reinforce all of the root words we have been learning over the last eight weeks and our new root is 'mod' meaning measure, method or manner. Hopefully, we will have had a modicum of success!
Mrs Clark, Whole School LIteracy Co-ordinator
Nevilles Cross Christmas Festival
Dream Community Charity
To find out more about the work of the Dream Community Charity, please click on the following link.
Lunchtime and After School Clubs and Activities
Please click on the following link for an updated copy of the Autumn Term lunchtime and after school clubs and activities.
Term and Holiday Dates