15 November 2019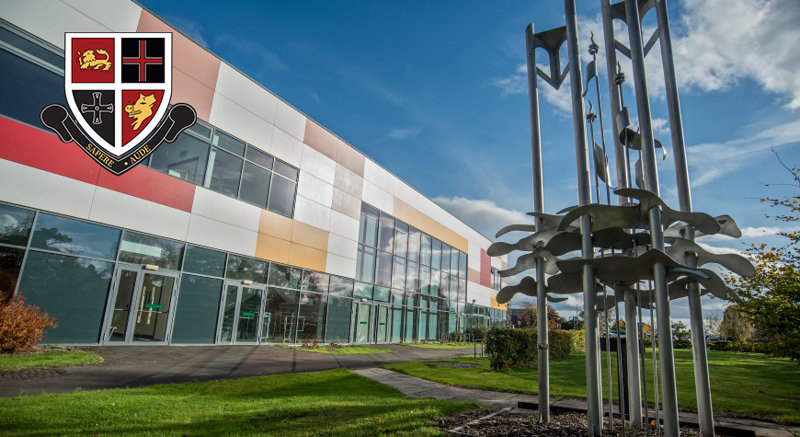 Dates for your Diary - Autumn Term 2019
Year 11 Parents' Consultation Evening - Monday 18 November 2019, 4.00 - 6.00 p.m.
Ski trip 2020 - information evening for parents - Tuesday 26 November 5.45 p.m. - 6.30 p.m. in James Hall
Year 13 Parents' Consultation Evening, Monday 2 December 2019, 4.00 - 6.00 p.m.
Year 9 Options Evening, Monday 13 January 2020, 4.00 - 6.00 p.m.
Year 9 Parents' Consultation Evening - Monday 20 January 2020, 4.00 - 6.00 p.m.
Year 12 Parents' Consultation Evening - Monday 3 February 2020, 4.00 - 6.00 p.m.
Year 7 Parents' Consultation Evening - Monday 2 March 2020, 4.00 - 6.00 p.m.
Year 8 Parents' Consultation Evening - Monday 23 March, 4.00 - 6.00 p.m.
Year 10 Parent' Consultation Evening - Monday 27 April 2020, 4.00 - 6.00 p.m.
Remembrance
"Nothing is here for tears, nothing but well and fair and what may quiet us in a death so noble." John Milton, 'Samson Agonistes'

The above quote, taken from John Milton's tragedy about the Biblical story of Samson, is engraved on the school's war memorial which was commissioned and unveiled in 1921, three years after the conclusion of World War One. The names of 35 former pupils and one teacher are permanently etched into the brass. When thinking of the dead the school in 1921 turned to art to try and express the impact of this great conflict. Throughout human history it is art that people have left behind, revealing as they did so people's capacity to imagine and dream and show the best of themselves.
Art and artistic expression found its way to the battlefields of France and Belgium in 1914 when WWI broke out. Fairly well known is the story of the Christmas truce when German soldiers began to sing "Silent Night" on Christmas Eve but in fact small truces had been breaking out all along the front for a few hours each day for the preceding months. The first recorded example of this came when a group of British soldiers decided after their breakfast to sing what to them was the eighteenth-century hymn "Glorious Things Of Thee Are Spoken." A beautiful hymn, the words are in fact set to what was then, as now, a Hayden melody that also forms the basis of the German National Anthem. When the German troops opposite the British heard this, they stopped firing and for the next few hours peace returned to that patch of ground at least. The same pattern would be repeated over the next few months until of course the famous Christmas truce when men left their trenches, exchanged chocolates and cigarettes, set up a temporary hairdresser and engaged in one of societies other great unifiers, a game of football. Sport and art have always played a crucial role in bringing people together and managed to do this even in the midst of all the death and slaughter around them.
Art formed a significant part of school life here at Durham Johnston before and during the war. Photographs show the school orchestra, in another students sit in their costumes having performed a play. These were all shared with students this week in a series of assemblies as the school remembered those from our community who lost their lives fighting as well as all those affected by conflict. If war shows humanity at its very worst then artistic expression is surely the opposite of this, allowing us all to share our thoughts and dreams, inspire others and ourselves and bring people together whether in song, dance or appreciation.
For people interested in finding out more about how World War One impacted on the lived of our school community the school's twitter feed has, over the past week, shared letters from men written to the school and published in December 1914. Most are very positive in nature, perhaps a reflection not of the censors' pen but of the genuine belief that the war would be over shortly. Our thanks to former pupil and teacher Mike Robson for sharing these with us.
M Wright, Assistant Head
Year 11 – Parents Evening and Tutor Intervention
Another important week ahead for Year 11 students. At Parents' Consultation Evening on Monday 18 November, students and parents will have the opportunity to discuss their trial exam grades and expected grades for the summer exams with class teachers. Discussions will focus upon subject specific strengths, areas for improvement and the best way for students, teachers and parents to work together to offer every opportunity for success. There will also be an opportunity to meet the sixth form team and ask questions about further study after GCSE.
In addition to the feedback received in lessons this week, students will have the opportunity for further discussion with their form tutors next week. Form teachers have a huge amount of experience in how to prepare and offer guidance to students and will have one to one conversations with their tutees and support them to reflect on what they need to focus on in their remaining 21 weeks of year 11.
Mrs McFadden, Deputy Headteacher

Odd Socks Day
A superb effort by the DJ Community for "Odd Socks Day", over 300 students (and staff) took part! Amazing to see the array of brightly coloured socks to promote anti-bullying!
Form 7UA were our overall winner with 22 students taking part – Well done!
Ms L Forbes, Senior Teacher and House System Coordinator
Music Department Notice
Christmas Concert (Thursday 12th December)
Tickets for the two parts of the Christmas Concert will go on sale on Monday 18th November from the Music Department. Tickets cost £4.00 (£2.00 Concessions). Please note that tickets must be bought in advance. Full information about the ticketing process can be found here. Christmas Concert 2019. To support the school's 'Giving Back' charitable aims, we will be collecting for the Durham Foodbank at the concert, so please, if you are able 'Bring a Tin'! The attached flyer gives details of the current needs. Bring a Tin
Instrumental/Vocal Exams
The Autumn/Winter exam season has just begun, so if you son/daughter has an exam in the next few weeks, please do encourage them to consider increasing their practice over the next few weeks. If they need help with the 'Aural Tests' part of the exam, we have a few slots still available at lunchtimes for which pupils can sign up.
Remembrance Commemorations
As well as playing at our Act of Remembrance in school, some of Durham Johnston's trumpeters played the Last Post and Reveille out in the community. Well done to Sam Plyming (who played in school and at Neville's Cross), Kerry Dunleavy (who played at Murton and Hetton), Ben Clark (who played at New Brancepeth), and Nicholas Steele (who played at Meadowfield).
Mr Holmes, Subject Leader for Music

PE Department News
The PE department are pleased to announce that the "Top state sports schools of 2019" have just been revealed and we have maintained our position in the top 30 schools in the country. An indication of just how difficult it is to reach the list can be seen when you realise that reaching the top 30 means that you are in the top 1% of sporting schools in the country. We are one of only a handful of mixed sex non-selective schools outside the London area. A great achievement.

On Monday our girls' U13 football team were at home playing High Tunstall in the National Cup. We started slowly but took control in the second half going on to win 6 – 1.
The boys' U13 indoor cricket season started on Monday as we took on Framwellgate. We batted first and scored 59 runs in our 7 overs. They made a strong start and needed 10 runs from the final over. However an excellent over from Joe Twiddy saw us win by 5 runs. Also on Monday we hosted Framwellgate in the first badminton league matches of the season. These were excellent matches in which we won Year 7 girls, Year 7 boys, Year 8 boys and girls. Our only defeat came for our Year 9 boys who lost a deciding tie-break after the scores ended equal.
It was the turn of the girls to start their indoor cricket season on Tuesday as we hosted St Leonard's and Hermitage. We have a very good team and we proved too strong for both schools going on to win both matches easily.
Also on Tuesday our Year 7 5-a-side football team were at Sedgefield taking part in the BASFA tournament. We dominated our group winning all our matches easily. This set us up for a semi-final against Parkisde. Despite conceding a late penalty we reached the final with a 2 – 1 victory. We faced St John's in the final. Despite dominating possession we struggled to beat an excellent goalkeeper. The game eventually finished 1 – 1 so we entered extra time. With time running out we found another goal to win the competition. We now go forward to the County finals in the New Year.
Finally on Tuesday our U14 girls football team made the long journey to Cramlington High in the English Schools Cup. We started well and were leading 3 – 0 early in the second half. Unfortunately we struggled to cope with a strong fight-back from Cramlington eventually losing 5 – 3.

On Wednesday our U19 basketball team started their English Schools campaign away at Tyne Met College. In a low scoring game we lead by 2 points at half-time. Unfortunately we struggled to score in the second half eventually losing by 10 points.
Also on Wednesday our VIth form football team were competing in the English Schools cup away at St Robert's. This was an excellent match which we lead 2 – 1 with 5 minutes to go. Unfortunately we conceded a late deflected goal. As light was fading the game went straight to penalties. We missed one to lose 5 – 4.
Netball league games continued on Thursday as our Year 7 and 8 teams travelled to Parkview. These were both very one-sided games as our Year 7's won 15 – 0 with Libby Clarke player of the match and the Year 8's won 23 – 0 with Kaelyn Jones player of the match.
Last night our Year 7, Year 9 boys and U15 girls rugby teams were at St John's for friendly games. In extremely challenging conditions we gained some valued "character building" match practice with honours about even.
Finally, good luck today to our Year 7 football team who are in English Schools action taking on Trinity School, Middlesbrough.
Mr Hopper, Subject Leader for PE

Whole School Literacy
This week, Year 8 student learned about the root word 'graph' meaning 'write' and produced some superb trees of their own.
Mrs Clark, Whole School Literacy Coordinator