4 October 2019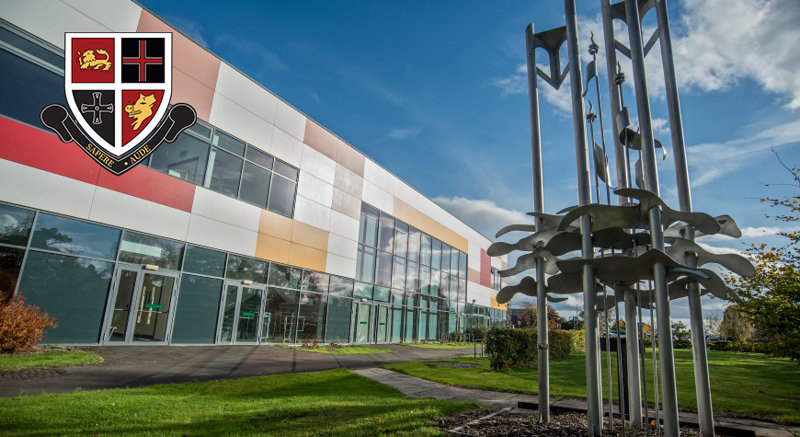 Dates for your Diary - Autumn Term 2019
Sixth Form Open Evening - 7 October 2019 - 6.00 until 7.45 p.m.

Year 11 trial examinations - 10 to 18 of October

Year 11 Parents' Consultation Evening - Monday 18 November 2019

Year 13 Parents' Consultation Evening, Monday 2 December 2019

Year 9 Options Evening, Monday 13 January 2020

Year 9 Parents' Consultation Evening - Monday 20 January 2020

Year 12 Parents' Consultation Evening - Monday 3 February 2020

Year 7 Parents' Consultation Evening - Monday 2 March 2020

Year 8 Parents' Consultation Evening - Monday 27 April 2020
Road-Safety
One of our key responsibilities as a school is to safeguard students. We do this very effectively in school, but are becoming increasingly concerned about the risks students are taking to and from school. The school is on a busy main road and regularly remind students of the need to cross the road at appropriate points and to wait patiently for lights to change so that they are safe. If students choose to cross when lights are green or walk in front of vehicles, then they are deliberately risking their lives and the lives of others. We will be emphasising these points with all students in form period next week, but could I also ask parents to discuss this at home. The vast majority of our students have excellent road sense and understand how important it is to be careful. However, could you please check that your child is behaving in a sensible manner and not taking unnecessary risks.
A J O'Sullivan - Headteacher

Year 11
Year 11 are now 5 weeks into a very important year. Our key message is that Year 11 students pace themselves and peak at the right time. They have been receiving subject specific advice from their teachers and support and guidance in form. A letter outlining that support and some key dates in the year ahead was given to each student in form today. It also included a copy of the trial exam timetable. A copy of the letter and trial exam timetable is published below.
Year 11 Letter - 4 October 2019
Year 11 GCSE Trial Examinations Timetable

Unsurprisingly, two things that make a huge difference to overall success are high attendance and daily punctuality. Could you please ensure regular attendance and make clear to your son or daughter that the school day begins at 8.20 a.m. Lateness to form will lead to them missing valuable advice and guidance regarding exams.
Mr Simpson - Year Leader
Halloween Spooktacular 2019

Back by popular demand, Durham Johnston's Halloween Spooktacular for students in Years 7 and 8 will take place on Friday 25 October from 5.30 until 9.00 p.m.
For further information about the event, please click on the link below.
Durham Johnston Halloween Spooktacular
Biology Week
As part of Biology Week 2019 the Science department is running a competition for students from Year 7, 8, 9, 10 and 11.
Students are invited to make a 'biology themed diorama' and entries will be judged on Friday 11 October.
Please click on the link below for further information and how to enter.
Congratulations!
Congratulations to the students pictured above who have all successfully completed their Bronze or Silver Awards.
Mrs Gibb - Duke of Edinburgh Scheme Co-ordinator
Online Safety Newsletter
Please click on the link below to read October's Online Safety Newsletter.
RI Engineering Masterclasses for Year 11 Students
Futures Consultancy are offering a fantastic opportunity for Year 11 pupils with an interest in Engineering (all pathways) to take part in the next RI Masterclass series.
Starting on Saturday, 9 November 2019, a great programme is planned, which will provide an opportunity to explore the diversity of engineering, take part in a range of practical sessions and engage with engineers and academics.
The series is fully funded thanks to the Reece Foundation.

The training will take place at Ignite Gas Training, 5 Larch Court, West Chirton Industrial Estate, North Shields NE29 8SG. Student will be required to attend all five Saturday sessions held at the venue on the following dates:
• Saturday 9 November,
• Saturday 16 November,
• Saturday 23 November,
• Saturday 30 November and
• Saturday 7 December 2019
How to Apply
Please visit https://www.greatnorthmathshub.co.uk/ri-masterclass-engineering-series-for-year-11/ to download the application form which should be completed and returned by parents and carers as directed, together with an accompany letter.
Further details
If you require any further information, please contact gemma@futuresconsultancy.com
Spaces always go quickly, and will be assigned on a first come first served basis.
Deadline for submissions: Tuesday 5 November 2019
Mr Kennedy - Subject Leader for Guidance and Careers
Christmas Card Competition

Music Notices
Rehearsal Schedule for the next three weeks
On account of reduced hall availability during both the School Culture Festival and Year 11 exams there have been some changes to the our weekly rehearsal schedule for the remainder of this half term. Please click here for more information if your child is a member of one of our musical ensembles.
Opportunity for Pianists
Ushaw College is opening a new part of the building which is going to be an education centre/small performance space on the 18th October. To mark this they are having a piano festival to open the new building and this will include a 'come and play' event on Saturday 19th October. As part of this they are very keen to have some school age pupils performing and they are welcoming pupils of any standard.
Also, as part of this event, Alex Chisholm-Loxley, a former DJ pupil, will be giving a performance of Beethoven's Moonlight Sonata at 2.30pm.
For more information about the come and play event, or Alex's performance, please follow this link
https://ushawboxoffice.com/collections/ushaw-piano-festival-2019/products/come-and-play-19-10-2019-11am-to-5pm
Mr Holmes – Subject Leader for Music
Whole School Literacy
This week the Year 8 were fortunate enough (see what I did there?) to study the root word 'fort' meaning strong. It was their turn to create the word tree and below is just one example of the superb work produced in form time.

Mrs Clark - Whole School Literacy Co-ordinator
PE Department News
A busy week of fixtures with 18 matches in a variety of sports, a swimming gala and netball tournament.
On Monday our Year 7 basketball team played a friendly at Emmanuel College. We improved as the game went on eventually going on to win 36 – 16.
Also on Monday our Year 11 football team travelled to Yarm to take on Conyers in the English Schools Cup. This was an outstanding game. We went 4 – 1 behind and injury reduced us to 10 men. However a fightback started and we eventually got back to 5 – 5 and took the game to penalties. We held our nerve to reach the second round with a 5 – 4 win in the shoot-out.
Finally on Monday our Year 8 football team were at home taking on Whitburn in the county cup. We started well and dominated the game going on to reach the third round with a 7 – 2 victory.
Our girls football team were in action on Tuesday as our U15 team faced High Tunstall in the English Schools cup. This was an excellent game which we won 4 – 2. Also on Tuesday our Year 7 football team played Lanchester St Bede's in the County Cup. We made a slow start so soon took control going on to win 8 – 1. We now play Wellfield in the second round.
Finally on Tuesday our Year 8 rugby team were due to be playing in the county cup tournament. However it was postponed due to waterlogged pitches. We therefore hosted a friendly tournament at Durham Johnston. This was well-attended and played in an excellent spirit.
On Wednesday we were hosting the Durham City U19 netball tournament. The standard of netball was outstanding with all the teams enjoying an excellent evening of netball. We needed to win our final game to have a chance of claiming the title. However we faced a very strong (and tall!) team from Durham High who beat us to become champions as we finished in 3rd place.
Our U18 rugby team traveled to Emmanuel College for a friendly. This was a very physical game which was close throughout. We held the lead with only minutes to go. However a late Emmanuel try meant a conversion would tie the game. However they missed to give us a 2 point victory. Our Year 9 boys were also in rugby action competing in the county cup at Ryton RFU. This was another excellent competition as we won one and drew one to qualify for the county finals.
Finally on Wednesday our U13 girls football team played Lanchester St Bede's in a friendly match – a game we dominated to win 8 – 1.
Yesterday we had league football matches against Whitworth. They conceded the Year 10 game but the Year 7 and 8 games went ahead. We were 3 – 2 down in the Year 7 game before an excellent second half saw us win 8 – 4. It was a similar story in the Year 8 game as we fought back to secure an excellent 6 – 5 victory.
Our U14 girls football team were at Easington in the county cup. This was a tough first round draw however we produced an excellent performance to win a close game 3 – 1. Our Year 9 boys football team were just down the road, also in the county cup at Shotton Hall. It was not as good news for them as they suffered a 3 – 0 defeat.
Also yesterday we had several netball matches. Our Year 7 and 8 teams started with matches against Durham School. We had two comfortable wins with the Year 7's winning 22 - 3 with Sylvie Parker player of match and the Year 8's 11 – 3 with Kaelyn Jones player of the match. This was then followed by friendly matches against High Tunstall which we drew one and lost some.
Finally yesterday our swimming teams were at the Louisa Centre for the English Schools north-east championships. Schools from as far apart as Leeds and Morpeth took part. All our swimmers performed very well in a very high standard competition although we didn't secure any winners this year.
Good luck tonight to our U16 girls football team who travel to Hartlepool to take on Dyke House in the English Schools cup.
We would like to offer our congratulations to the Durham Johnston students who organised and participated in the longest Tyne-Wear derby in history (possibly).
Details of the match are referenced below:
https://www.thenorthernecho.co.uk/news/local/northdurham/17910866.durham-johnston-sixth-formers-organise-seven-hour-football-marathon/
Mr Hopper - Subject Leader for PE
Weekly Sports Bulletins
Lunchtime Clubs and After School Activities
Lunchtime Clubs and After School Activities - Autumn Term 2019