8 March 2019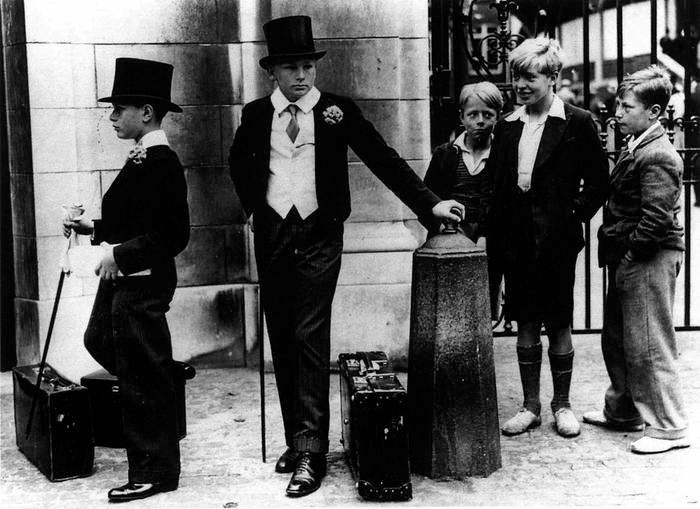 Jimmy Sime took the above photograph at the Harrow V. Eton annual cricket match in 1937. If you have seen it before, it was probably being used as form of symbolic short hand for Britain's long standing issues regarding social class. I have read articles that use the image on subjects relating to private education, the interwar years, social justice, educational attainment gaps and 'austerity.' I have also used it the lessons where students have expressed anger at the image and have made a range of assumptions about its meaning and those featured. I'm sure that Jimmy Sime simply thought that he captured a good photograph, not that he had initiated a debate that would continue for decades. Like all symbolic things, the reality of the image is quite different to how it is perceived. The 'toffs' were not high-ranking members of the establishment and suffered real difficulties; the 'toughs' all went on to become successful entrepreneurs and, in Jack Catlin's case, a high-ranking civil servant. Issues around class and background are still highly divisive in Britain and we continue to make incorrect assumptions.
We have had interviews for English and maths in schools this week and we think very carefully about the best fit with the school. We are fortunate that a large number of talented teachers want to work at the school and it is important that we give those applying an understanding of what makes the school unique. (Obviously, all schools are unique). We always share our pride in the comprehensive nature of the school and the importance of our ethos. As part of the interview process, we often ask the question, 'How do you feel about teaching in a school where a significant number of the students are more intelligent than you?' That is not demean the staff at Durham Johnston (who are bright and very well qualified) but to recognise the high number of very intelligent students that we have at the school.
How do you feel about teaching in a school where a significant number of the students are more intelligent than you?
Take a moment to process that question and visualise the students that are being referred to. Who are those 'more intelligent' students? Did you imagine a well-spoken boy or girl in a pristine uniform from Durham City? Well-mannered, instrument under one arm, school sport's kit under the other? They might look and sound like that, they equally might not.
Our 6th formers are often capable of real insight. This week I have spent a substantial amount of time with those who have applied to be part of the school's Head Student team. Part of the interviews involved a discussion of the school's ethos. One of the interviews was very striking. The student in question explained that the school's inclusivity was a strength. They thought that respect for diversity and tolerance of others were excellent. They then noted that the same standards were not always applied to social class. I have always been very clear that when students arrive in the morning that their social background is irrelevant; the school believes that all are equal and deserve the same opportunities. The student, however, suggested that there is work to do on how members of the school community refer to social class and the judgements made about people because of where they grew up or are from. As a school we are committed to social justice, but it is useful when intelligent students make you question whether you are doing enough.
Mr O'Sullivan