5 October 2018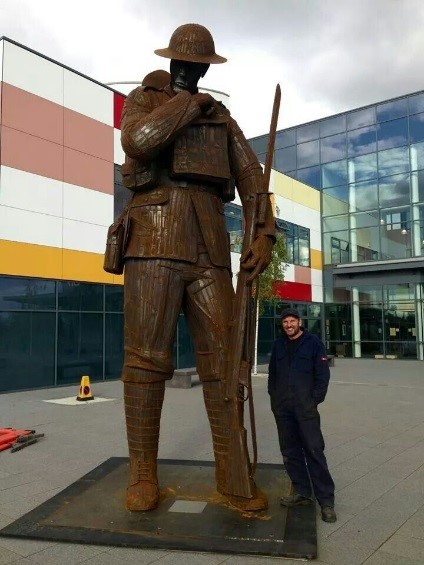 Durham Johnston's 6th Cultural Festival begins next week and we are very proud of both its longevity and the varied nature of the activities and events that we have hosted in that time. We also act as a venue for the Durham Book Festival and this year both Dave Shelton and Kate Pankhurst will be working with students from the school. This represents a wonderful opportunity for them and we hope that the different events might spark an interest in literature, theatre, film or music that develops into a life-long pursuit.
It is fitting that this year's festival is focusing upon the Armistice of 1918 and the centenary of the Great War. One of the most notable exhibitions that we have had was when the school hosted Ray Lonsdale's 'The Last Cigarette of Michael Duffy' in 2014. People are more familiar with his 'Tommy' statue at Seaham, but I still have a very vivid memory of the students staring in disbelief from the upper deck of a school bus as they saw 'Michael Duffy' for the first time. The purpose of the festival is to expose students to the arts and to new ideas and this has characterised the festival in those 6 years.
Durham Johnston's war memorial will be the focus of remembrance at the school in November and we will share the stories of some of the 37 men who had been either students or teachers at the school before losing their lives in that conflict. The festival features a new play, 'Meet Tommy Atkins', interactive workshops using artefacts from the DLI collection, free screenings of 'War Horse' and 'My Boy Jack' (for pupils over 12 and 15 respectively), The Muddy Choir's musical about three young boys who joined the DLI in 1917 and the Theatre Centre's performance of 'Trench Warfare', another newly commissioned play. Students will also have the opportunity to eat food associated with the Western Front and to learn about the conflict in lessons. It is important that we commemorate the centenary of the Armistice, but that students can also engage with the conflict through art, theatre and literature. I would like to thank the Culture Festival team who have worked hard to create such an exciting programme and hope that all students take advantage of the wonderful opportunities being provided by the school.
Mr O'Sullivan