7 September 2018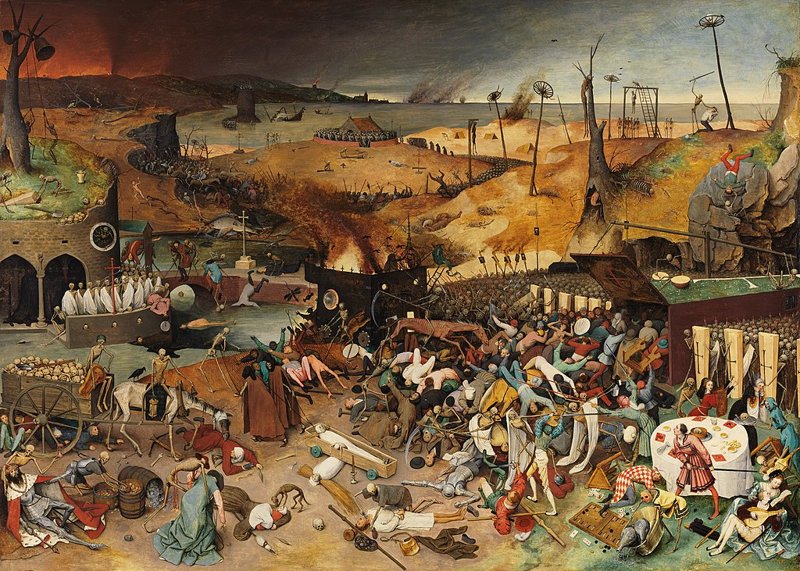 The above painting was completed by the Dutch artist Pieter Bruegel the Elder in 1562 and is called 'The Triumph of Death.' It is a large, detailed painting and is also, clearly, quite disturbing. Not, therefore, the type of image that you would normally use to convey an uplifting message in the first assemblies of a new school year. Whilst being a 'big picture' it is built upon a series of smaller scenes. As part of our assemblies for years 8-11 I asked students to identify a series of actions within the painting and would encourage you to do the same. Which of the following is depicted?
A starving dog nibbling a child's face?
A skeleton cutting a man's throat?
A skeleton riding a horse, trampling a woman?
A skeleton executing a man. The man is praying?
Obviously, there are much bigger question missing from that list; why did Bruegel choose such dark subject material? What was he trying to say about Europe in the 1560s? It is a fascinating painting that provokes thought.
Students should always be exposed to great or important works of art, but my main purpose was to encourage each year group to think about the importance of both the big picture and the smaller details associated with their own lives. If we become too focused upon the end result, we sometimes fail to pay attention to the smaller details. Conversely, by obsessing over the small details, we sometimes fail to grasp our overall purpose. Therefore, it is important to keep things in perspective and to seek a balance between the two. Aspiring to achieve the highest grades possible is pointless if you forget to listen in class; getting upset about a poor test result if all others have been positive is equally unnecessary. Balance is key. As is accepting the reality of failure. We all fail. Bruegel reworked the 'Triumph of Death' a number of times and was, apparently, unhappy with the finished work. He viewed the inability to transfer his idea into a completed version deeply frustrating. That is not, however, the same as viewing the final work as a failure.
Our Year 11 and Year 13 students achieved fantastic results at GCSE and A Level in their summer exams. In comparative terms, their results were up there with the best achieved at the school, particularly at GCSE. Fantastic also in terms of getting the grades needed for the next stage in their lives and in terms of how they were rewarded for effort and hard work. It might seem slightly perverse, on that basis, to write about failure, but failure is an integral part of life. Most people will fail, in some capacity, a number of times during any given day; some failures can be felt very profoundly, others might be mundane and less important.
"We are all failures - at least the best of us are." J.M. Barrie
When Aretha Franklin died in August most of the reporting associated with her death referenced her greatest songs and performances. Her obituaries often referenced the beauty of her voice and key songs, such as Respect, I Say A Little Prayer and Chain of Fools. All were recorded for Atlantic Records. What very few mentioned was that the early part of her career, at Columbia Records, was considered to be an abject failure. She had a strong voice, but not a distinct style. She recorded some minor hits, but a much greater number of flops. Columbia Records encouraged her to sing in a variety of genres; Country & Western, Jazz and Easy Listening, but none seemed to be a good fit with her obvious talent and they eventually ended her contract. Many people are unaware of her earlier songs, some of which, retrospectively, are the equal of her later work. (See below).
In 1965 she was signed by Atlantic Records and viewed as 'a potential loss making risk.' Reflecting on the great success she went on to achieve, she commented that each failure, in retrospect, prepared her for later success, because they made her realise that she needed to practise and hone her talent. Not everyone can be as talented as Aretha Franklin or Pieter Bruegel, but everyone can reflect in a similar way on their strengths and weaknesses. To recognise failure for what it is and to retain a sense of equilibrium, or balance. If our students do that, then they will learn from their mistakes and miscalculations, rather than being defined by them.
https://www.youtube.com/watch?v=Pbobu2Pa_p4