1 June 2018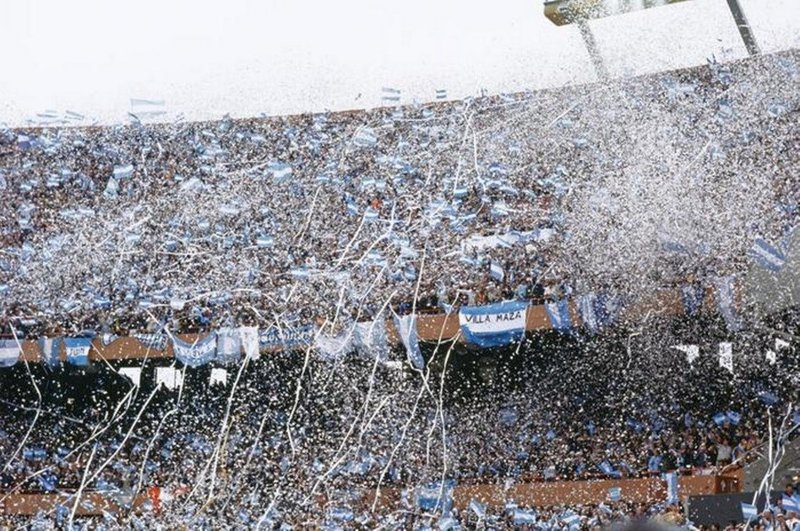 The first football match I attended was 40 years ago. I grew up very near to Birmingham City's ground, St. Andrews, and never countenanced supporting another team. My first game was an away game, at Wolverhampton's Molineux stadium, on 1st April 1978. Birmingham won 1-0 and Trevor Francis scored, but I only have vague memories of that. What I do remember very clearly are the songs and chants and, somewhat incongruously, the large tree growing in one of the stands.
Similarly, I only have hazy memories of the 1978 World Cup in Argentina that started two months later. My memories relate to the tickertape released by the Argentinian fans, a snowstorm of confetti thrown from the stands which obscured the television pictures. Out television worked by placing single 50p pieces into a slot and I remember the frustration when the TV turned off and my family had no replacement coins.
Those formative experiences gave me a love of football and the characters that populated the game in the late 1970s and early 1980s. My boyhood hero was Trevor Francis, the first £1,000,000 footballer. Birmingham signed him by promising his mother a new washing machine (they eventually reneged on the deal and purchased a second hand one) and made a vast profit selling him to Brian Clough's Nottingham Forest, for whom he scored the winning goal in the 1979 European Cup Final. Clough had a huge impact upon me as a child too, mainly because of his facility with language and his ability with a bon mot; 'They say Rome wasn't built in a day, but I wasn't on that particular job.'
(There's a wonderful documentary about Clough and that successful Forest team called 'I Believe in Miracles.' The trailer is below).
https://www.youtube.com/watch?v=d4_6hVPyKZw
Whilst my memories of the 1978 World Cup are sketchy, those of the tournament 4 years later in Spain are crystal clear. Particularly the official England
World Cup single that I bought in Woolworths with my pocket money, (I bought House of Fun by Madness too, but had no understanding of what the song was about) to the anguish of failing to score against West Germany in the final game. I watched those games on a tiny black and white television with my Grandad and from that point on can measure my formative years by what I was doing at the point of each consecutive World Cup. 1986; Lineker and the start of my GCEs and O Levels. 1990; first year of University, Bobby Robson, David Platt's goal and Gazza's tears. All quite cliched retrospectively, but thrilling at the time. 1994; working for Lloyd's Bank and Ray Houghton's goal against Italy in New York for Ireland.
By 1998 I was in my NQT year at Durham Johnston and England's first game in France kicked off at 1.30 p.m. During the school day. There was only one television available at Whinney Hill and I booked it 6 weeks in advance to outmanoeuvre other teachers. One of my year 7 students had tickets for the match and we looked for him in the crowd. I gave the class a short history of the World Cup to assuage any guilt at not teaching them about the spread of the Black Death. We beat Tunisia 2-0, Paul Scholes scored. By 2002 technology had advanced considerably and I watch the early morning kick off in Japan in Science Lab. 1 with around 40 students and teachers. The sciences teachers fried bacon and sausages for sandwiches using Bunsen burners.
The 2006 and 2010 World Cups were less important than family life and 2014. Like many middle-aged men, I had a sense of wistful nostalgia for when football was purer, more honest. Whimsical nonsense obviously, but it isn't always easy to stay true to your youthful pursuits. Age, fatigue and cynicism start to have their impact. My faith has been restored, but not by a new generation of footballers or a change in the nature of the game; bloated with money, distant from supporters, obsessed with short term gain. Common criticisms and valid to an extent. My faith was restored by the enthusiasm of the students at Durham Johnston. In 2014 the England team were awful, but the students at Durham Johnston were inspired. The PE department organised a school World Cup, allocating countries to the different forms and houses. The students made flags and banners. Played instruments and composed songs. Form teachers co-ordinated support. Pageantry and excitement. Lunch time was looked forward to. Anticipation.
The tournament kicked off in Russia last night, but the real World Cup begins on Monday on the school 3-G pitch. Both faith and youthful enthusiasm have been restored and there have been no concerns about whether or not the tournament has been exposed to bribery or corruption. Keep right on. иди вперед!