8 June 2021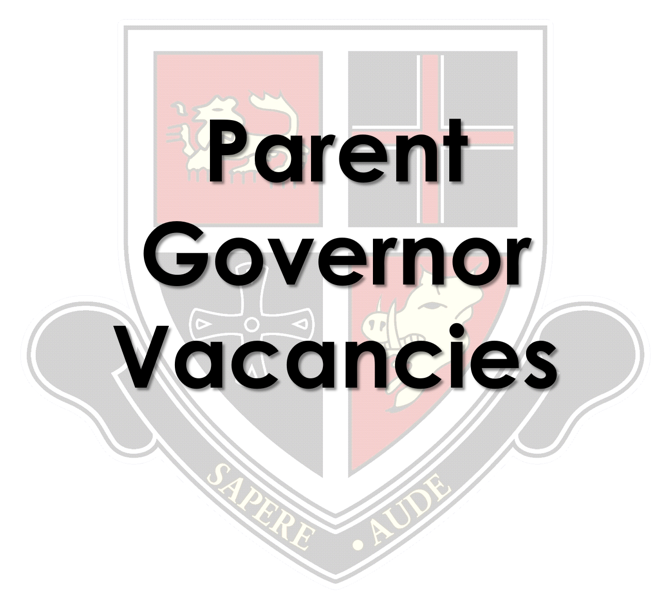 A reminder that the deadline for receipt of nominations for the role of parent governor is by close of business tomorrow, Wednesday 9th June.
27 May 2021
Dear Parents and Carers,
Parent Governor Vacancies
The purpose of this letter is to inform you that we have vacancies for three Parent Governors on the Governing Body. We would like to invite nominations from parents and carers who are interested in contributing to the effective governance and continued success of the school.
The role of the Governing Body is to:
help set the aims and objectives for the school

help set the policies for achieving those aims and objectives

help set the targets for achieving those aims and objectives

help monitor and evaluate the progress the school is making towards achievement of its aims and objectives

be a source of challenge and support to the Headteacher
The Governing Body is actively seeking to strengthen the skills within its membership and wishes to recruit and develop governors, who are able to work constructively in committees.
Nominations are invited from parents and carers who are:
able to commit to attending regular meetings of the Governing Body and its

sub-committees

able to use information from a variety of sources to inform decision making

confident in the use of data

aware that schools are unique workplaces and that education can be transformative

willing to undertake training as directed
Governing bodies need their members to have a broad range of skills and experience in order to equip them to work with senior leaders and to contribute towards high standards and continued success.
Further information about the Governing Body is available in the Governors Handbook published on our website: Governors Structure and Membership | Durham Johnston School. If any parent or carer would like an informal discussion, then please feel free to contact me.
All parents, other than those employed at the school for more than 500 hours per year or who are elected members of the Local Authority, are eligible to stand for election. This includes any person who is not the natural parent but has parental responsibility for, or who has care of, a pupil registered at the school (Education Act 1996, Section 576).
In the event we receive more nominations than there are vacancies, then a ballot will be held and voting forms will be sent out to parents.
In the event that no nominations are received, then the vacancies will be appointed by the Governing Body.
Nomination forms are available to download below. Printed copies are available from Reception. The deadline for receipt of completed and signed nomination forms is by close of business on Wednesday 9 June. I regret that we are unable to accept nomination forms submitted after the deadline.
Yours faithfully,
Andrew O'Sullivan
Headteacher
Parent Governor Nomination Form